Grand Bear Resort is the perfect mini vacation spot for midwest families, especially folks in the Chicago area!
Looking for a family getaway that's not too far from home? Do your kids love the water?! Here's everything you need to know about family vacations at Grand Bear Resort at Starved Rock.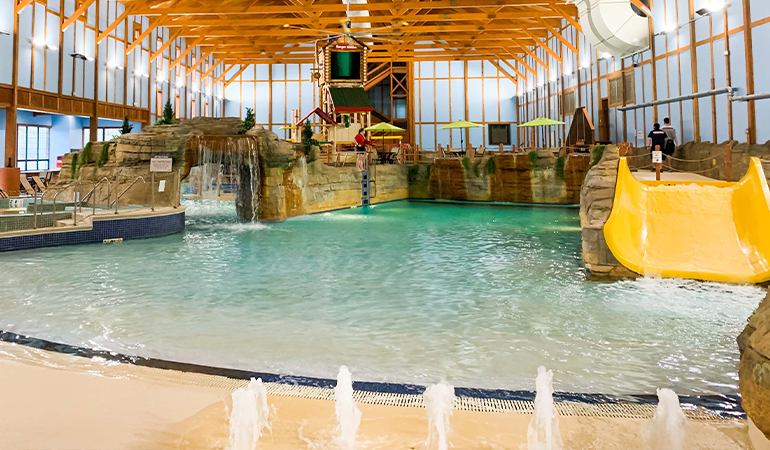 Everything you need to know about Grand Bear Resort at Starved Rock!
What and Where

Grand Bear Resort at Starved Rock is an indoor waterpark located in Utica, IL.
It's about 2 hours west of Chicago, and if you're already in the western suburbs (like us!) it was a quick 1 hour drive!
All about the Water Park

The water park has lots of options. Our favorites were the lazy river, little kids' waterslide, and wave pool!
There's also a large slide for bigger kids, 0 depth entry for little littles, a water playground, and hot tub for adults.
Accommodations at Grand Bear Resort
Options for Accommodations

There are many options for room accommodations depending on the size of your family and how much space you'd like to have.
They have guest rooms, suites, villas, and cabins. There's something for every family to find the perfect spot that fits your needs and budget.
We stayed in a villa that included two bedrooms upstairs, a living room and full kitchen on the main level, and two bathrooms. Our kids still sleep best in separate bedrooms, so this space was perfect for us!
We loved staying in the villa, but it's worth noting that not all accommodations are attached to the main building where the waterpark is located. You can walk (or drive if needed) the short distance from the villas to the waterpark.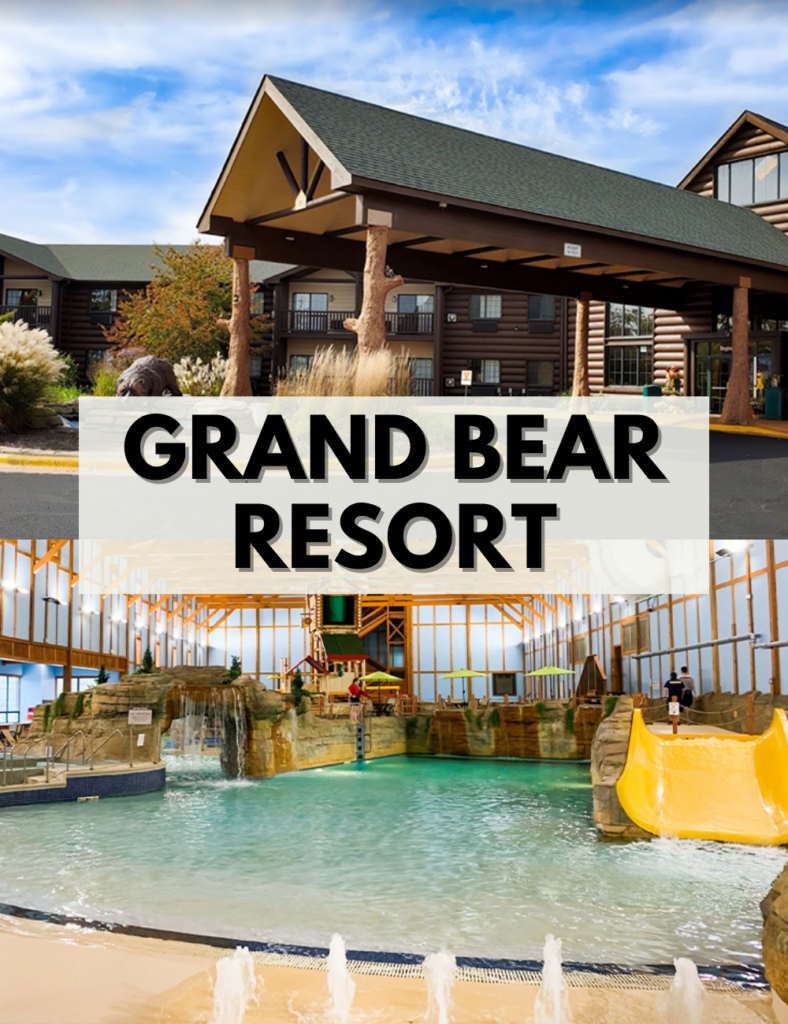 Other Amenities at Grand Bear Resort
Arcade and More

There's more fun for families and kids in the full arcade, seasonal golf course, and craft kits available for purchase. These activities are an additional fee. The arcade was a big hit with my crew!
Near Starved Rock

Consider visiting Starved Rock to experience the beauty of the area! Grand Bear Resort is very close to the trails at Starved Rock, so you can easily take a break from the pool to go for a hike!
Restaurants

There are several restaurants at Grand Bear Resort.
We enjoyed breakfasts and one dinner at Jack's Place, which was a perfect casual spot with young kids.
Treetops Cafe is located just off the main lobby and is perfect for grab and go options – you can also order food here and enjoy it poolside!
Things to Pack

Beach towels! The waterpark has the small towels, but we liked having our beach towels from home.
Goggles, floaties, water toys, etc. The resort gift shop has several things you may need, but it's smart to bring any water supplies you'll want! I didn't think to bring water toys and wish I had. There's obviously a ton to do at the water park, but water toys would have been fun for my littlest ones to mix it up.
If you're getting ready to hit the road, you might also like my Top 10 Road Trip Tips!
Thank you for reading! Remember to sign up for the Low Lift Fun newsletter to get easy kids' activities and parenting tips delivered straight to your inbox!