This post is a review of Gladly's Anthem4 All Terrain stroller wagon! If you're looking for a 4 seater stroller wagon, this is a popular option to consider. As a mom of twins plus one, I know the struggle of hauling 3 kids around.
All things considered, a 4 seater wagon is a great option for many families with multiple kids.
I'll lay it all out for you here! I'll share what's included, what we like about the the Anthem4, and a few features that I wish were different about this stroller wagon.
This product was gifted to me for review – all thoughts and feelings are my own.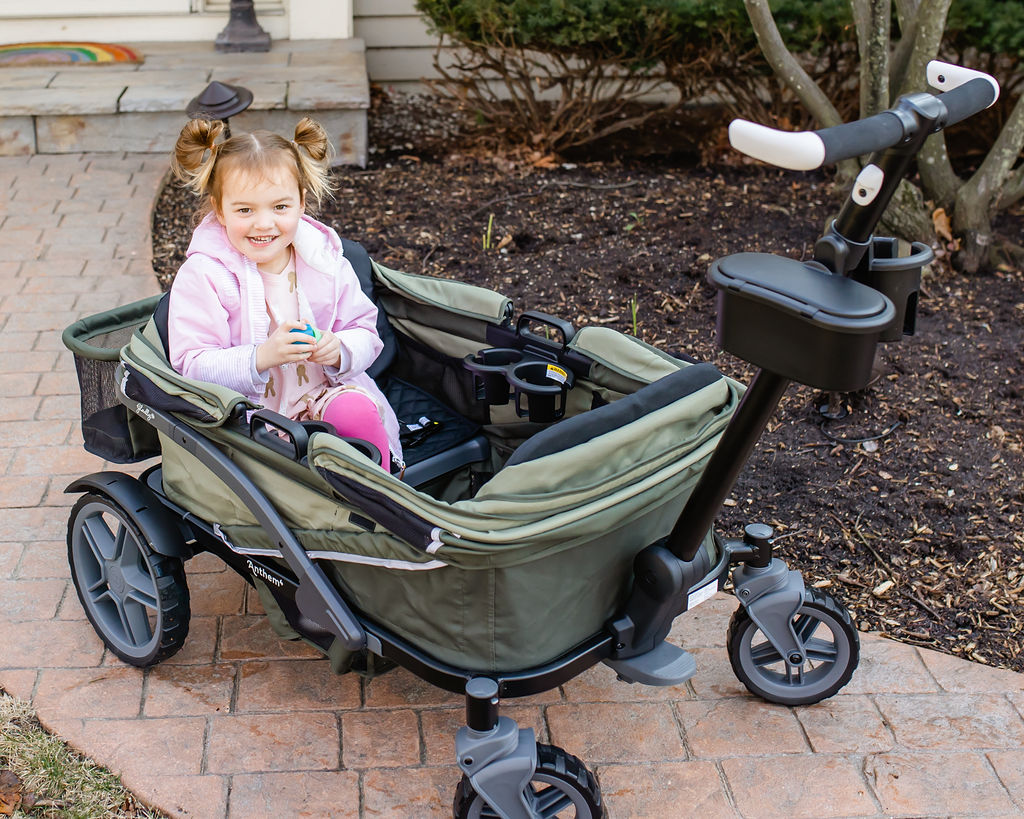 In this post we cover:
1. First, I share what is included in the Anthem4 All Terrain Adventure Bundle.
2. Next, I lay out what we like about this 4 seater stroller wagon
3. Finally, I share features I wish were different about this 4 seater wagon and other things to consider
Gladly's Anthem4 All Terrain – stroller wagon 4 seater
Gladly offers bundles that include the wagon and additional accessories. The items shown in this post come from The Adventure Bundle: Anthem All-Terrain Stroller Wagon.
As shown in the photo above, the Adventure Bundle features the All-Terrain Wagon in Forest. Another key point is that you can choose the two or four seater option!
Additionally, this bundle includes a number of helpful accessories for families on the go:
Stroller Wagon Travel Bag with padded shoulder strap
Cooler Bag
Mosquito Net, XL Canopies with breathable mesh inserts
Quilted Comfort Seats to keep little ones comfy at all times
Removable storage basket
Parent Cup Holder
Parent Covered Storage Container (I love this!!)
Stowaway Nap Mattress with carry case
Interior Storage Pockets (4)
3 things I LOVE about the Anthem4 stroller wagon
First, the removable storage basket (shown below) is really helpful. It hooks right onto the back and can hold a lot! I specifically loved this for holding drinks, snacks, and the kids' items. It's important to realize that stroller wagons won't have a basket under the seat like a traditional stroller, so this hook on storage basket is FANTASTIC!
As can be seen in the photo, this hooks on the back of the stroller wagon. As a result, you're not taking up space inside the actual wagon, which I found super helpful!
Next, I also really like the parent cup holder and covered parent storage compartment (shown below). This was perfect to hold my keys, wallet, and drink. I love that I can be hands-free, and there's a spot designed for my items.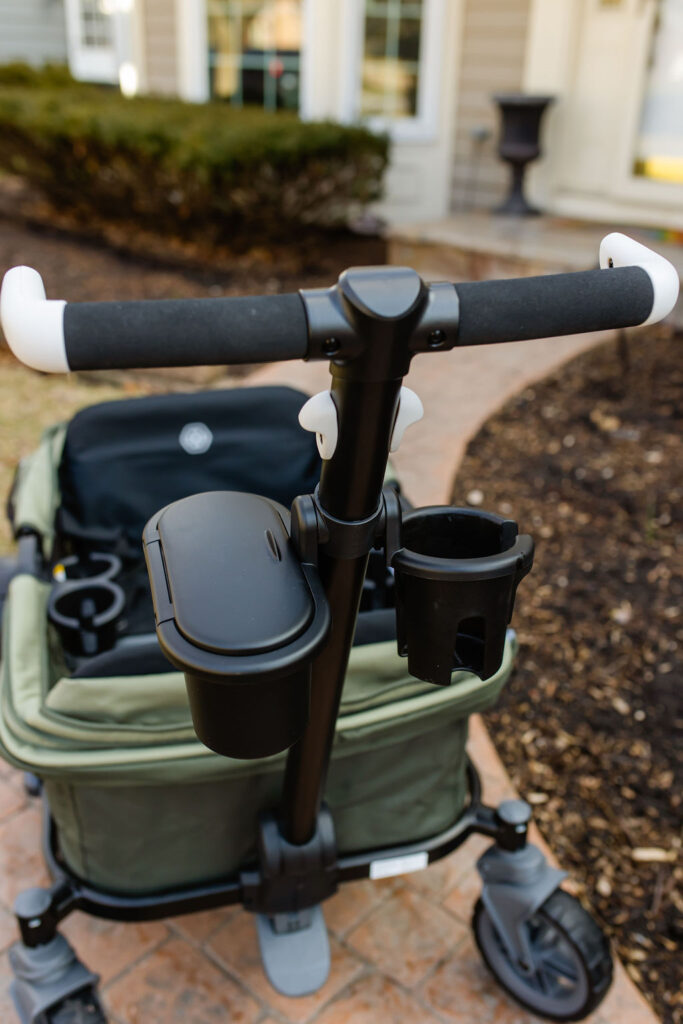 Finally, I love the Anthem4, because my kids LOVE riding in it. They are comfortable, they love all the cup holders, the canopies give them shade, and there is room for everyone!! Can we get an amen!?
No fighting over cup holders. No fighting for the shady seat. Not only is there space for everyone, but there are also accessories that make the ride easier for everyone!
On the whole, Gladly thought of everything to make sure the kids are comfortable!! As a result, the kids are very happy to cruise in this. As kids start to ditch the stroller or resist riding in a stroller, a 4 seater stroller wagon is an EXCELLENT alternative that many kids enjoy.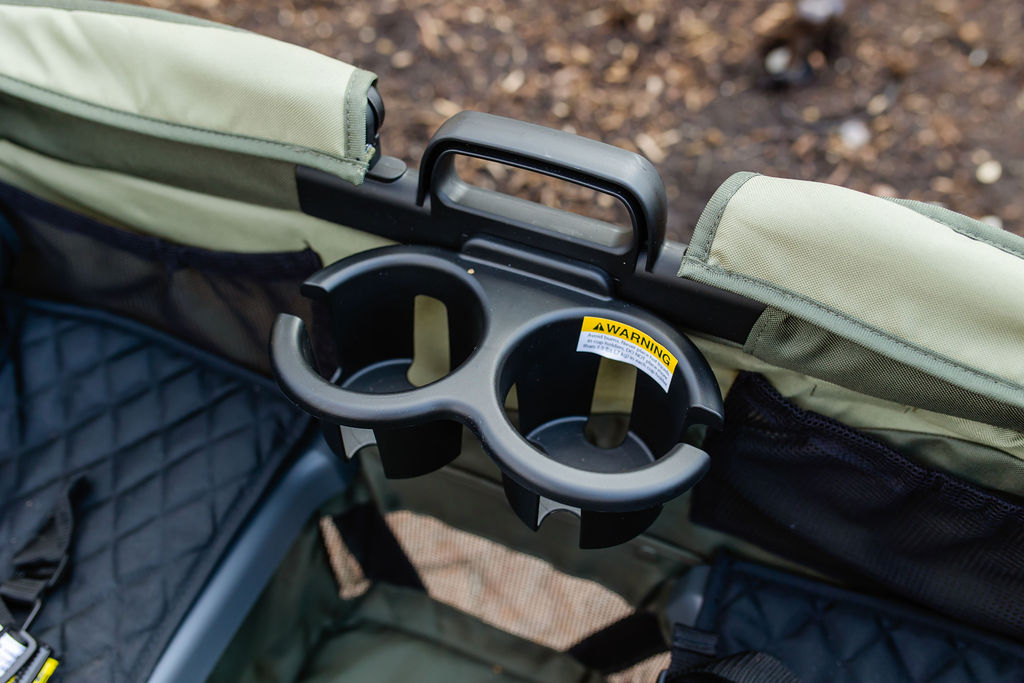 3 things I wish were different about the Anthem4 – 4 seater stroller wagon
First, I wish the steering was a bit easier when pushing it forward. This stroller wagon is designed so that it can be pushed like a stroller or pulled like a wagon. However, I personally found the steering to be tricky when I was pushing forward. This could have been due to the size of my kids (I was pushing two 4 year olds). So it's possible the steering would feel easier with kids who are smaller and more in the range of 1-3 years olds.
Second, it's worth noting that the wheels are not air-filled tires. This is likely a non issue for many folks, but I personally prefer air filled tires for a smoother push and ride. We are very active, and I prefer air filled tires when I'm taking strollers and/or wagons for long walks or adventure.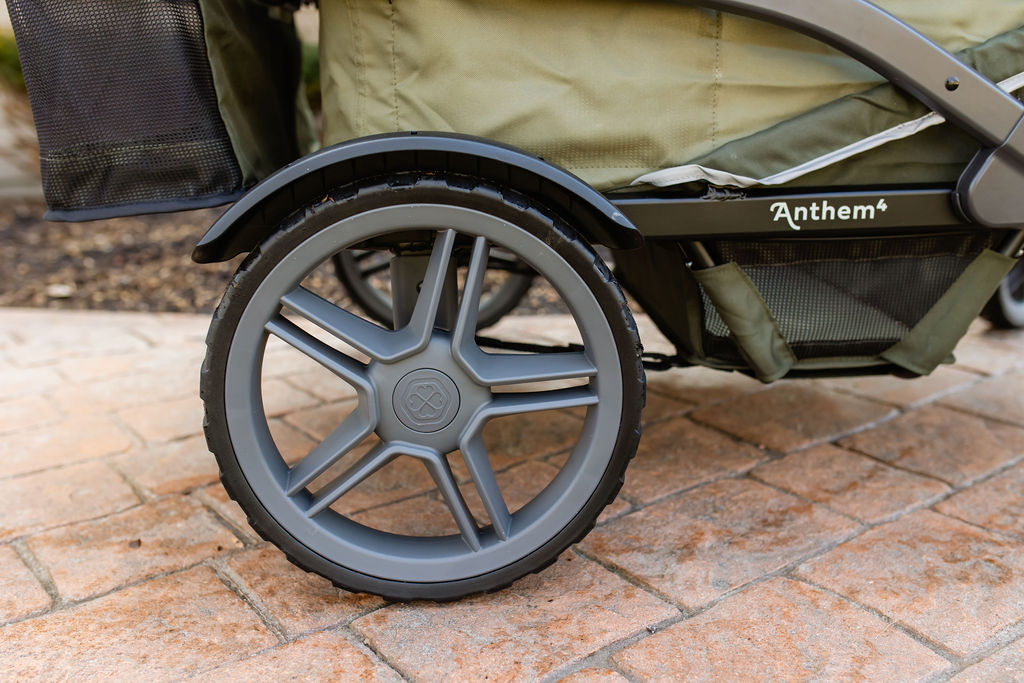 When we will use the Anthem4
Finally, this is a great option if you are primarily interested in PULLING the kids and using this as a wagon, rather than pushing it like a stroller. I found the Anthem4 was difficult to push forward for long periods of time with the kids in it. While it's great for shorter walks and trips, the steering and push made this tricky for very long walks if you prefer to use the pushing option.
On the other hand, this stroller wagon is a PERFECT option when we need to carry the kids and a lot of stuff and will be pulling it as a wagon.
All things considered, this will be an amazing option for parades, concerts in the park, short walks to the park, etc. All in all, if you're looking for a stroller wagon to use in these types of settings, the Anthem4 will be a great match!
Thank you for reading this review of the Anthem4 stroller wagon! Wrapping things up, this is a great option for a 4 seater wagon and the Adventure Bundle includes loads of amazing accessories for busy families on the go with young kids.
Stay in the Loop!
Remember to join my weekly newsletter here to get weekly kids' activities and easy parenting tips sent straight to your inbox!!
Love to travel as family?! Check out our most popular travel post: Tips for Visiting Disney with Kids