Experiential Gifts for Kids:
These are the best experiential gifts for kids! Consumable kids' gifts are a win in so many ways.
Reasons we love experiential and consumable kids' gifts:
Less clutter and stress – there is no reason to drown in stuff during the holidays!
Kids play better with fewer toys. There is such a thing as TOO MANY toys. Sometimes when kids struggle to play independently and productively, it's because there are too many toys in the space. It's overwhelming, and everything loses its luster.
Spread out the joy of the season throughout the year. Experiential gifts allow us to spread out the excitement by choosing experiences we can enjoy together all year long.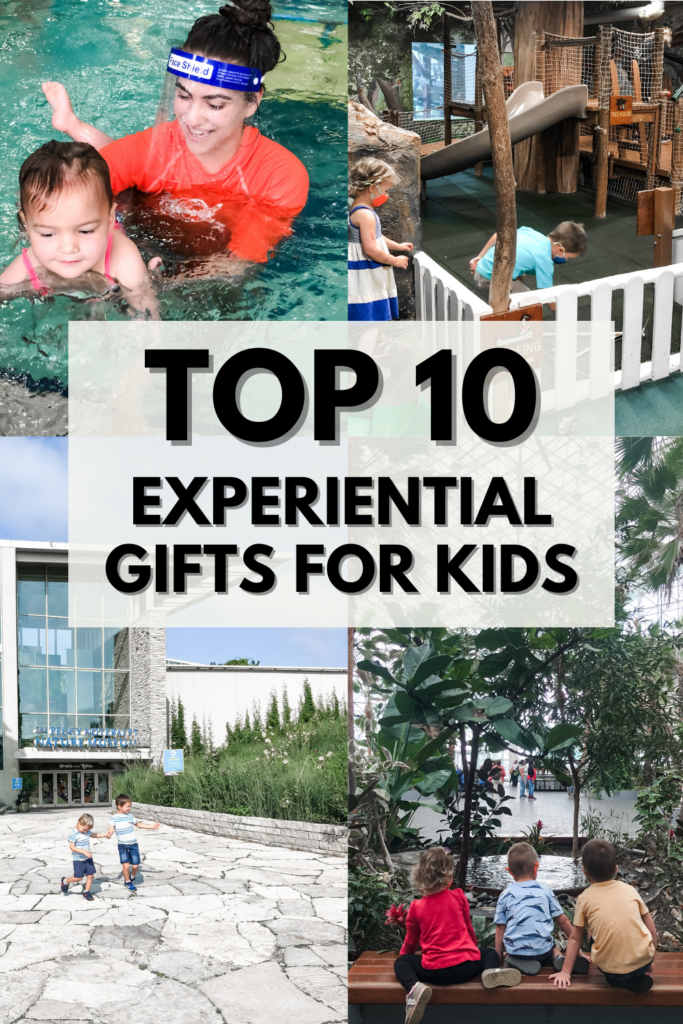 Top 10+ Consumable + Experiential Kids' Gifts!
Experiences for kids:
Swim Lessons

This is a great investment that builds kids' confidence and teaches lifesaving water safety skills.
Kids' Classes

Music, gymnastics, kids' cooking classes – the options are endless.
Depending on where you live and your comfort with in-person classes, you might have a LOT to choose from!!
Baby, toddler, and kids' classes certainly are NOT a must for kids' learning or development. However, I enjoyed having somewhere to go with my kids and enjoyed the socialization for them. They can be pricey, so I've always liked them as holiday gifts!
Special time with Kids:
Special Date Day

Plan a special day for your child with fun adventures!
They will treasure the 1:1 time and memories made
Passes for Activities to do together

Mini golf, bowling, an arcade, or ice skating passes could all be hits with your kiddo.
Kids learn so much through real life experience and quality family time!
Memberships + Events:
Membership to Zoos and Museums

We love science museums, children's museums, and everything in between.
Memberships can be enjoyed time and time again throughout the year – perfect as a gift when you otherwise might not splurge for a membership!
Ticket to a Live Event

Concerts, live theater, and special performances make memorable gifts!
Food Oriented Experiences:
Kids' Cafes and Play Spaces

Consider local play spaces like trampoline parks, play cafes, or indoor playgrounds.
Love having these in our back pocket for when we need something special to do!
Gift Card to Favorite Restaurant

This could be for dine in or take out!
We have a few train restaurants around us that my kids love – consider a special themed spot that might wow your child!
This can make for a special lunch or dinner date when you need a little extra joy!
Gift Card to Ice Cream or Sweet Shop

Anyone else have sweet lovers?! My kids are over the moon when we go out for ice cream, so getting a gift card to tuck away is a fun way is a huge hit!
Monthly Subscriptions or Kits
Subscription Boxes

There are subscription boxes for just about everything under the sun – book subscriptions, toy subscriptions, activity kit subscriptions.
These help spread out the joy and thrill of getting something new throughout the course of the year.
Our favorite subscriptions:
BEST ACTIVITY BOX – we love Little Passports! Use code BA50 to save 50% at checkout!
BEST APP – we love HOMER – free 45 day trial here!! (proven to increase early reading scores by 74%!)
Favorite STEM KIT – Space Quest – these STEM kids are targeted for ages 5-8, but they're fun for a wide range of ages!!
Art Kits or Art Supplies:

All in one art kits are fabulous. Use the materials to do the activity and make the thing – then it's done.
I feel similarly about stickers and paint – we go through them so quickly!
I love having kits and art supplies on hand for a rainy day when I don't want to put an activity together myself!!
Magazine Subscriptions

We love Ranger Rick and Highlights for Kids
Many kids LOVE getting mail – it's a fun little bright spot each month.
Read and enjoy the magazine each month. Then you can do cutting crafts with it, pass it along to a friend, or recycle it.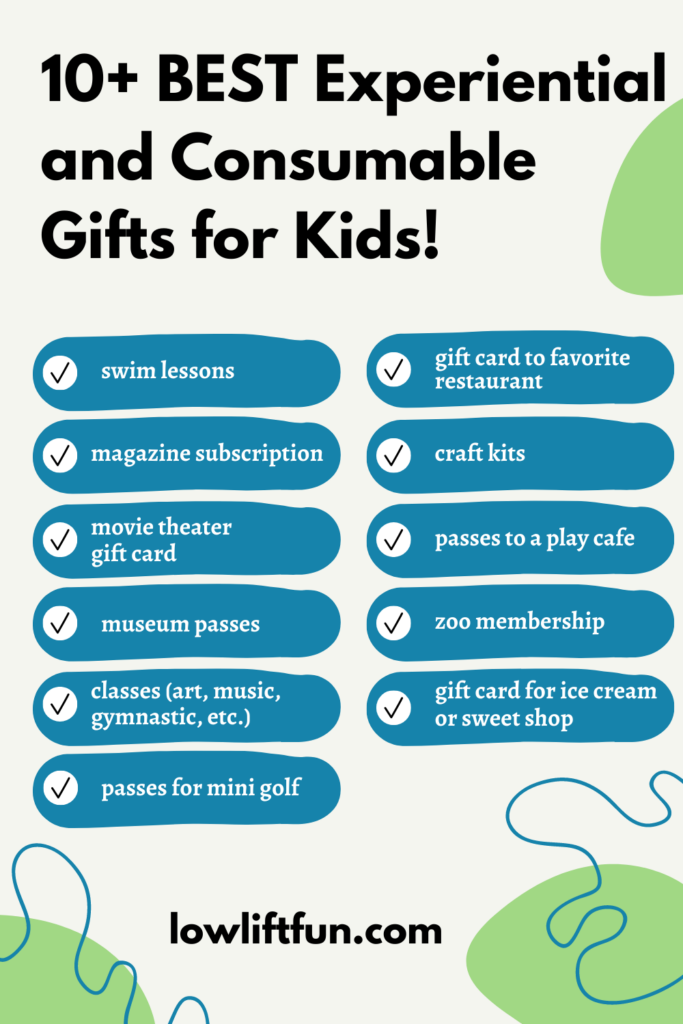 You might also like:
50+ top toys for kids! If you're choosing toys, here are the ones that will help your kids thrive AND grow with them over the years!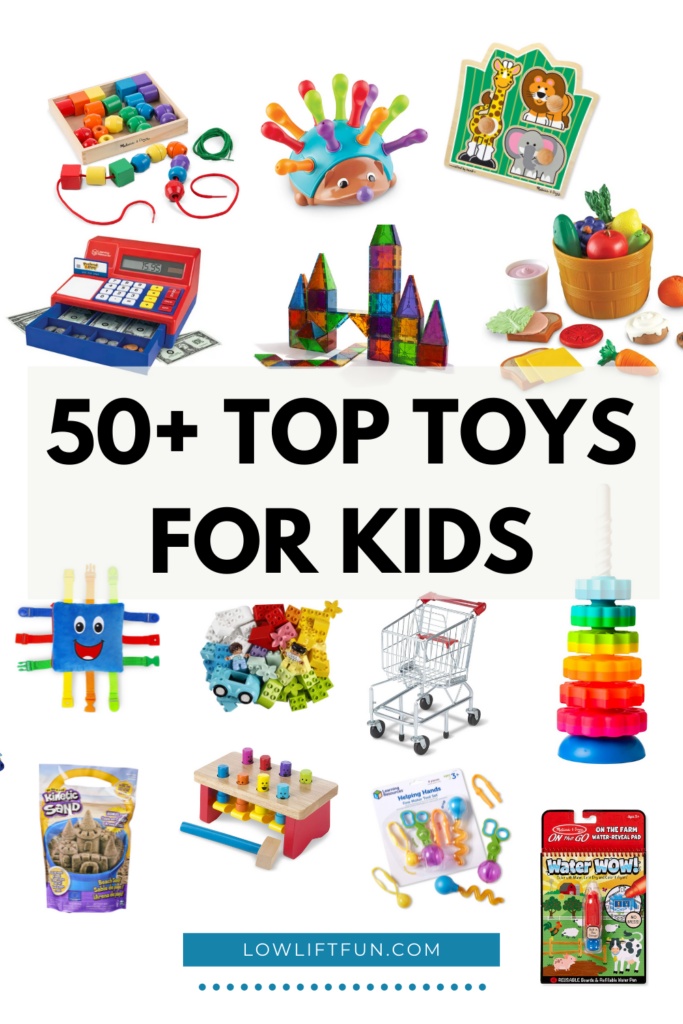 Looking for more EASY activities? Sign up for the Low Lift Fun email list to get low lift (EASY!) play and parenting tips delivered straight to your inbox.