If you're visiting Chicago with kids, the children's museum at Navy Pier is a must-see! This museum, called the Chicago Children's Museum, is located right inside Navy Pier!
Navy Pier has a lot to offer with the ferris wheel, boat rides, shopping, and more. While Navy Pier is known for being a tourist destination, locals and visitors alike will fall in love with the Chicago Children's Museum!
Visiting the Children's Museum at Navy Pier
This museum is packed with fun, hands-on exhibits your kids will absolutely love! We've been to countless children's museums, and this museum always blows us away!!
Favorite Exhibits
There are wonderful exhibits for a variety of ages.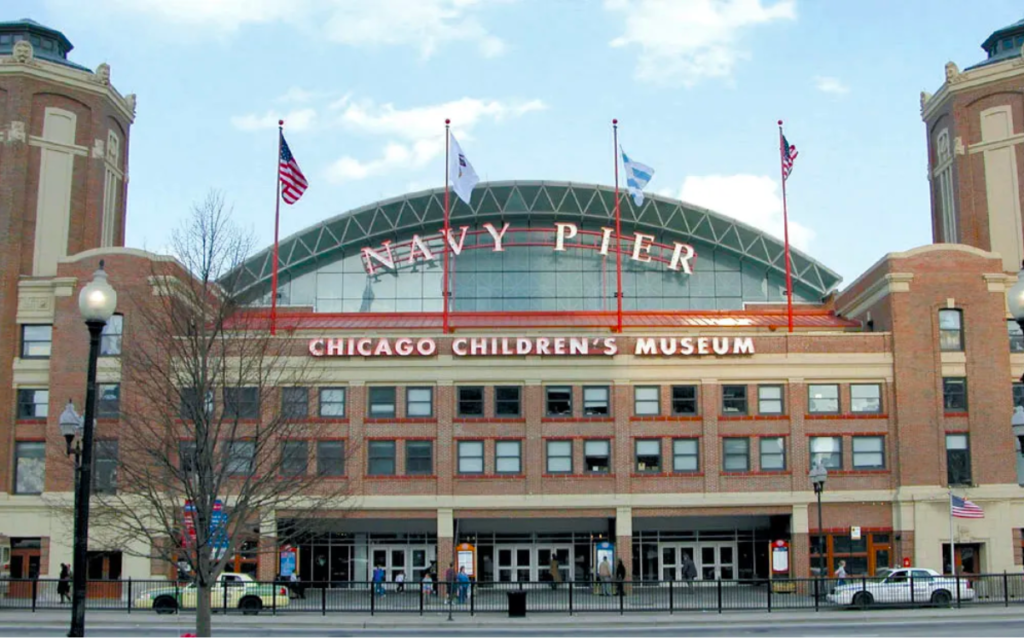 Kids Town is a forever favorite, and it features an interactive Chicago city bus, auto repair shop, and grocery store – it's a dream world for open-ended play! Another one of our favorite exhibits is the firetruck (this exhibit is called Play It Safe), which includes a truck, fire pole, costumes, and more! My kids also love Cloud Buster, a multi-level climbing structure.
We love that the museum is a fun combination of open ended play and STEAM learning – there's even a tinker lab and art studio that we love to visit as well!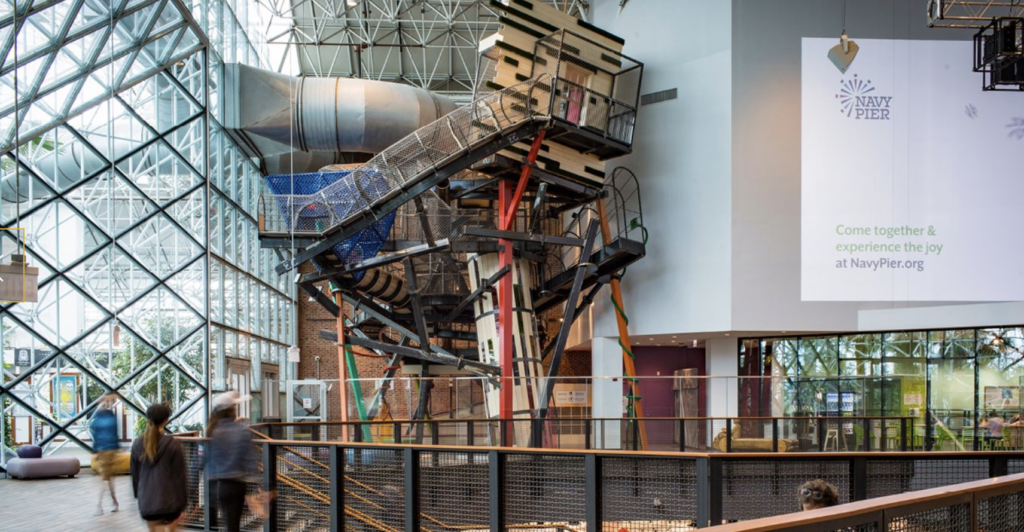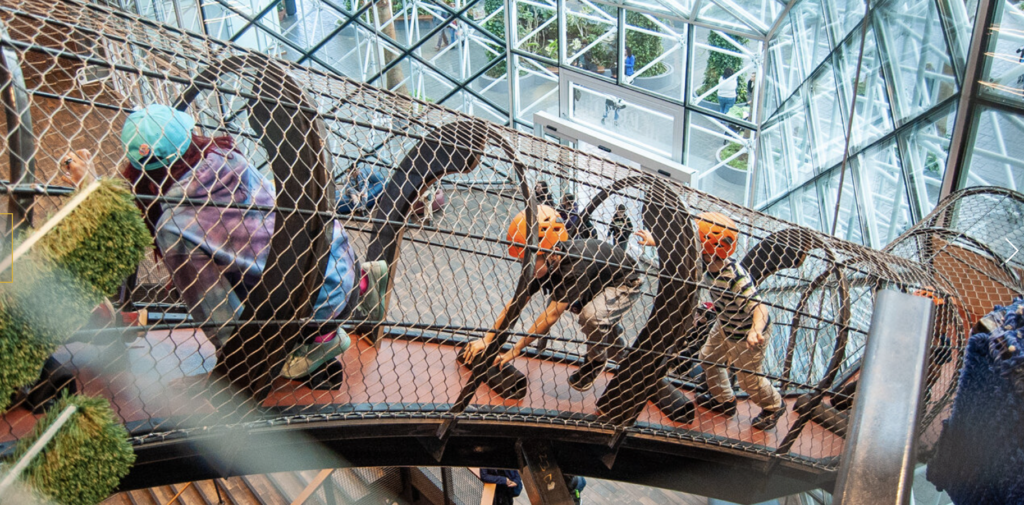 Planning a visit to Chicago or want to find more kid-friendly museums? You'll love this post: 5 BEST Museums in Chicago for kids!
Where to Eat when Visiting Navy Pier Children's Museum with Kids
While the Children's Museum allows you to bring in snacks, food and drinks need to be closed and put away unless you're in a designated eating area. Navy Pier is also home to an amazing selection of restaurants and a massive food court with quick service options! You won't go hungry at Navy Pier!
Favorite Navy Pier Restaurant with Kids – Chef Art Smith's Reunion
Our favorite family-oriented restaurant at Navy Pier is Reunion. This is my top pick for a sit down meal that not only accommodates but welcomes families! The food is amazing, the staff is incredibly friendly, and they offer a kids' menu with a great selection of kid-friendly dishes and sides!
The location couldn't be better! It is VERY close to the exit/entrance of the children's museum, so it makes a perfect lunch spot if you need a break or want to grab a bite on your way out at the end of the day.
The fried chicken is amazing, and I love getting it on top of the kale and brussels sprouts salads. The goat cheese biscuit, mac and cheese, and hummingbird cake were other stand outs from our meal! Check out their full menu here.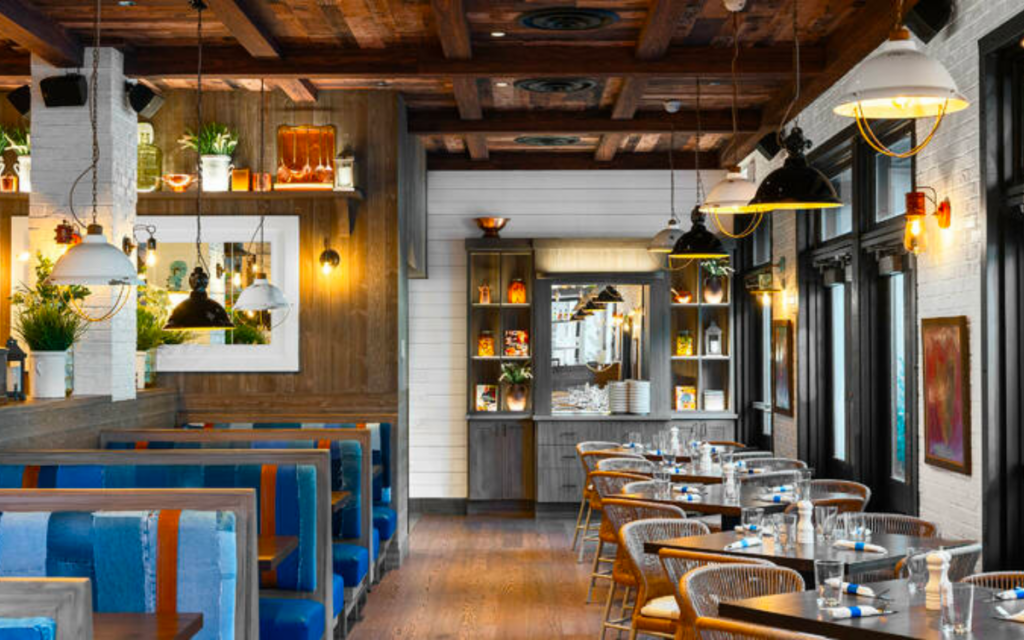 Other Tips for Navy Pier with Kids
The museum will let you come in and out. You can arrive, play for a while, leave for lunch, and come back again. We love doing this, and it breaks up the day really nicely for us!
Check on pricing for the annual membership at the Chicago Children's Museum. Admission to the museum isn't cheap, and an annual membership could be a great value if you'll visit multiple times. Some membership option also include free parking at the parking garage at Navy Pier for a set amount of time.
More Tips You'll Love!
Thanks so much for reading, and I hope you have an AMAZING trip to Navy Pier! Enjoy the Chicago Children's Museum at Navy Pier, stop my Reunion for a wonderful family meal, and enjoy taking in the sights and sounds of Navy Pier.
5 Best Museums in Chicago for Kids