Heading to Disney World with your kids? These are all the BEST tips for Disney World with Kids!! From planning the trip to specifics like Genie Plus, I have you covered here!
Disney World is one trip where it PAYS to do some prep and research ahead of time! Given the cost of the tickets, we wanted to make the most of our time at the parks. If you go in knowing nothing and planning to just go with the flow, I think you could very easily spend the day stuck in lines and feel frustrated with the experience.
Shop my travel favorites here!
As an Amazon affiliate I earn a commission from qualifying purchases.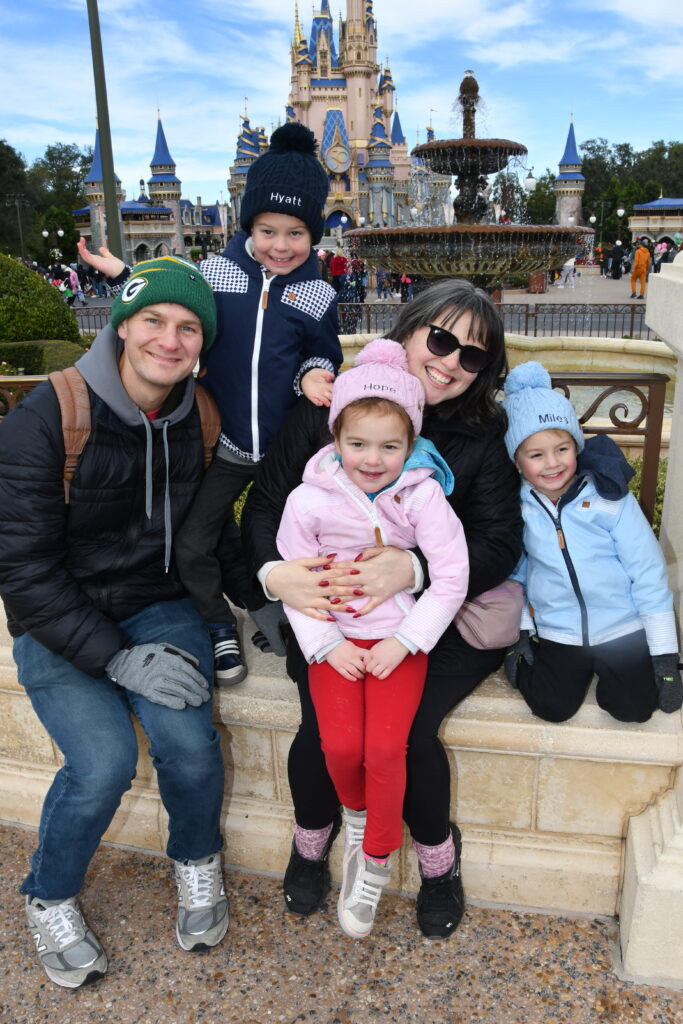 BEST Tips for Disney World with Kids: what I learned on our Disney Vacation
I've rounded up my BEST tips for Disney World in one place!! This post covers:
Tips for Planning
MagicBands and GeniePlus
Overall Tips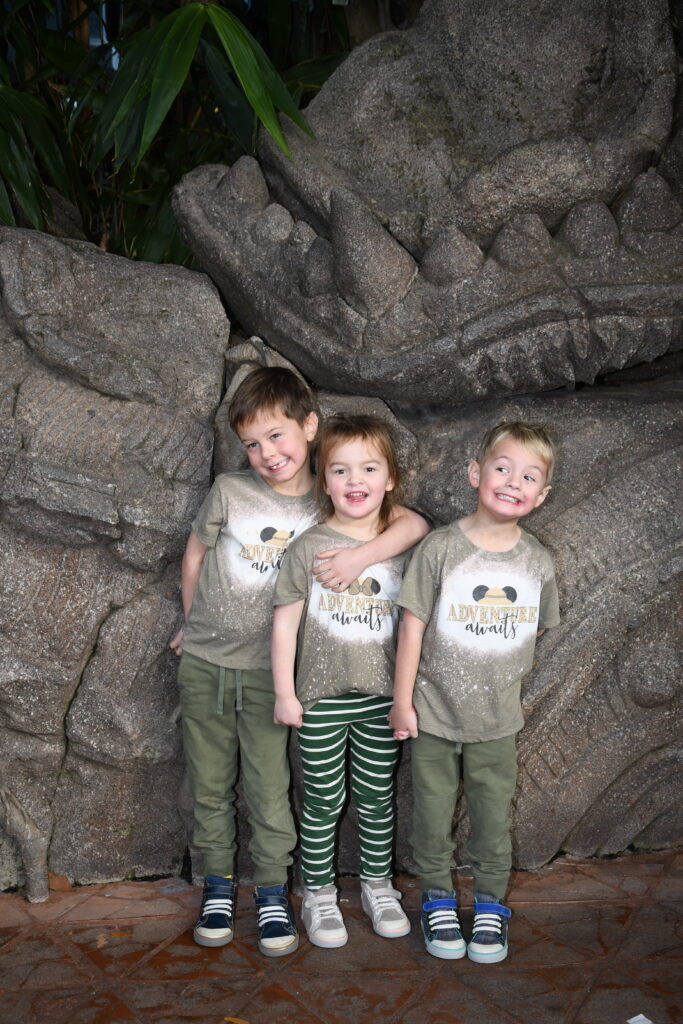 Our shirts were kindly gifted by Little Jane Lane Designs. She is fabulous – I highly recommend working with Jenny if you need shirts for a Disney trip!!
Planning Your Trip to Disney World with Kids
How long should we stay at Disney World?
Disney is exhausting. We did a 4 night trip with 2 days at parks and 1 rest day in between. I'm not sure how people with many young kids do 4+ days at parks! I would be toast! Do what works for your family, but for us two days at the parks felt like a great, full trip! As a reference, my kids are 4, 4, and 7 years old.
We made the choice that we would rather pay for fewer park days (we only did 2 days rather than 3), and have that money to spend really enjoying those days. For example, we felt more free to get Genie Plus (discussed below), enjoy fun character meals, etc.
This was our Disney World trip itinerary:
Day one: travel day – arrival
Day two: Magic Kingdom
Day three: rest day
Day four: Animal Kingdom
Day five: travel day – return home
Tips for Disney World with Kids – should I use a Disney Vacation Planner for booking?
YES! Yes, yes!
My biggest Disney tip is to work with a Disney vacation planner – they don't cost you anything, because they earn their commission directly from Disney. There's no up-charge on the tickets you buy through them, and they can book your hotel, make dining reservations, advise on parks, and everything in between. SO. HELPFUL.
We worked with Audra and she was awesome. I'm not affiliated with her or sponsored in any way – she just made our trip so much easier – highly recommend using a Disney planner to book and plan your trip.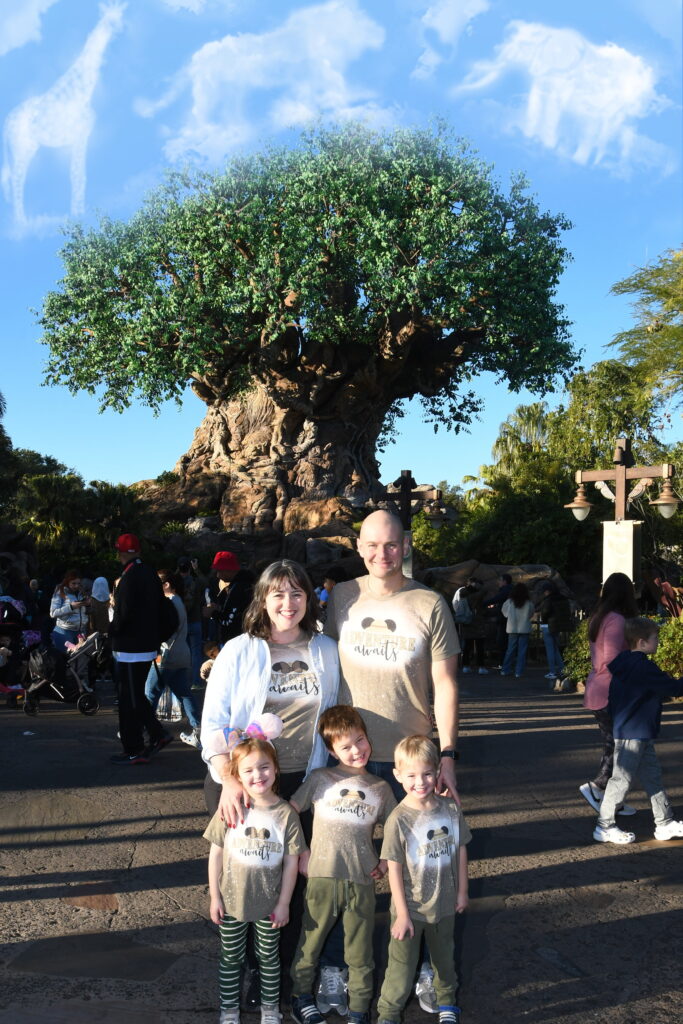 Where should I stay when I visit Disney World with kids?
There is no one right answer, and this is largely contingent on your priorities and budget.
For us we didn't care about a luxurious room, but we did want to stay on Disney property. Staying at a Disney resort meant free shuttle buses to the parks, 30 minute advance entry to the parks, and for us it added to the overall magic of the vacation.
Pop Century Resort
We stayed at Disney's Pop Century Resort, which is one of the budget resorts and one of the cheapest options. The rooms were very modern, newly updated, and clean, which is important to me! Rooms at Pop Century sleep a maximum of 4 people, so we did two adjoining rooms. This was perfect for our family!
Our kids loved it and it did the trick for us. Would I love to stay at a nicer resort sometime? Of course! But this was perfect for what we needed this trip!
MagicBands – what to know + tips!
Once you get closer to the time of your vacation, you'll want to start learning a bit about Magic Bands and Genie Plus. Things like Magic Bands, Genie Plus, and Lightning Lanes can help make for a great experience. Here is what you'll want to know before you go.
BIG TIP: buy your MagicBands in advance!
MagicBands are bracelets that can be used to open your hotel door, purchase food, scan into the parks, and more. While they're not required, I did find them very helpful! You will need a band for each person in your party if you choose to use the bands.
If you're using the Magic Bands, I recommend buying them ahead of time. This allows you to set them up at home before your trip. It took about 15 minutes to run a software update and get the bands ready. They're also cheaper to buy in advance.
MagicBand Technology Tips
Bring a power strip for charging at the hotel. The bands will need to be charged each night, for us that meant charging 5 MagicBands. We brought a power strip in our luggage, and it made nightly charging a breeze.
BIG TIP: choose ONE parent's fingerprint as the link for ALL the kids' magic bands.
The bands will be linked to a fingerprint. They suggest linking kids' bands with the adult's fingerprints. Link all kids with the same parent. We did some of the kids with Ben's finger and another child with mine, and then we had a hiccup on our second park day at the entry trying to find whose finger print went with which bands.
We planned to have the kids wear their MagicBand bracelets, but it was hard for the twins to properly scan them. We ended up having Ben carry the kids' bracelets.
Genie Plus and Lightning Lanes – what to know + tips!
Genie Plus ($29 per person per day) is well worth the price if you are doing Disney with young kids. It's an add-on that you pay on top of your ticket price.
Genie Plus is paid per person and per day and it allows you to book faster entry onto many popular rides. You book a slot for your party for a specific window, and then you can enter through a Lightning Lane instead of waiting in the regular standby line.
How does Genie Plus work?
You go into the app and view available options to reserve. You select the ride/time that you want, and then you have a reservation to ride that line (it's a 1 hour window). You get to go through the Lightning Lane to enter the ride and bypass the regular line.
After 2 hours have passed, you can book another ride reservation with Genie Plus. OR you can book another ride reservation as soon as you check in for your existing reservation. Using this system, we were able to hop from ride to ride to ride and wait very minimally!
As I shared above, after you check in for the current ride you can book your next ride with Genie Plus. We had a system that Ben would watch the kids as we walked through the line while I opened the app and reserved our next ride.
Some rides will have two check points to scan in for your Lightning Lane, and some have only one. If there are two check points, you won't be able to book your next ride until you scan in at both check points. I found it helpful to ask the cast member at the first check point if there would be another checkpoint later or if there is only one
Why I bought Genie Plus for both days at the parks!
This is one of my main tips for Disney World with kids – pay for Genie Plus if you can swing it.
If you're deciding where you want to spend on the trip, I would rather do two park days with Genie Plus than three park day without Genie Plus. We made that choice during planning.
The park tickets are already so expensive. We hated to pay all that money and spend the day waiting in lines, particularly with 3 young kids. With Genie Plus we were able to bop from ride to ride at Magic Kingdom with hardly any wait time. Genie Plus was less amazing at Animal Kingdom (because fewer rides could be booked with Genie Plus), but it was still worth it in my opinion!
Tips for At the Parks!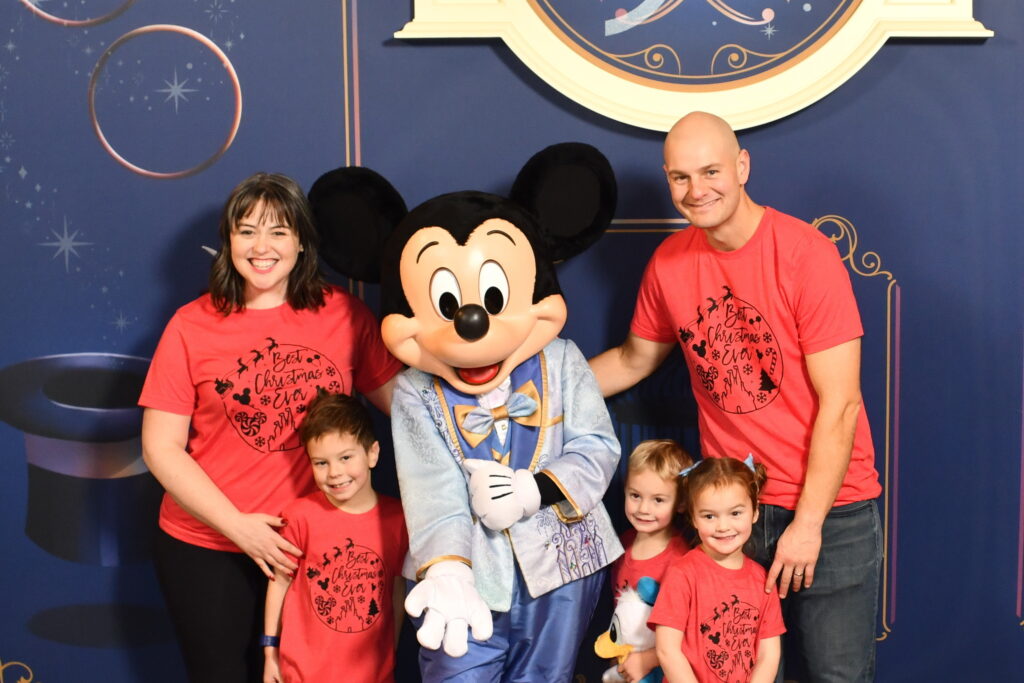 Fun family shirts for Disney!
My kids loved rocking matching shirts as a family for our Disney trip! Our shirts were kindly gifted by Little Jane Lane Designs. She was so accommodating and helped advise on sizing, designs, and more! Highly recommend working with Jenny if you need shirts for a Disney trip!
Chat with Cast Members at the parks!
Chat with cast members (folks working at the parks)! Ask them for any tips, what's their favorite ride, and what's the best snack in the park!! We got so many great tips and little insider tricks from chatting with cast members!!
They love Disney, love kids, and they're happy to connect about the park they love!!
Pack food in your luggage, and bring food into Disney World!
Pack nutrient dense food in your luggage. Like, a ton of food. This is a regret from our trip and something I wish I'd done differently. I would have packed (or done a grocery order when we arrived) to bring boxes of apple sauce pouches, kids' bars, and cartons of the Horizon shelf stable milks.
I did bring a good amount of snacks. However, after a super long delay at the airport there wasn't much left by the time we made it to Orlando. I would bring WAY more food next time.
The parks allow you to bring in food and drinks, so next time we go to Disney I will bring staples like applesauce, bars, and shelf stable milks into the park. It probably goes without saying, but all the food at Disney resorts and parks is so dang expensive. And at the parks there aren't many healthier options at the grab and go food stations.
Tip for Disney World with Kids: consider dining reservations ahead of time.
Related to packing snacks, think ahead about where and when you may want to eat on your park days.
I went in thinking the grab and go options would be best at the parks. There are lots of grab and go spots, and you can order ahead on your phone. I also found my kids needed the calm of sitting down to focus on eating. I personally thought the food was much better quality at the sit down restaurants than the grab and go vendor spots.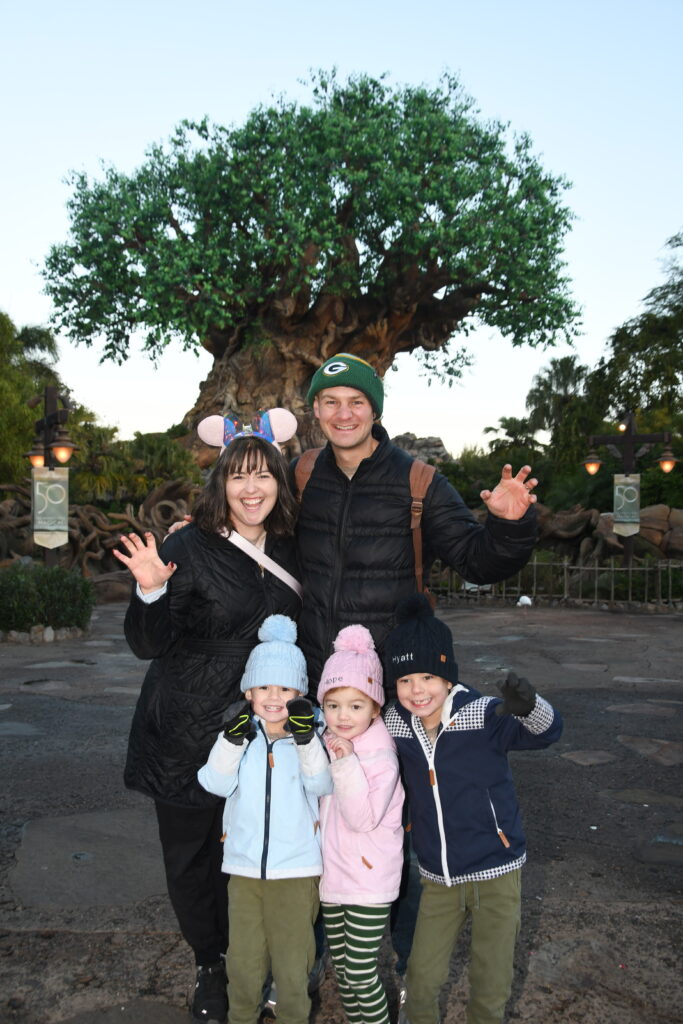 Tips for Disney World with Kids
I hope that overall you find these tips helpful for visiting Disney World with kids!!
My go-to advice when traveling with kids is to go with the flow and have low expectations. It will be chaotic, so roll with it and have fun along the way! This relaxed attitude still applies at Disney World when visiting with kids, AND I also recommend doing more prep for Disney than you would for your average trip! I hope these tips help you have the most magical time.
Would you like to learn more about Animal Kingdom and Magic Kingdom?! Let me know if you'd like to see resources about these parks!
Thank you so much for reading, and I hope you enjoy a wonderful trip to Disney World with your family!
Love traveling with your kids? Check out this post about Mall of America with kids!
Driving to Disney World with kids?! You'll need these road trip tips!