If you're looking for social emotional preschool activities, you have to try making a DIY Calming Kit!
I always start our Calming Kits with a Dexas Slimcase. This post is sponsored by Dexas – all thoughts and feelings are my own.
Why Make a Calming Kit as a Social Emotional Preschool Activity and Strategy?
All in all, teaching healthy coping skills can be a game changer in your home and your child's emotional health.
Even adults navigate finding our own healthy coping strategies that help us to regulate our emotions and process difficult feelings, so teaching kids HOW to cope is powerful.
Calming Kits help us do that. It lets us teach kids HOW to process emotion and gives options for what we can DO when we have those big feelings!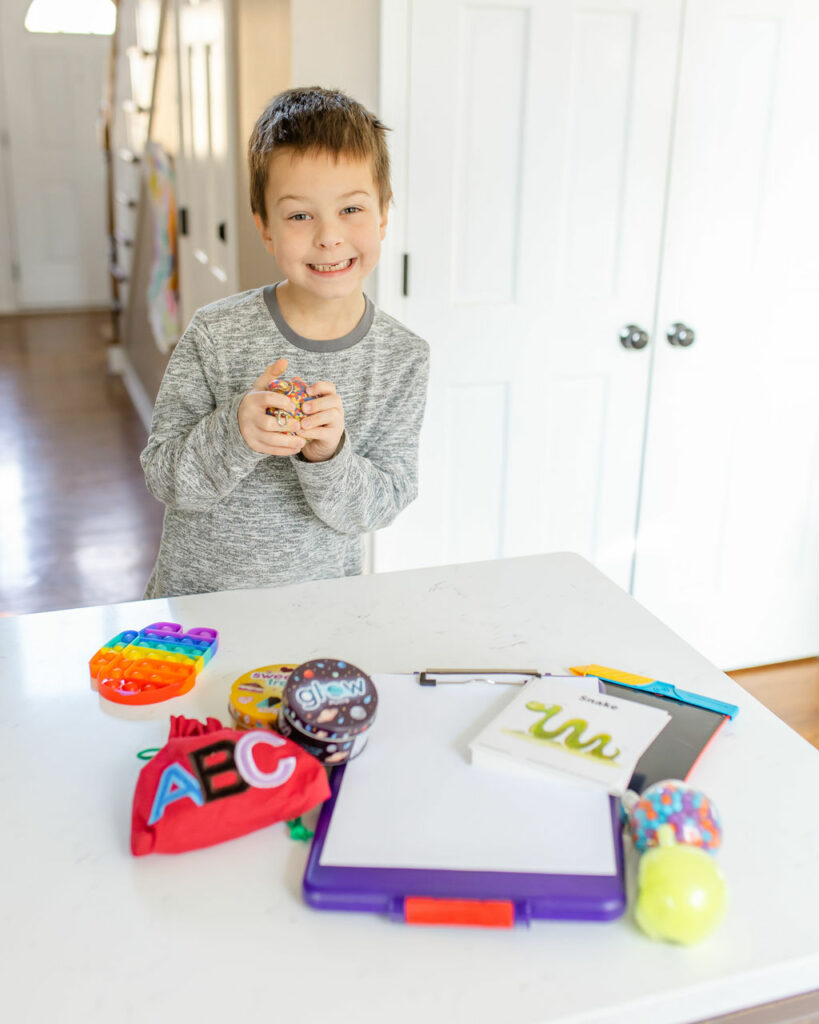 All Feelings are OK, All Behaviors are Not
As a quick aside, I always remind myself – all FEELINGS are ok, but all behaviors are not. (Hitting, name calling, saying hurtful things – not ok.)
This could sound like:
"It's ok to feel sad, I'm here with you. Let it out."
"It's ok to feel mad, but I can't let you hit. Let's move over here to be safe."
"It's ok to feel nervous. I feel that way sometimes too."
As a next step, we can then help support children in learning how to process and manage their feelings in safe ways! Creating a Calming Kit is a social emotional activity for preschoolers that teaches kids how to regulate their emotions by offering concrete activities that are calming.
Another key point here is that all activities are NOT calming for all kids. With this in mind, take what works for your families and forget the rest! I offer a number of suggestions here, so please don't feel you need to include them all in your child's Calming Kit!
How to Make a Calming Kit – one of my top social emotional preschool activities!
Now you may be wondering what to put inside the Calming Kit. As I have said, there is no right or wrong answer, and certainly there is no a once size fits all recommendation. However, I've put together a variety of suggestions that I recommend!
Dexas Slimcase
I love to include a Dexas Slimcase in our Calming Kit for a number of reasons.
First, it is a clipboard, so kids can sit on the couch and use the Slimcase on their lap as a hard surface. As a result, this is perfect for calming coloring and writing activities – even if the child is not sitting at a table.
Next, I love that the case opens and includes interior storage. It goes without saying that this is fabulous for storage, because you can keep markers, stickers, and extra paper inside the Slimcase!
Finally, I love that I can grab the Slimcase out of our Calming Kit and take it on the go. At home this lives in the Calming Kit bin, but if we're heading to a restaurant or appointment, I love the the Slimcase can come along.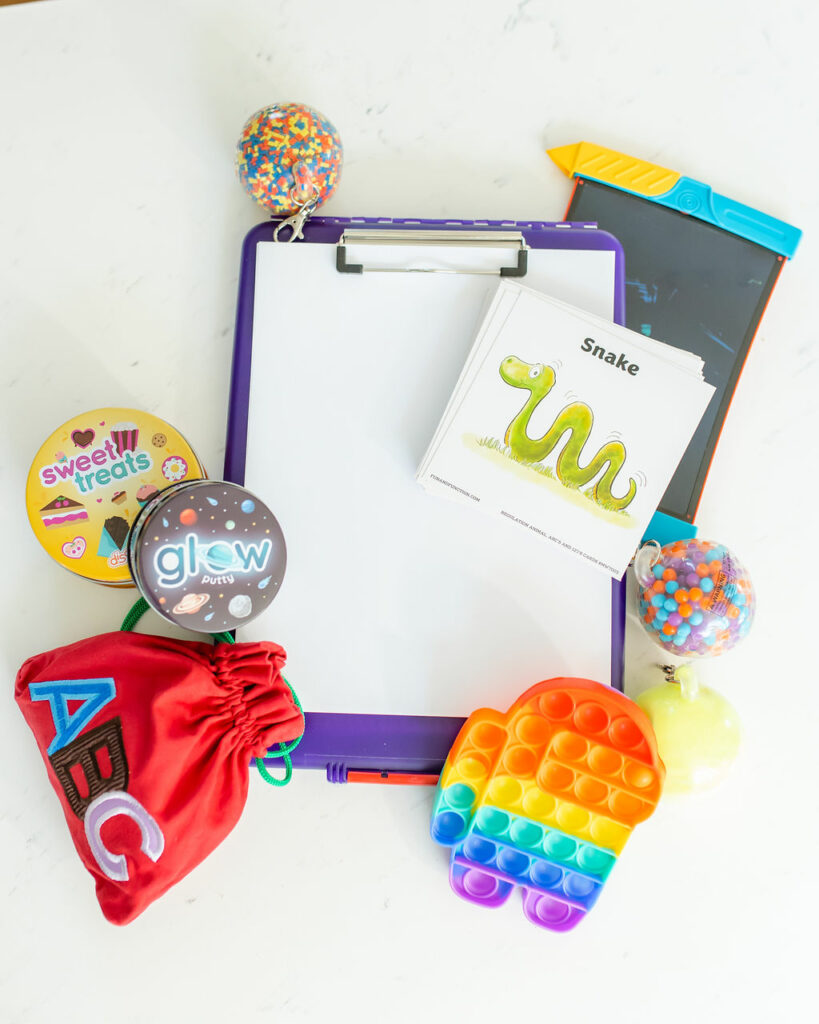 Art Supplies
Many kids find art very calming. I like to load our Dexas Slimcase with thin markers, small stickers, paper, and crayons. Any high interest art supplies make a great option! We also like magic drawing boards, which can also be high interest and fun for kids.
Other Sensory Tools and Supplies
Additionally, fidgets, stress balls, putty, and other sensory tools can all be great options for kids. As I said previously, you'll want to figure out what YOUR child likes and prioritize including items that work for them.
Calming Kits as a Social Emotional Preschool Activity
Wrapping things up, a calming kit is a wonderful social emotional activity for preschoolers and big kids alike. Not only does it offer concrete methods to show our kids how they can help themselves, it also brings those items together into one clear kit to choose from!
To review:
When to use a Calming Kit? This is a great option when our child needs to relax, are feeling overwhelmed by emotion, need help to bring down their energy level, reduce stress, or tune back into what's being asked of them.
What can go inside a Calming Kit? Sensory putty for sensory input, a Slimcase, markers, paper, stamps, stickers, and simple puzzles are all great options. Most importantly, I include high interest and preferred items!! Anything goes!
Why? In the moment: this really helps my kid calm down. Big picture: I want to teach my kids how to listen to their bodies and give themselves what they need.
I use language like this to help kids build an inner monologue that can sound like:
"I can calm myself down when my body has too much energy."
"It's ok to take alone time when I want time by myself."
"I can listen to my own body and mind to know what I need."
Thank you for reading, and I hope you find that Calming Kits help your family! I love to share social emotional preschool activities, and the DIY Calming Kit is an all time favorite here.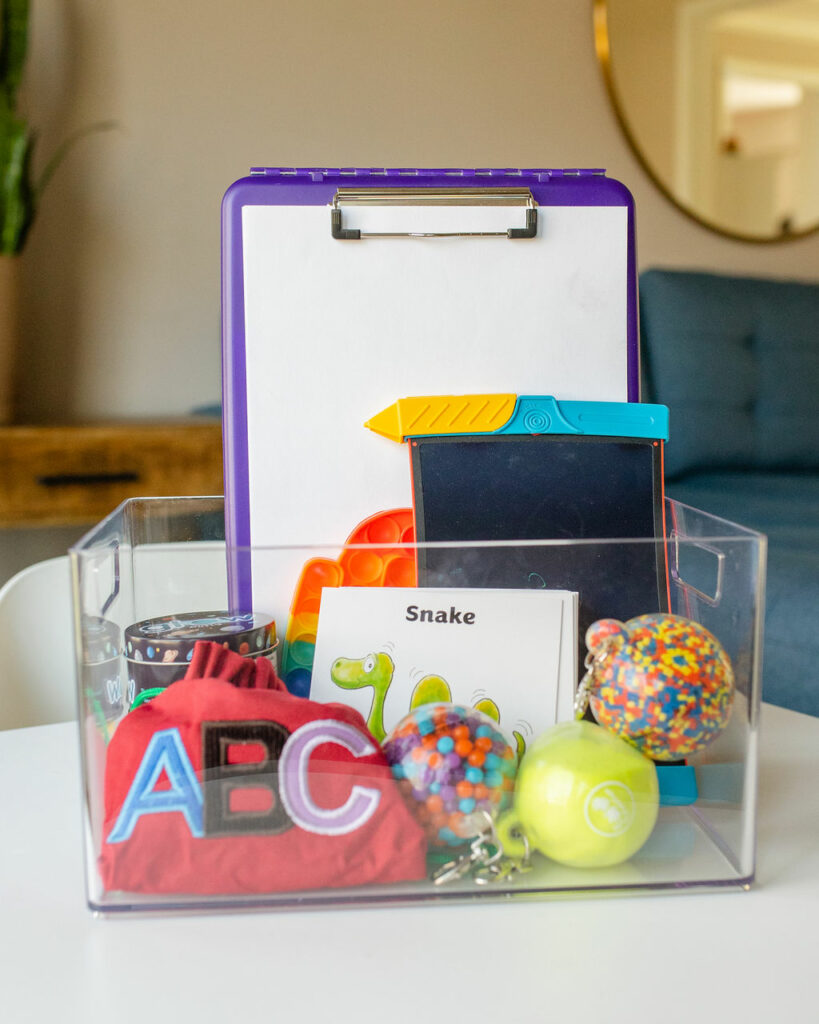 Additional Resources
Want a calming option that comes ready to use?! Check out this Ocean Sensory Kit from the amazing team at Present Not Perfect! This is their best-selling sensory kit with extension SEL resources on the topic of Emotional Identification (just like the waves of the ocean rise and fall, so do our emotions). This is a fabulous calming option for kids!
Explore more Social Emotional Learning strategies in this amazing post from Forward With Fun!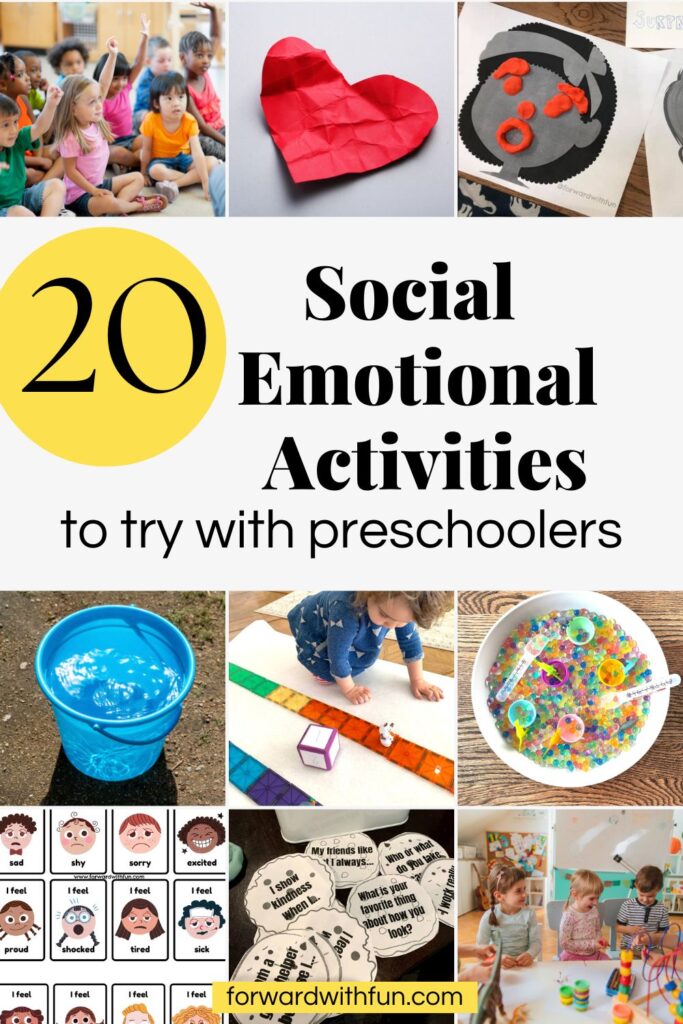 Looking for more strategies to support you kids? You will love these popular parenting posts!
Top Ten Positive Parenting Tips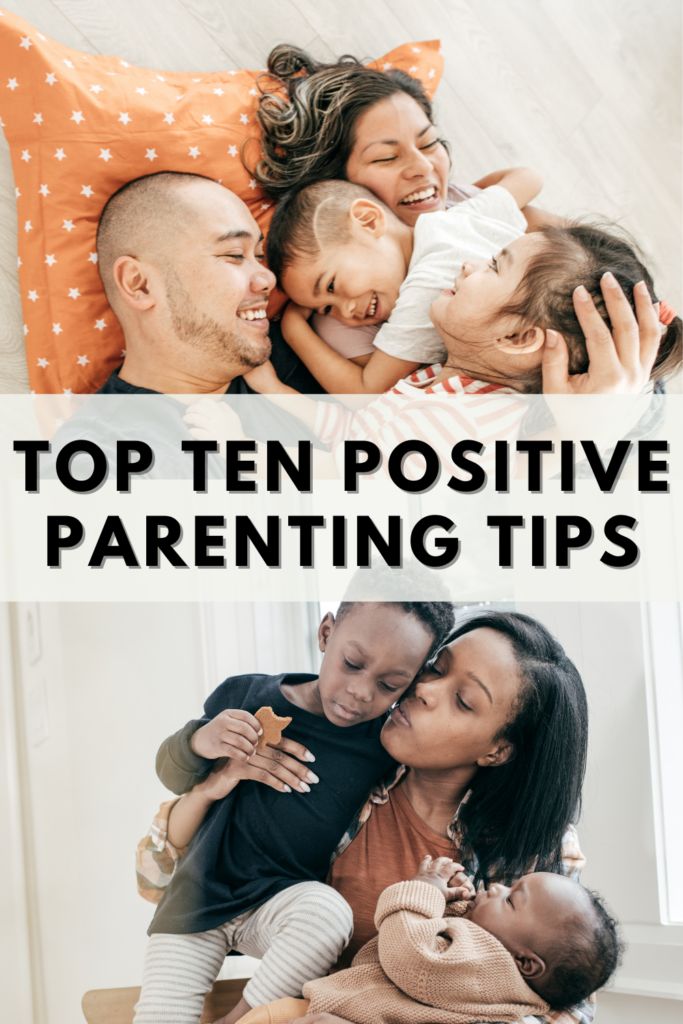 #1 BEST Tip for Sibling Fighting