Want to try sensory play?! I have rounded up 100 sensory bin fillers your kids will love!
You know those days when kids are melting all over and everything feels hard?? I share activities that are EASY to bust out in those moments – activities that are packed with learning and FUN for your kids!
WHY WE LOVE SENSORY PLAY
I share sensory bins, because they are an easy way to bring more JOY and learning to our days. My 3 kids are extremely active and close in age (5, 3, and 3) – having some activity options around the house helps our days go MUCH more smoothly. It often means the difference between nonstop fighting (when we don't have activity options) vs. kids having something to focus on that leads into positive, imaginative play (when we do have activity options set up).
** Wondering how to set up a sensory bin? Check out this post!
Sensory tables jump start my kids' independent play and exploration. It helps in moments when someone needs to reset, regroup, or we all need to start our day in a positive way.
But what can I put in the bin?! Here you have it! 100 sensory bin fillers!
Pick some to try that sound doable (and not stressful!) to you, and please let me know how it goes! Sign up to join the Low Lift Fun newsletter here – please stay in touch! I'd love to hear from you.
100 Sensory Bin Fillers
From the Pantry:

Rice
Popcorn kernals
Beans
Chickpeas
Lentils
Oats
Flour
Cornmeal
Dry macaroni
Salt
Coffee beans
Sprinkles
Baking Soda (+vinegar for fizz)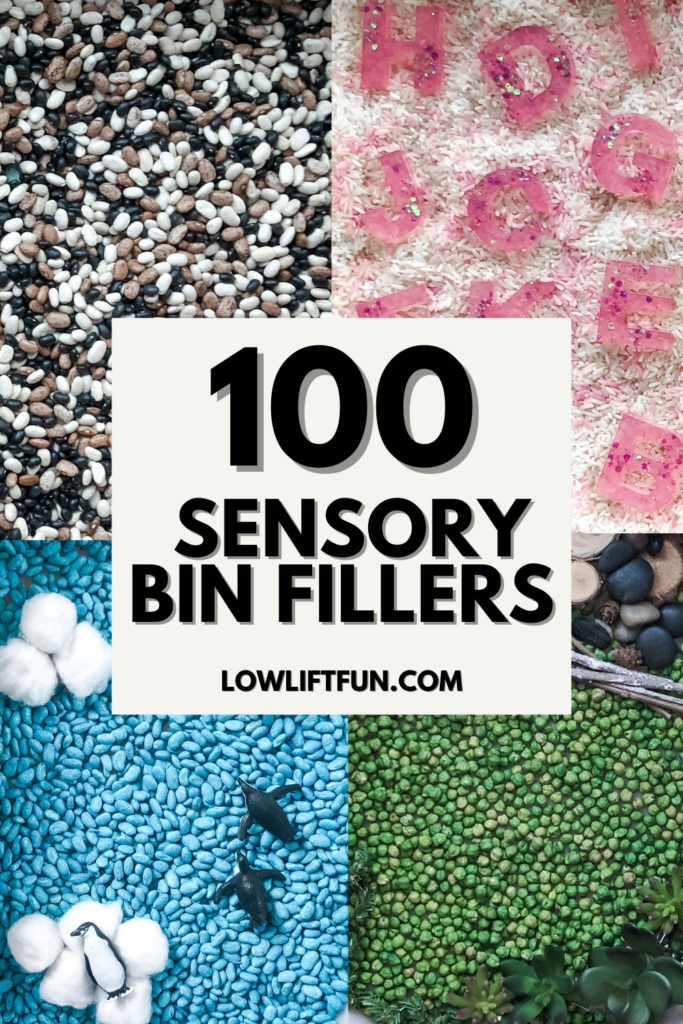 Sensory Play with Nature Based Materials – 100 Sensory Bin Fillers
From Nature:

Rocks
Birdseed
Seashells
Wooden discs
Pea gravel
Acorns
Pine needles
Pinecones
Sticks and branches
Helicopter pods
Flowers (play with them before they die!)
Leaves
Grass clippings
Mud
Dirt
Mulch
Snow! (It's so fun to bring inside!)
Materials You Already Have! 100 Sensory Bin Fillers
From the Play Room:

Blocks
Ball pit balls
Sports balls, bouncy balls, any balls!
Play food
Silk scarves (like the ones in a music class)
DUPLO LEGOS
Counting bears
Stuffed animals
From Around the House:

Q Tips
Cotton balls
Shaving cream
Random magnetic items + some that aren't – explore what is magnetic
Ribbon scraps
Easter basket grass
Tinsel
Fabric Scraps
Old game pieces (scrabble, bananagrams, boggle)
Old puzzle pieces
Yarn
Raffia
From the Recycling Bin:

Pouch tops
Bottle tops
Rubber bands
Hole Punches
Corks
Bubble wrap
Crinkly paper
Tissue paper
Packing paper
Packing peanuts
Strips of newspaper
Use the box AS the sensory bin – fill with anything!
From Dollar Tree, Michaels, or similar:

Pompoms
Feathers
Plastic gems
Glass stones
Pony beads
Letter beads
Crinkly paper
Fake flowers
Fake leaves
Fake moss
Foam shapes
Foam letters
Mini erasers
Unexpected Sensory Bin Fillers:

Fish tank rocks
Coins
Plastic counting chips
Marbles
Clothespins
Astroturf
Scraps of carpet
Messy Messy:

Taste Safe mud (cocoa powder + oil or water)
Hair gel
Ooblek (cornstarch + water)
Playdough
Bubble foam (baby soap + water blended with a mixer)
Life Skills with Soapy Water:

Wash fruits (like apples or pears)
Scrub pumpkins with soapy water
Sensory Fillers Worth Buying:

Water beads (Many are toxic – do not use if your child mouths items!)
Taste Safe Options – 100 Sensory Bin Fillers
HELP! What if my child or baby still mouths things?!
I'm all about sharing ideas that create space for all families and children to participate. If your child still puts things in their mouth, here are options for you.
Check out this post for 100 activities for babies and young toddlers as well – you will see some ideas that would be a match for your little one.
Taste Safe Sensory Bin Fillers

water with food coloring
stale cereal
any crushed pantry items (can mix in a blender)
cool whip
jello
pudding
leftover cooked noodles
Sensory Bags
Consider Sensory Bags (ziploc gallon bag taped to table or window)

flower and water
hair gel and pom poms
paint bags to mix paint colors
water beads in a bag
shaving cream
100 Sensory Bin Fillers – Sensory Play with Water
Water Play

Ice cubes
water dyed any color
bubble foam (1:1 ratio baby soap and water mixed with hand mixer)
water with DUPLO legos
toys frozen in ice – thaw them out with warm water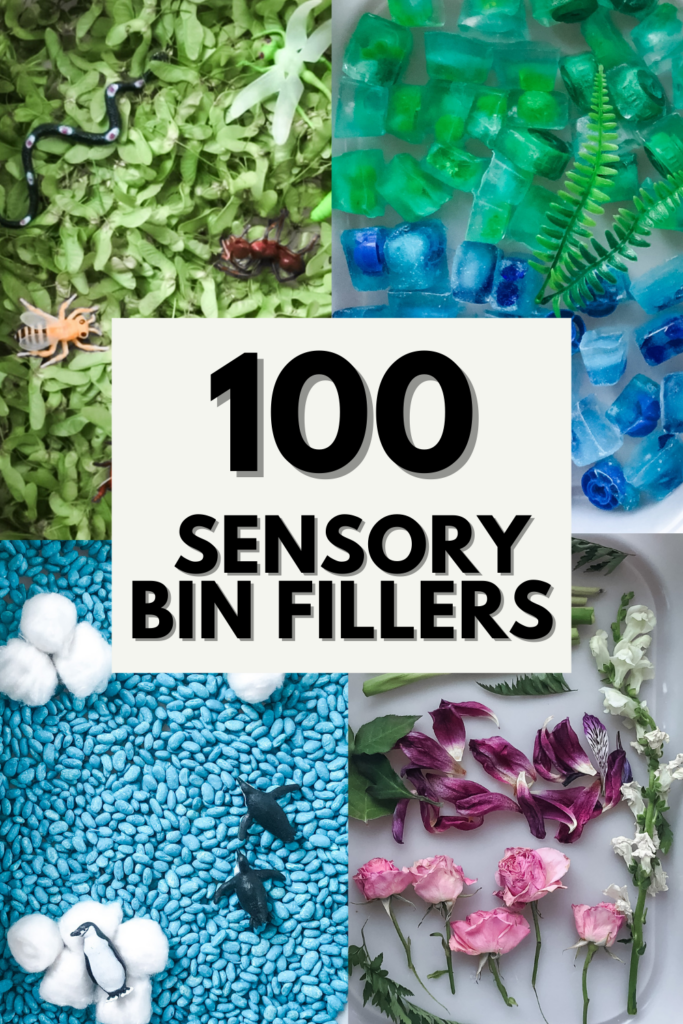 Does sensory play stress you out? READ THIS!
Please know sensory play doesn't have to feel expensive, stressful, or elaborate! And if it is stressful to you, it is OK to skip it! I share ideas to add joy to your day – aiming to make life easier for you and more fun for them. If you see anything here that isn't your jam, skip it and don't look back. You're doing a great job. PERIOD.
Rice play was a NO for me for the longest, because it seemed too messy – now I'm into it. I have a personal vendetta against slime – other people love it. IT'S ALL GOOD.
Sign up to join the Low Lift Fun newsletter here – low lift (EASY!) activities delivered to you.