This post will cover fun and easy things to do with babies!
First and foremost, please know you do NOT need to plan activities for babies or toddlers. They learn by exploring the world and engaging with us, so fancy set ups and planned activities are NOT required. I'm a huge believer in setting up YES spaces for our little ones, so they can move freely and explore openly without much need for intervention from us.
That said, there are plenty of ways you CAN engage you babe or young toddler – and this is the list for you if you're looking for ideas. These types of activities offer exposure to the world and help guide you toward enriching ways that you can interact! Remember the most important activities will always be engaging with you and exploring their worlds.
You know your baby or young toddler best – choose activities that will be safe for your comfort level and child.
Sensory Bags for Babies
You make a sensory bag with a gallon ziploc bag and tape! Perfect no mess option!
Once you fill the bag, you can tape it down to the table, high chair, window, wall, or anywhere else. I recommend thick tape to help hold it securely in place.
Sensory bags 5 ways!

hair gel, a little water, and pom poms
paint bags to mix paint colors
water beads in a bag
shaving cream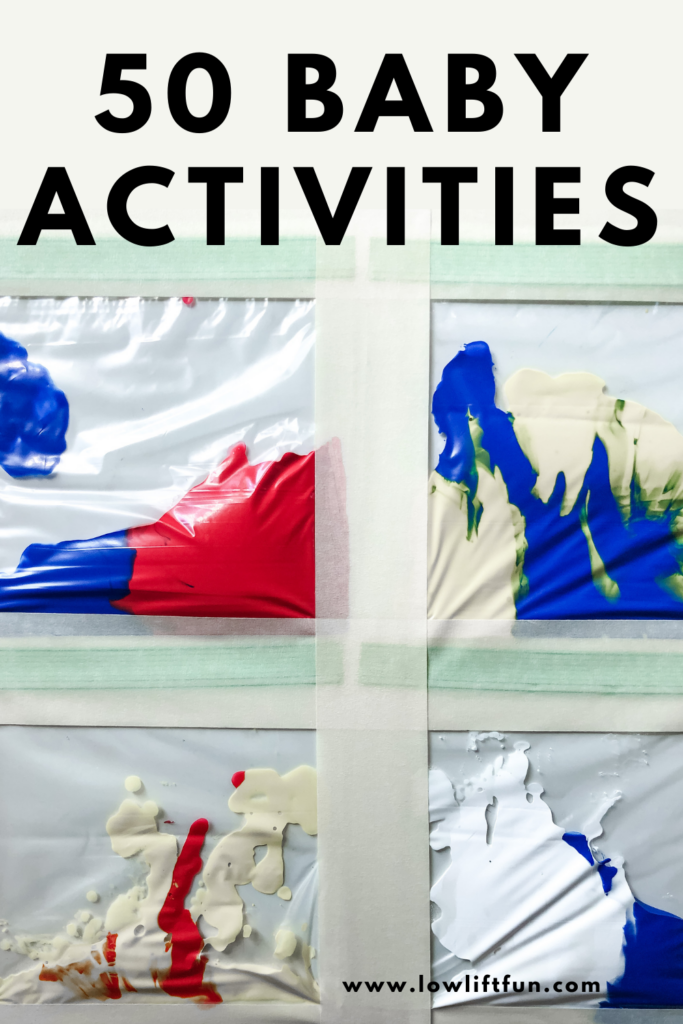 Sensory Bins for Babies
You can make a sensory bin using a large plastic storage container, the IKEA FLISAT table with bins, or any other large container you've got! More on setting up sensory bins here.
NON FOOD baby/toddler Sensory Bins:

Shape bin – find everything you can that's one shape (like circular lids, balls, and anything round – or do the same with squares and cubes).
Open and close basket or bin – round up items that open and close (wallets, boxes, glasses cases, etc.)
Musical bin – gather up baby friendly instruments, rice in bottles, and beans in Tupperware to explore sound.
Stuffy bin – dry baby pool, play yard, or under the bed storage bin filled with stuffed animals
Texture bin – pull a variety of ribbons, cloth, clothing (think wooly, silky, fuzzy to let your little one explore)
Taste Safe Sensory Bins:

water with food coloring
stale cereal
any crushed pantry items (can mix in a blender)
cool whip
pudding
leftover cooked noodles
Water Play

water dyed blue with ocean animals
bubble foam (1:1 ratio baby soap and water mixed with hand mixer)
color bath (round up toys of the same color – like duplo LEGOs and balls)
ice cubes – explore melting
toys frozen in ice – thaw them out in the shower
baby doll bubble bath and care station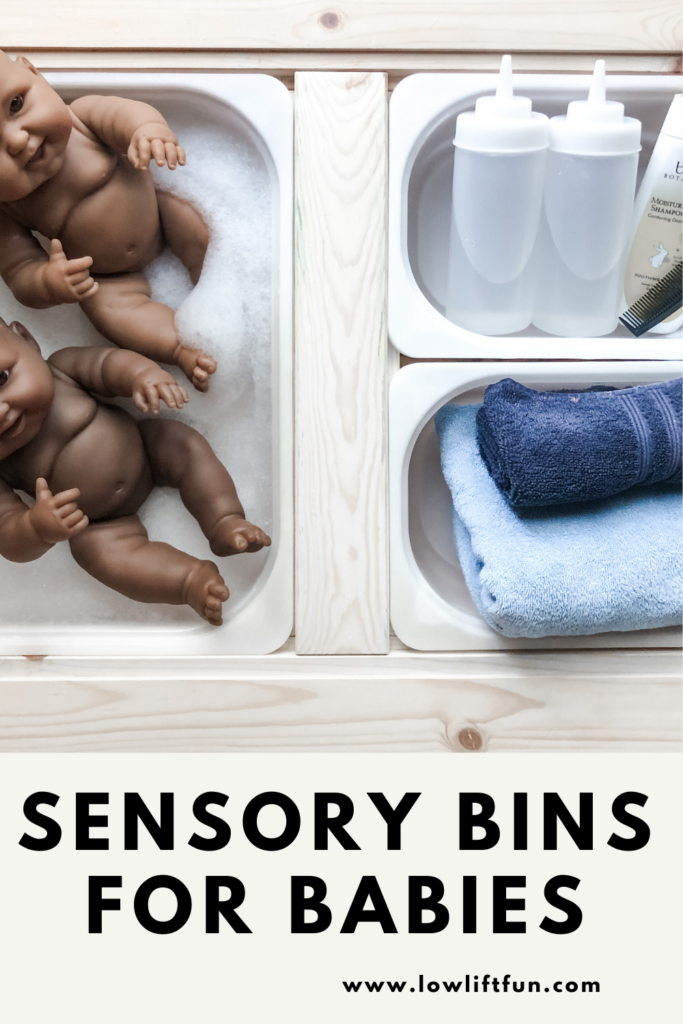 Art Activities for Babies
Art

Edible finger paint (yogurt with food coloring)
Gallon bag painting – place paper in a gallon bag with a small squirt of paint – little one can spread the paint to create their first painting!
tape paper on high chair and color with crayons
paint ice in a baking dish
full body painting – put on a diaper, take a cardboard box outside, and let your child paint with their hands, arms, feet, and legs!
Activities for Babies with Household Items
Household Items

cookie sheet with large magnets
whisk with large pompoms or silk scarves inside
toy rescue – loosely tape toys on the back of a cookie sheet with painters tape – little one can pull tape to rescue the toys.
baby's busy box – round up nonfunctional technology like old cell phones, landline phones, or a broken ipod – set in a basket for baby to explore!
DIY ideas with recyclable Items:

Clorox wipes ball drop – drop balls into the empty Clorox container, empty and repeat!
Kleenex toy box – hide toys in an empty tissue box for your baby to take out and fill again.
Round up recyclable containers and lids – match the lids
DIY instruments (beans or rice in plastic containers)
Water bottle sensory bottle (water, oil, glitter, food coloring)
Rainy Day Fun

Baby safe obstacle course
Sing songs with motions in front of a mirror
Magnets on the washing machine
objects taped to the wall with painters tape
Fine Motor Activities for Babies
Fine Motor Fun (many of these will be better for the 12 month and older crowd)

Card Drop Slot – drop playing cards in an oats container with a slit cut in the lid
Popsicle stick drop – cut a small rectangle in the lid of an empty container – child can drop in popsicle sticks
PomPom Drop – drop pompoms in an old salad dressing bottle
Tape pull – stick pieces of tape along the edge of a surface for little one to pull off
Clothespin pull – clip clothespins along the edge of a bin or container for little one to tug off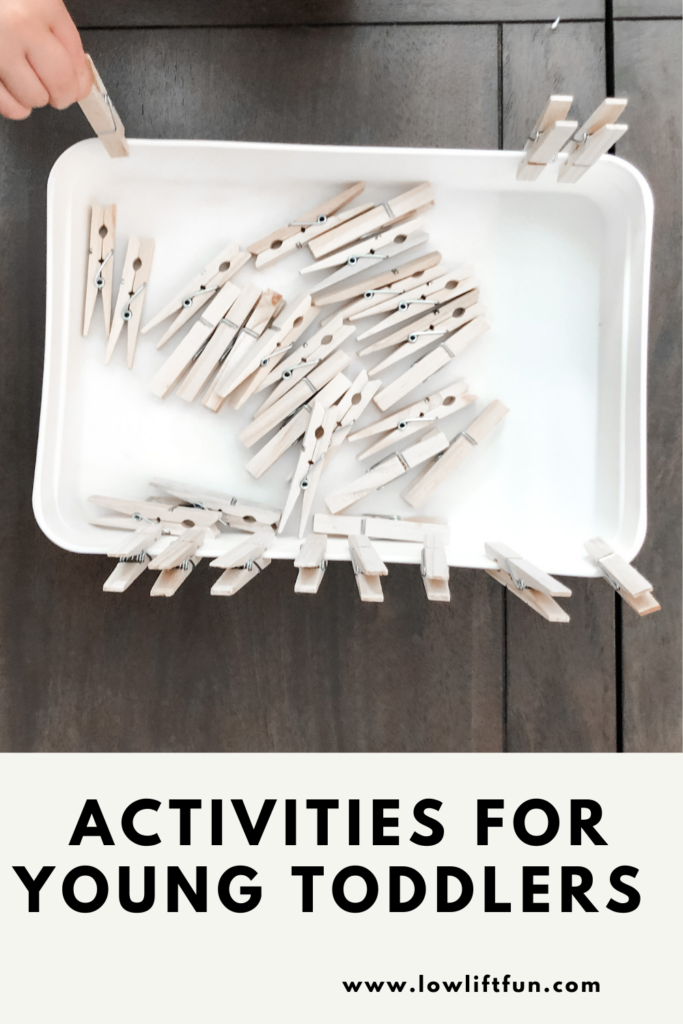 Gross Motor

ballon crawl – tape balloons low along a wall
bubble wrap stomp – tape bubble wrap to the ground to crawl, stomp and explore!

child led walk – go for a walk, and let them completely lead the way

post its stuck around the room or along the hallway
Thank you for reading – I hope you try some of these Things to Do with Babies and have fun with your little ones!
Sign up for the Low Lift Fun newsletter to get low lift (EASY!) play and parenting tips delivered straight to your inbox.