If you're looking for a custom closet in Chicago, look no further than Inspired Closets Chicago.
Are you tired of struggling with a cluttered and disorganized closet? I know I was!! Old and worn out clothes previously packed our closet. The unused items and clutter filled the space. It was chaotic, disorganized, and challenging to find what we needed!
I am so grateful that we unlocked the amazing potential of our space with a custom primary closet designed by Inspired Closets Chicago.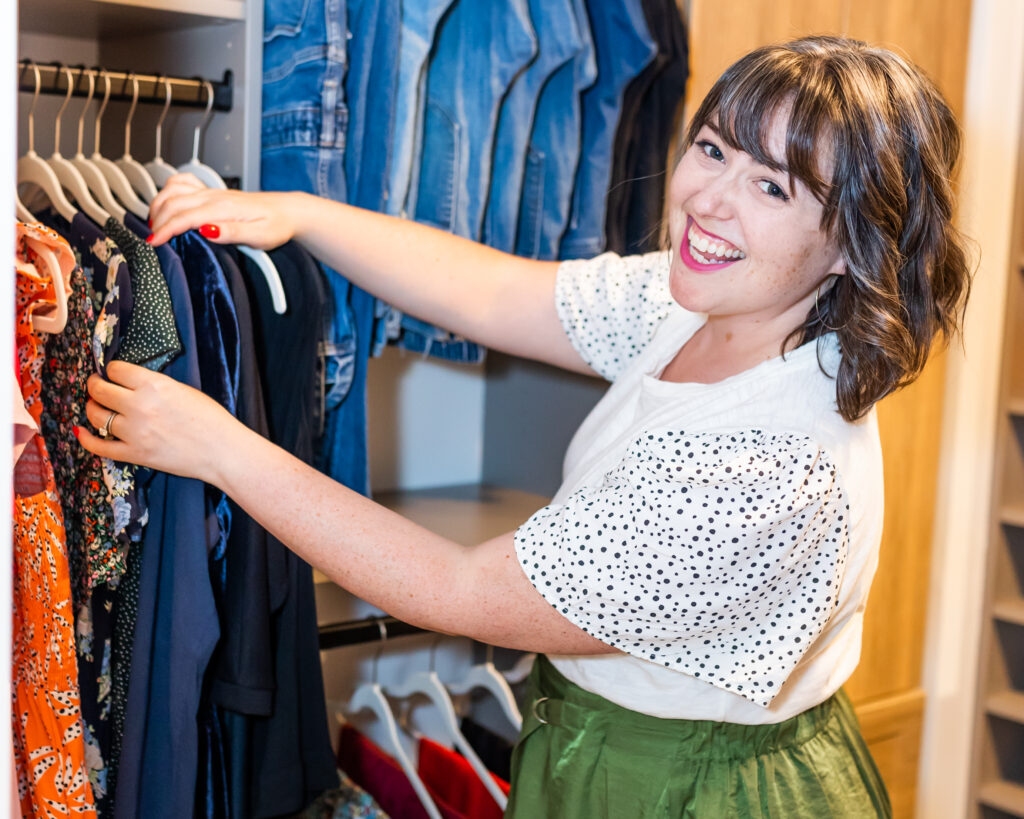 At Inspired Closets, the designers specialize in creating personalized storage solutions that not only maximize efficiency, but also enhance the aesthetics of your home.
Our custom primary closet has completely transformed our space and our daily routine. The final result amazes me, and we feel so grateful this space is ours!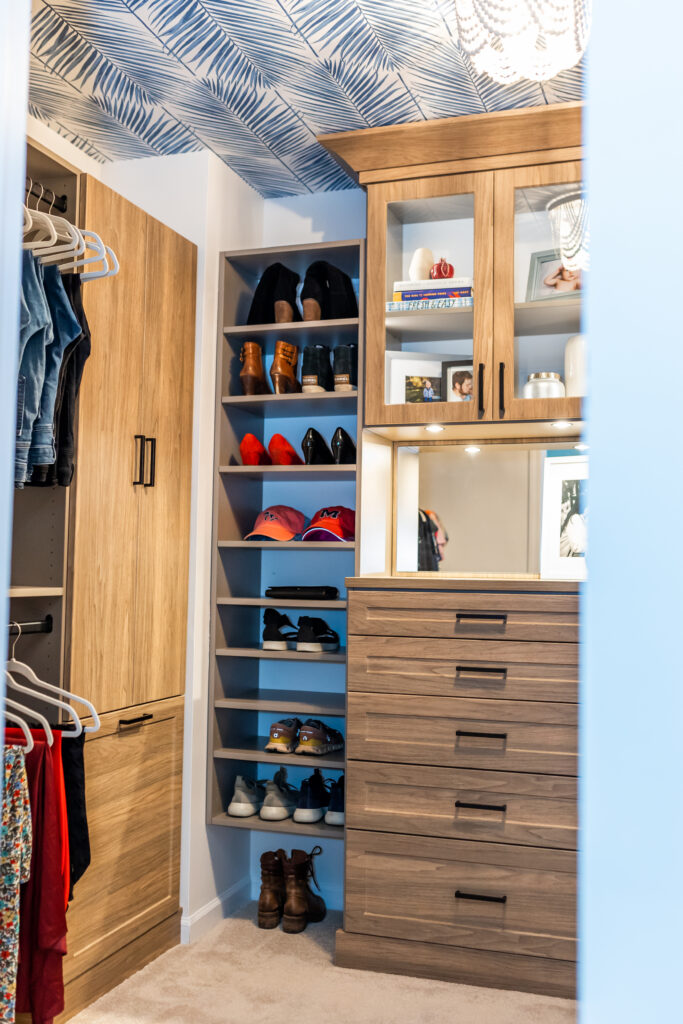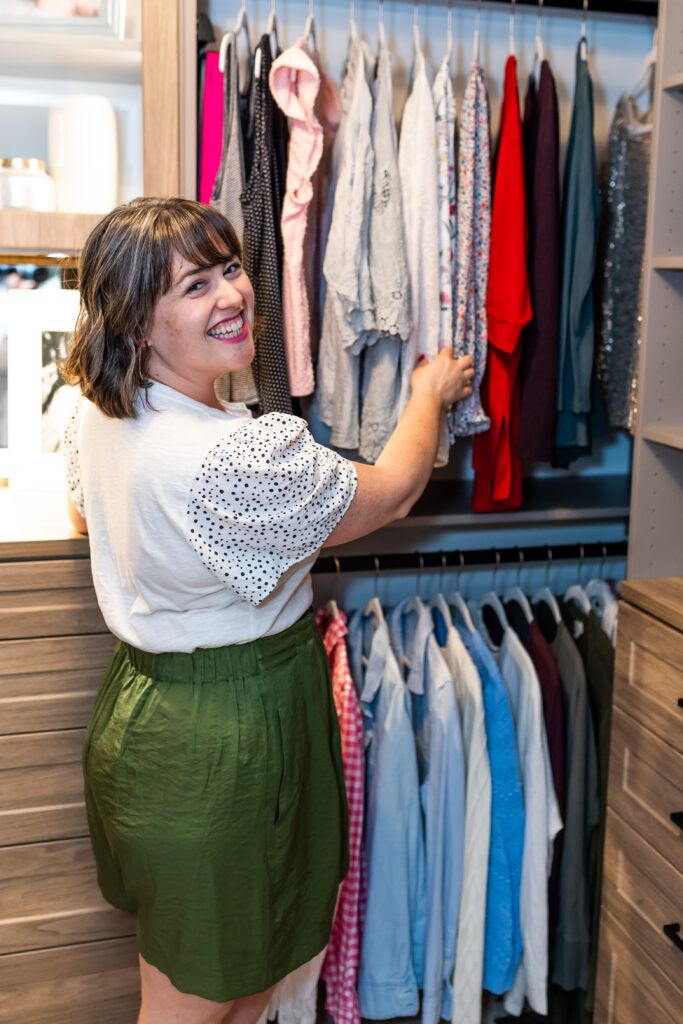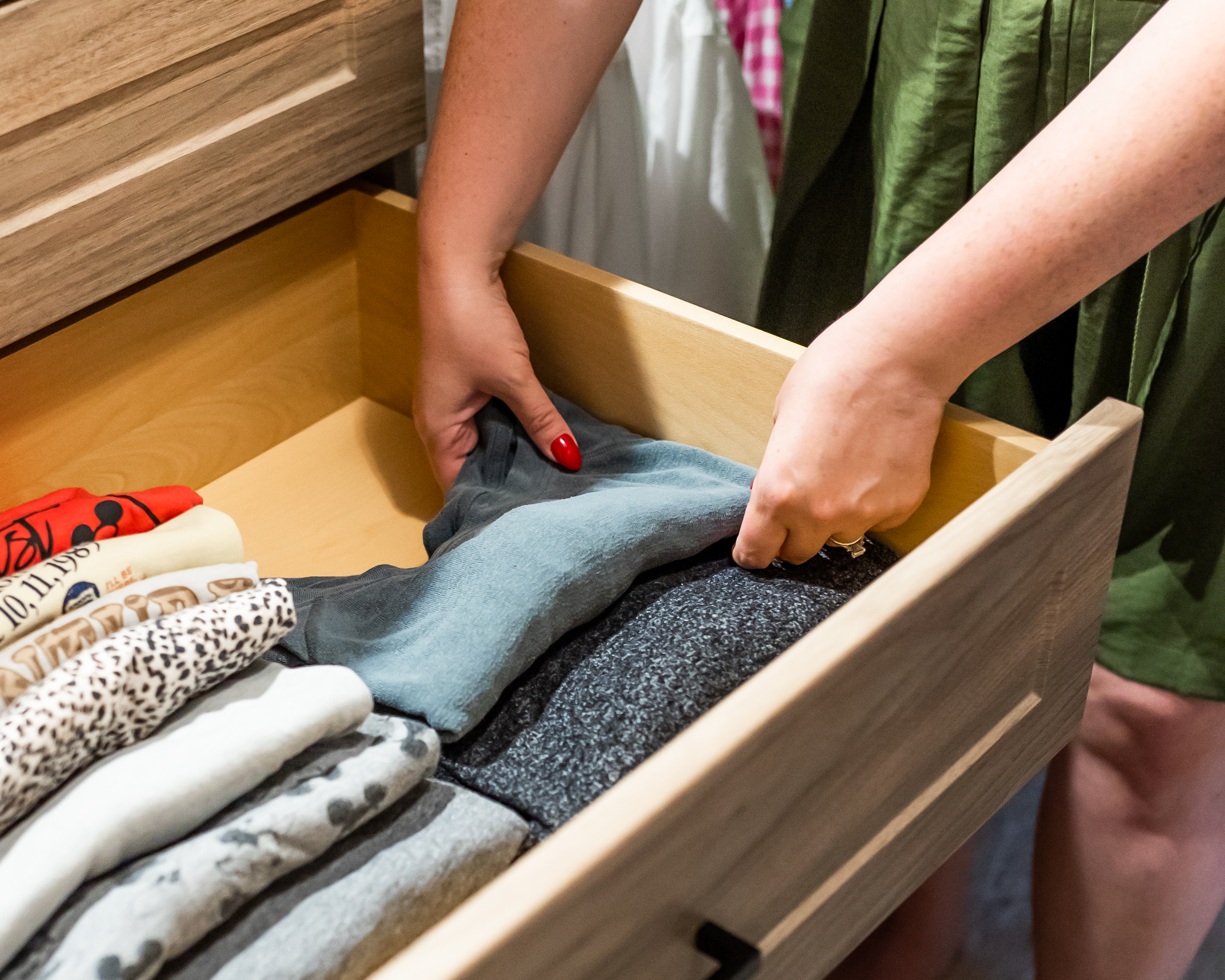 Consult and Design: Personalized Custom Closet Design for Homes in Chicago and the Suburbs
In-Home Consultation
The process of working with Inspired Closets Chicago started with a designer coming to our home! They offer FREE consultations! In planning our custom closet during the in-home consultation, the brand's designer and owner, Mike Carson, looked at the current space and asked us about our habits and goals for the space. From there, the team went out of their way to consider our needs and preferences.
For example, I don't have fancy purses or tons of shoes. So I don't need a lot of storage for those items the way another person might. As a second example, laundry was always piling up and out in our bedroom, so the designer suggested we add hidden laundry – genius idea!
Their team of expert designers worked closely with us to understand our storage requirements for the primary closet, our lifestyle as a couple, and our personal style.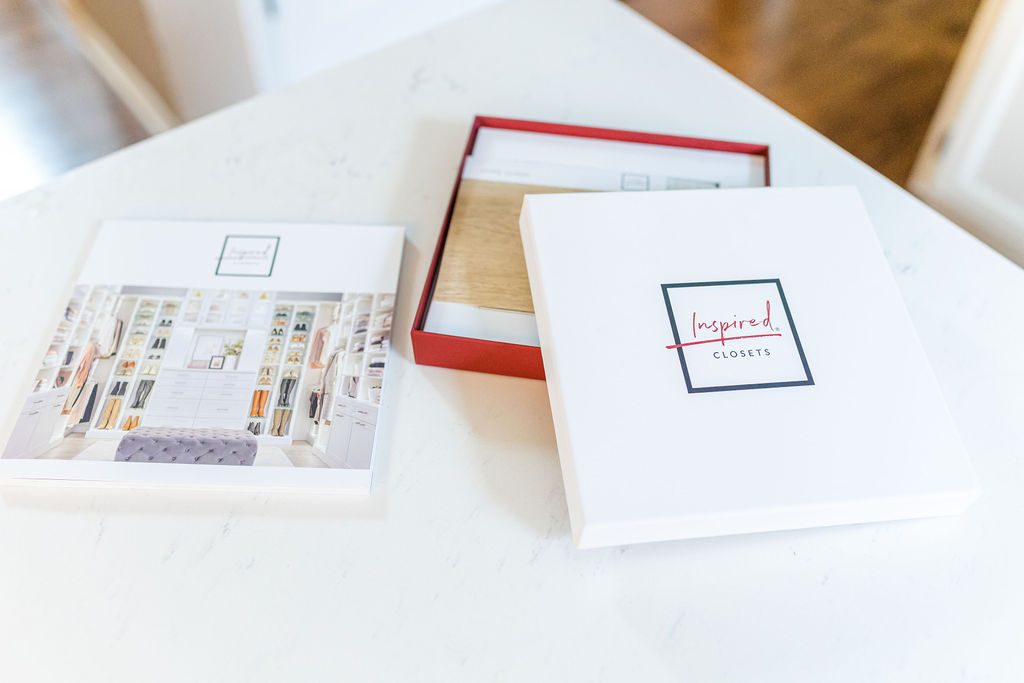 Design Process for a Custom Closet in Chicago
After the in-home consultation we visited the Inspired Closets showroom in Oak Brook. This was such a FUN part of the process! We saw the options for finishes and specialty features in the showroom. We could see and touch model closets to see what we liked!
At the showroom we also got to view the completely personalized 3D design of our closet on a large screen (images below). It blew me away to see how Mike took our needs into account.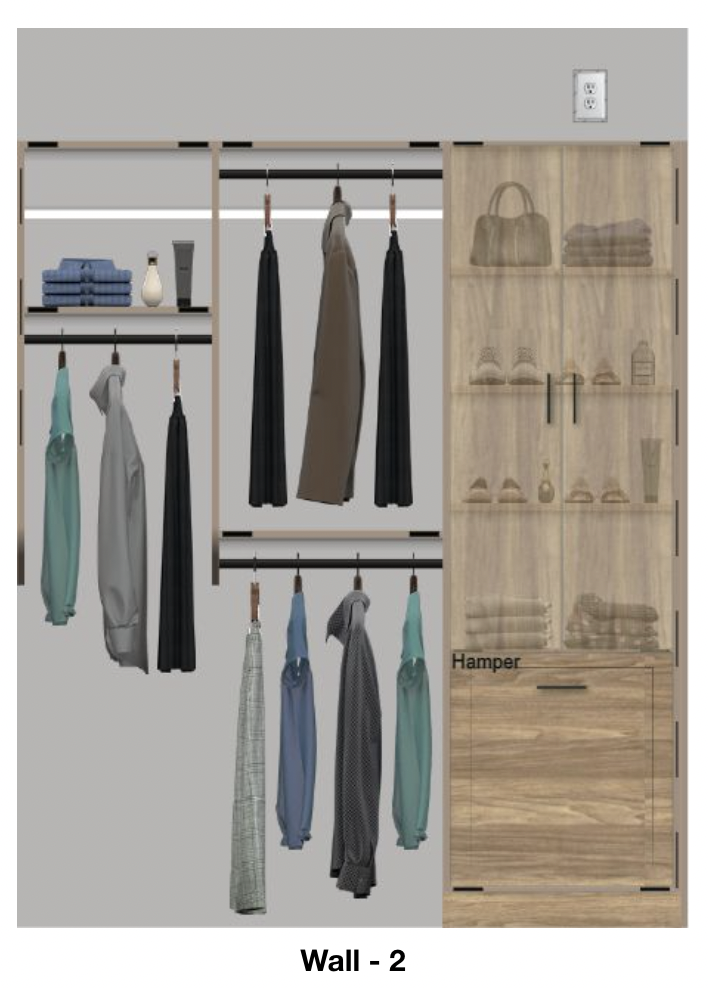 Whether you have a small apartment or a spacious home, I love that Inspired Closets Chicago can work to optimize the closet space to its fullest potential based on each person's personal needs!
Efficient Use of Space
Living with a large family and/or living in Chicago often means needing to maximize storage. That's where the Inspired Closet team's expertise shines. They maximized our available primary closet space. They utilized innovative storage solutions such as deep drawers (I'm in love!), built-in shelves, cupboards, and specialized compartments. Their goal was to help my husband and I make the most of every inch in the closet. As a result, this allowed for efficient organization and easy accessibility to our belongings.
As mentioned, organization had previously been a HUGE pain point for us in the closet! We weren't using the space efficiently at ALL before. However, the new system allows us to successfully maximize the space we do have.
Prep and Install
Custom Closet Prep – Editing Our Wardrobes!
As we prepared for our closet installation, we did a TON of purging.
I knew we had a lot that needed to go. However, I hadn't realized just how MUCH clutter was filling our primary closet.
I didn't realize how much we would edit our wardrobes and how freeing this would feel! Our old closet was crammed with items we didn't wear. As a result, it made the space chaotic and difficult to find what we actually needed. Preparing for the installation prompted us to simplify and edit. Our bedroom and closet feel so much lighter without the weight of extra stuff!
Installation
Our custom closet installation was so fast and smooth!
I couldn't believe how fast the Inspired Closets Chicago team had the new closet system assembled! The installation was done mostly within one day. Amazingly, this included both a light tear out of our old closet system and the installation of the new one! The installation specialist came back briefly on day two to finish up.
It is worth noting how kind and professional the installation specialist was. Nick was very tidy and cleaned up on both day one and day two. He also had excellent attention to detail. For example, he noticed a couple of rods were cut a bit too short on day one. On day two he brought back new rods with a perfect fit. I probably wouldn't have noticed the length, but he wanted to make sure every detail was perfect!
The new system is absolutely beautiful and the quality is unreal. The soft close drawers, hidden built-in laundry hampers, and built-in lighting are my favorites!
Final Touches in Our Custom Closet
After the closet installation, we touched up our walls from where the old system had been. My husband installed a new light, and we had a contractor install wallpaper on the ceiling.
Our designer and the Inspired Closets Chicago owner, Mike, recommended adding wallpaper to the ceiling for a graphic pop. I'm in love!
These were small upgrades that really complimented the new closet system and made this space completely our own!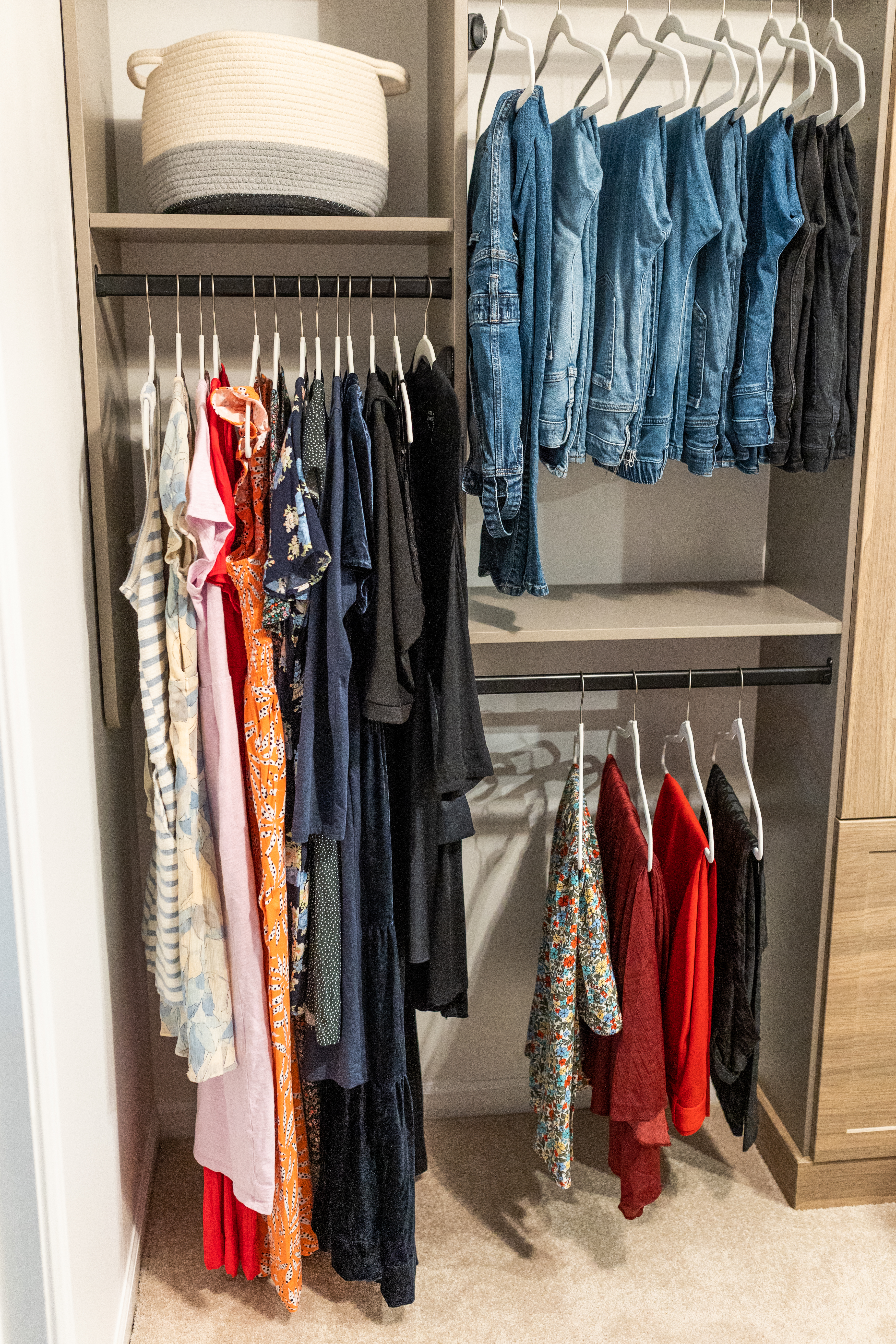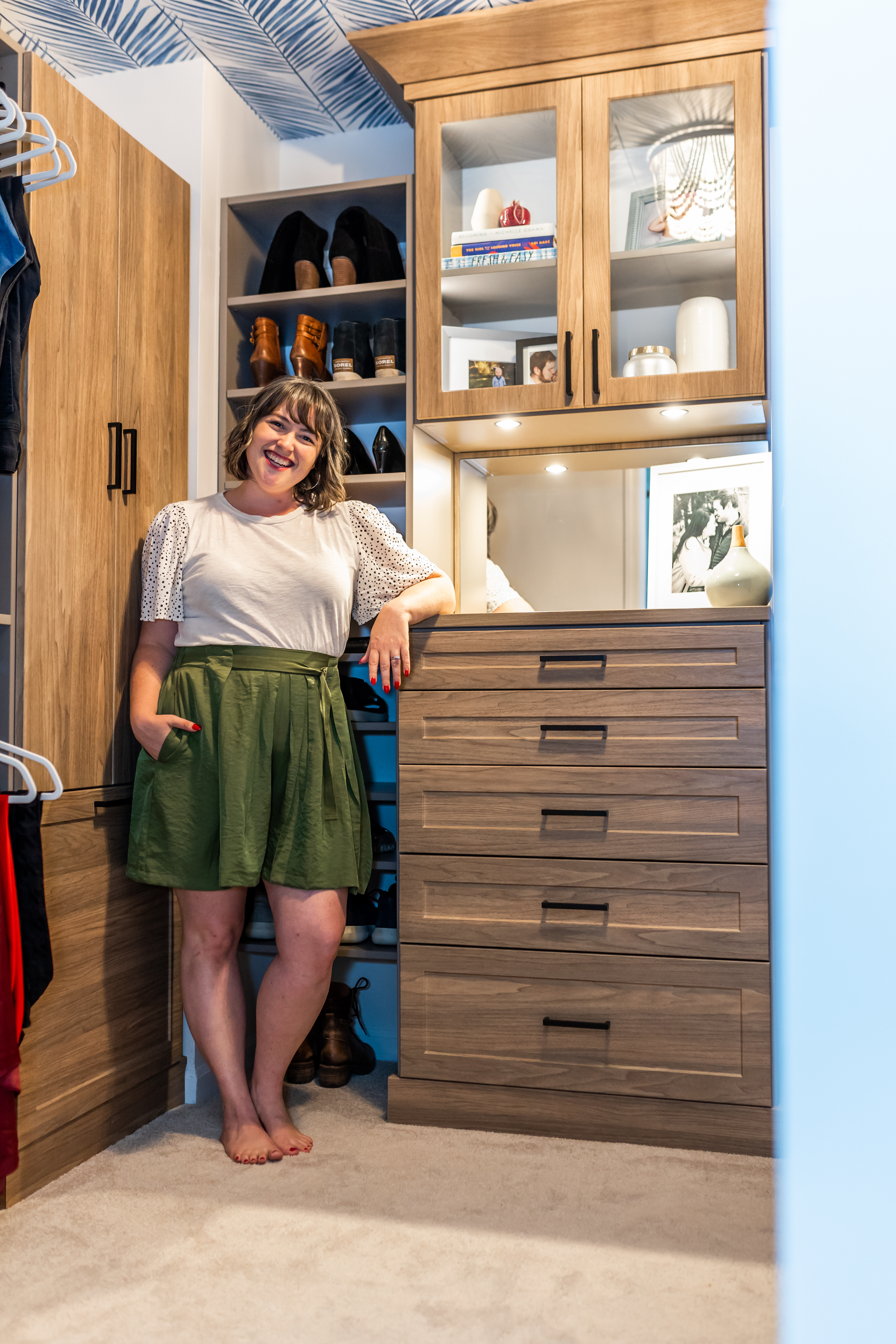 Enjoying Our Custom Closet
Enhanced Organization for Our Busy Lifestyles
As Chicago suburbanites with 3 young kids, life is fast-paced! I felt stressed in the old closet. I didn't have an organization system. It felt tricky to find what we needed.
I love that our new custom closet is designed with organization in mind.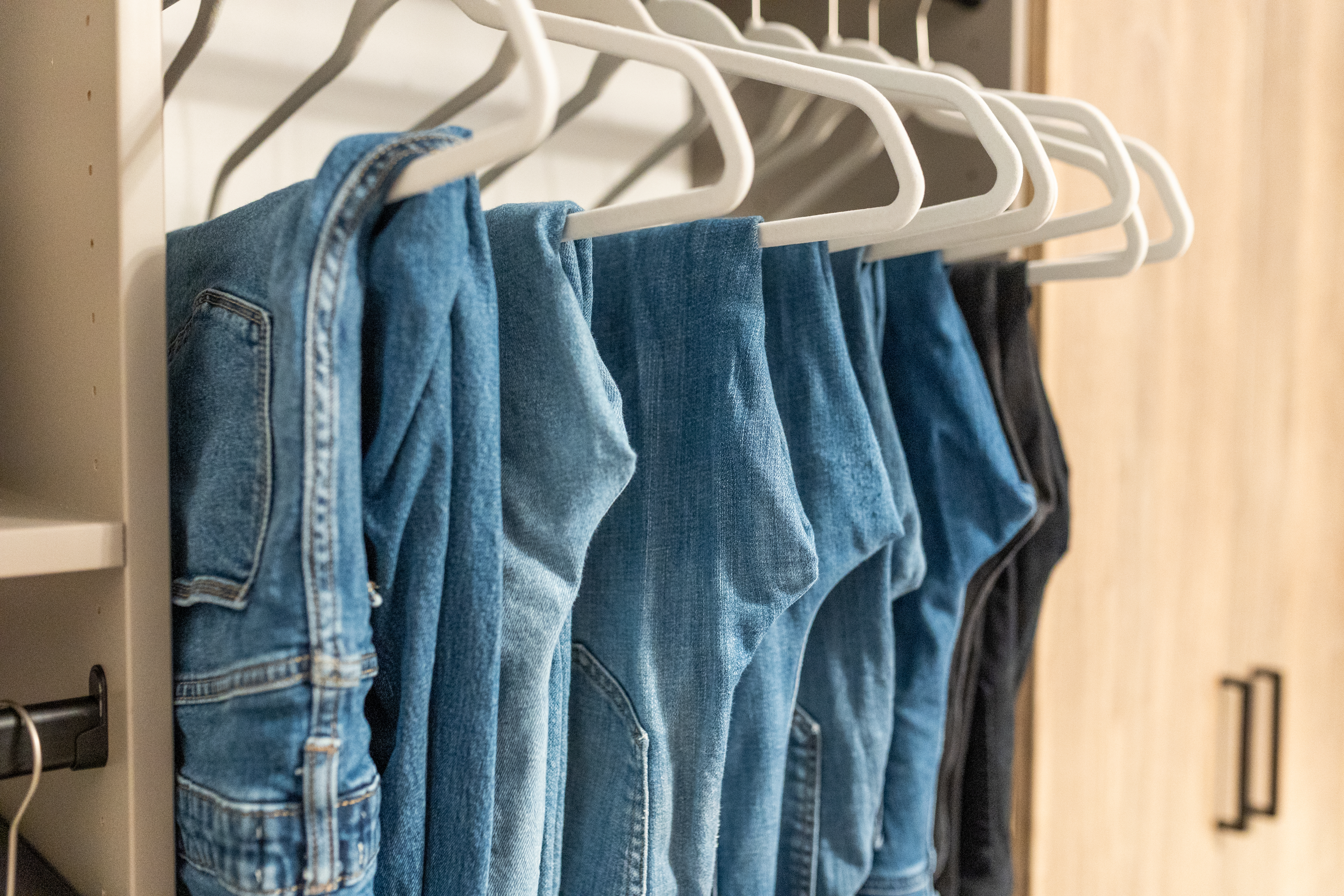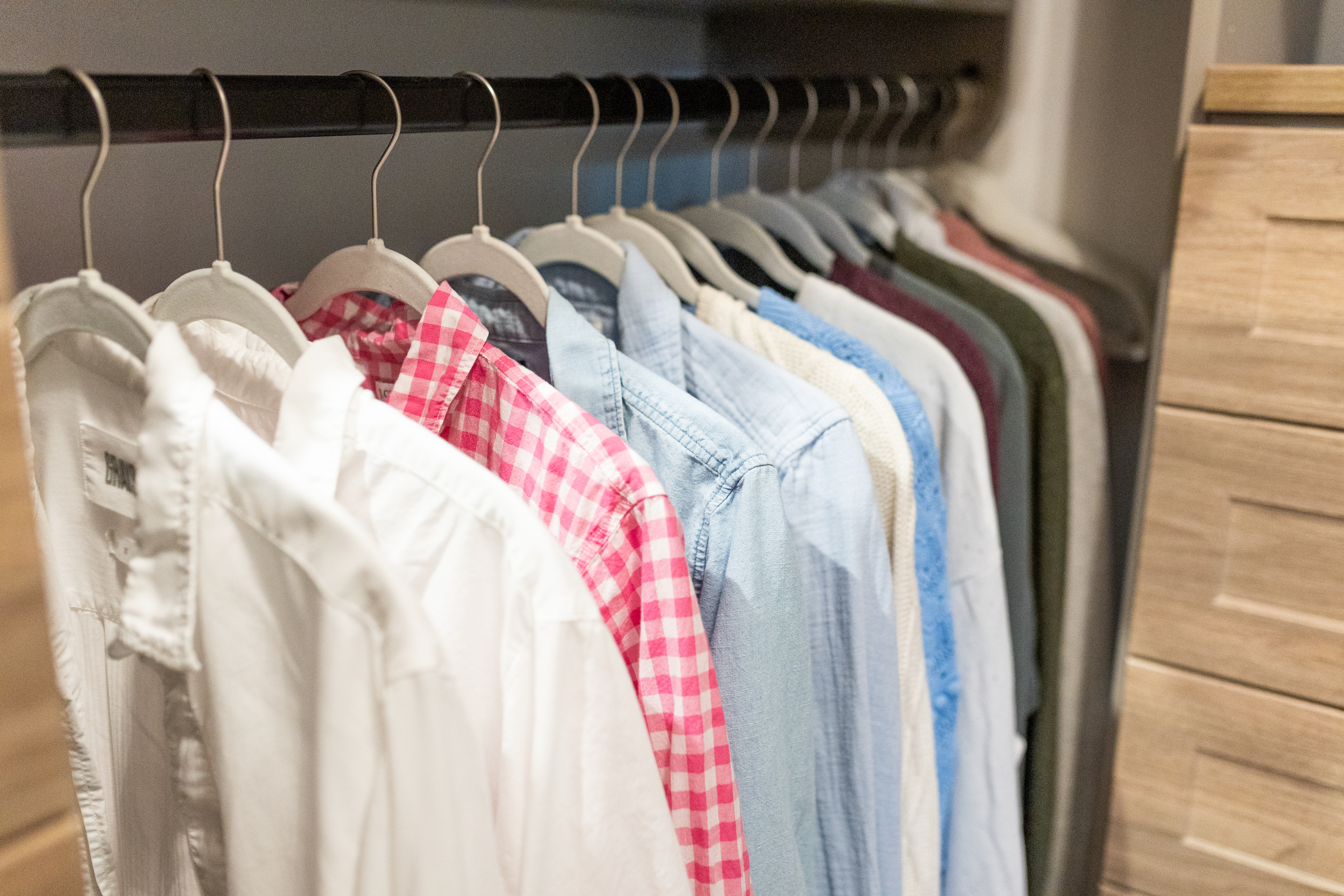 Say goodbye to searching for misplaced items or wasting precious time digging through piles of clothes! Inspired Closets Chicago created designated spaces for each item. It's so much more enjoyable to be in this space, because I can so easily find what I need!!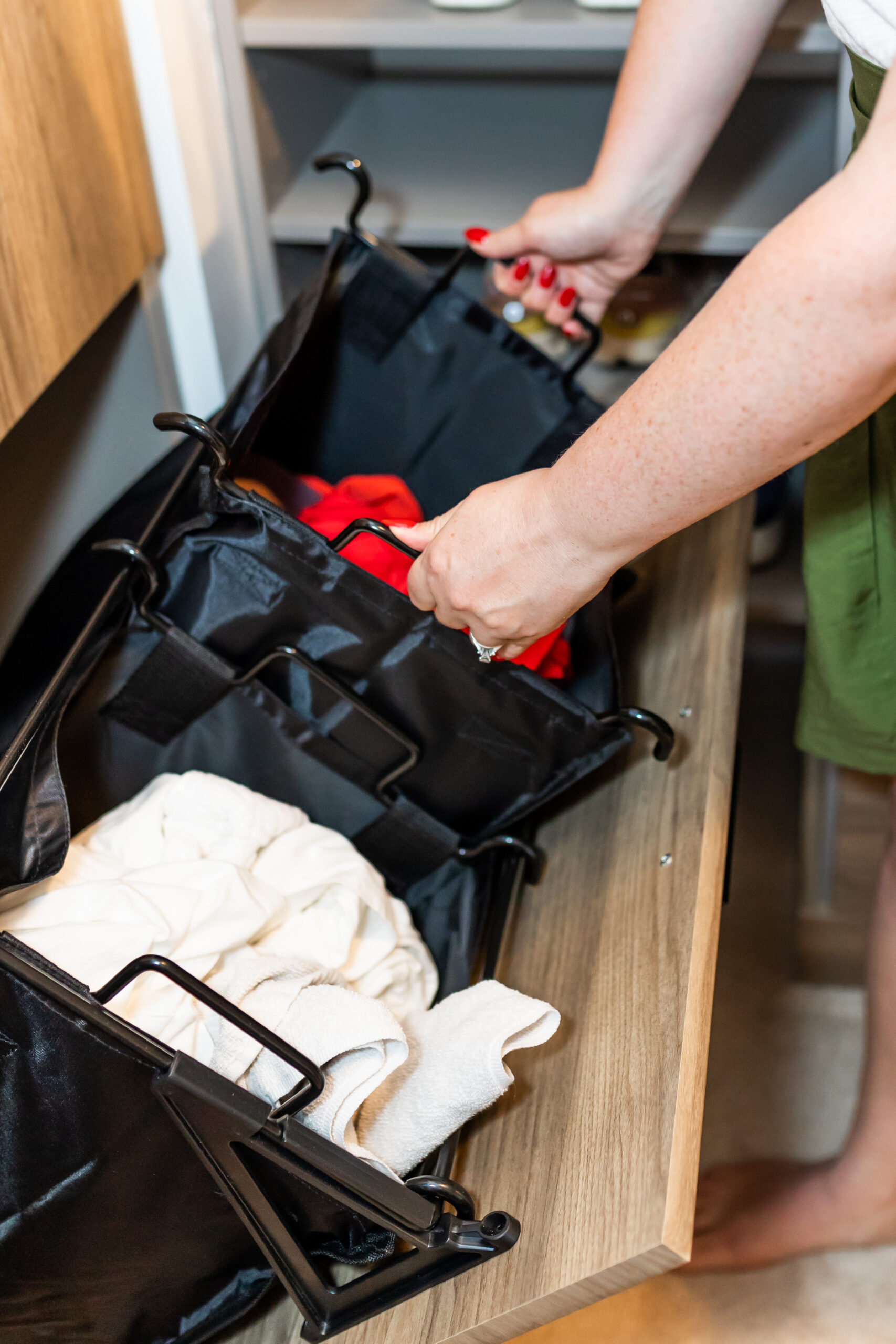 I'm enjoying a clutter-free closet that promotes productivity. It brings me a sense of calm amidst the chaos of having three young kids! It's amazing how getting ready in this space truly sets the tone for the day. I feel calm and happy in our closet, and that's a wonderful headspace to be in when getting ready!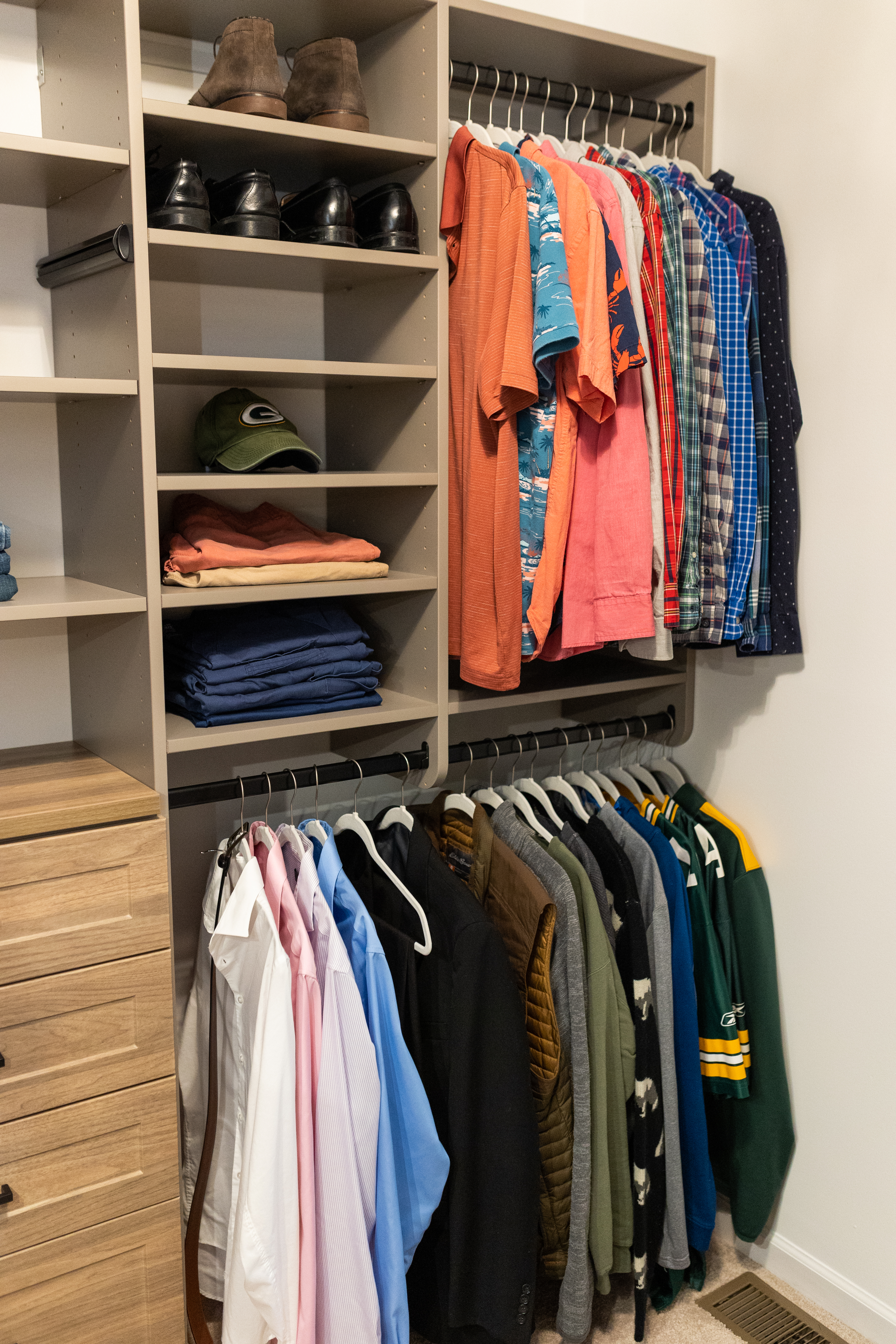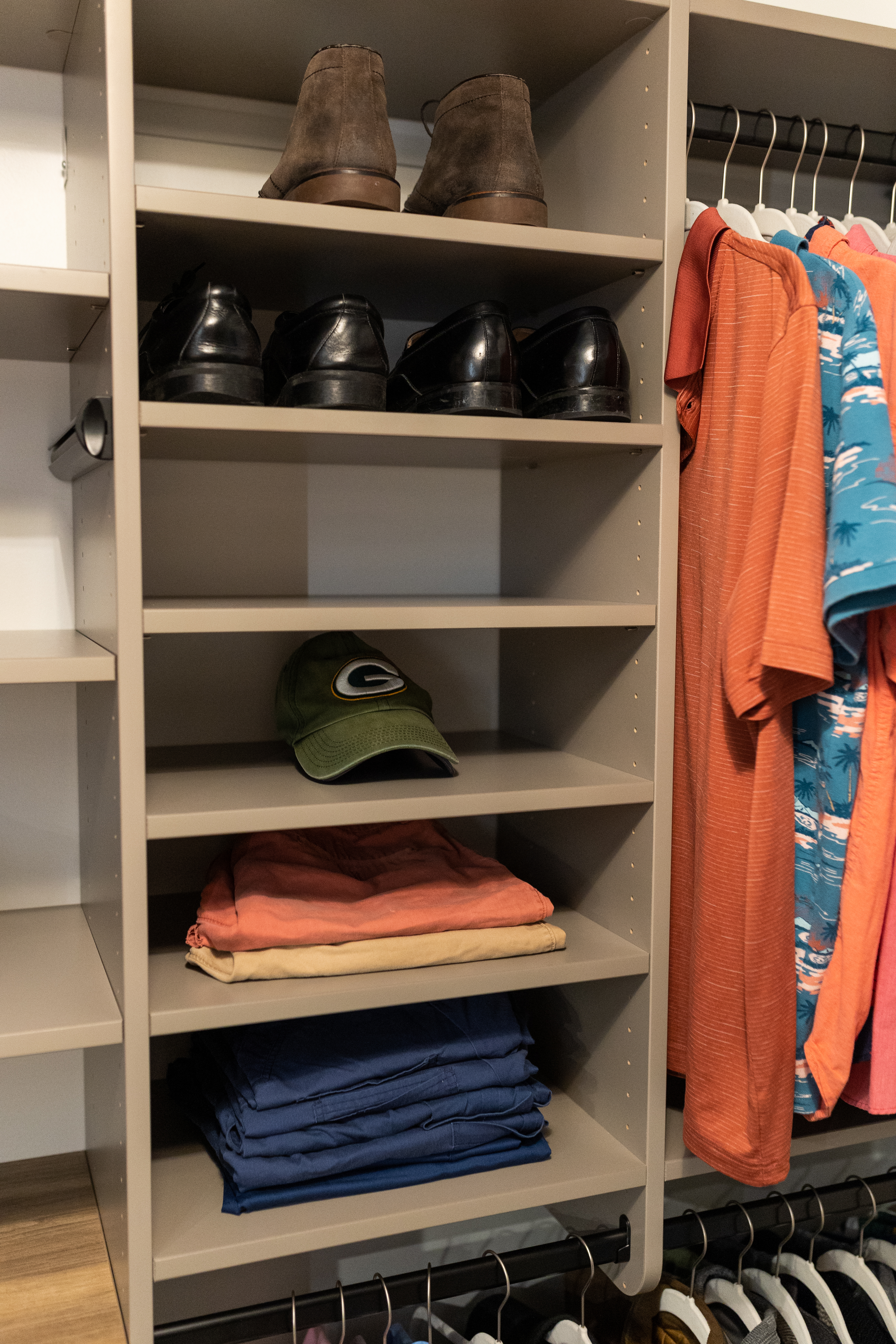 Aesthetics that Elevate Our Space in our Custom Closet
Our custom closet isn't just functional – the design from Inspired Closets Chicago also enhances the overall aesthetics of our home. Inspired Closets Chicago offers a wide range of high-quality materials, finishes, and accessories. There are endless options to match your personal style and seamlessly blend with your existing decor.
I originally thought I wanted a white closet. However, our designer suggested the possibility of a light wooden tone. His recommendation matches the bed frame in our primary bedroom and better coordinates with our space. This final color choice is absolutely stunning, and I'm thrilled we followed his recommendation.
I keep saying the new closet just feels like us now.
It reflects our unique taste and elevates the visual appeal of our space.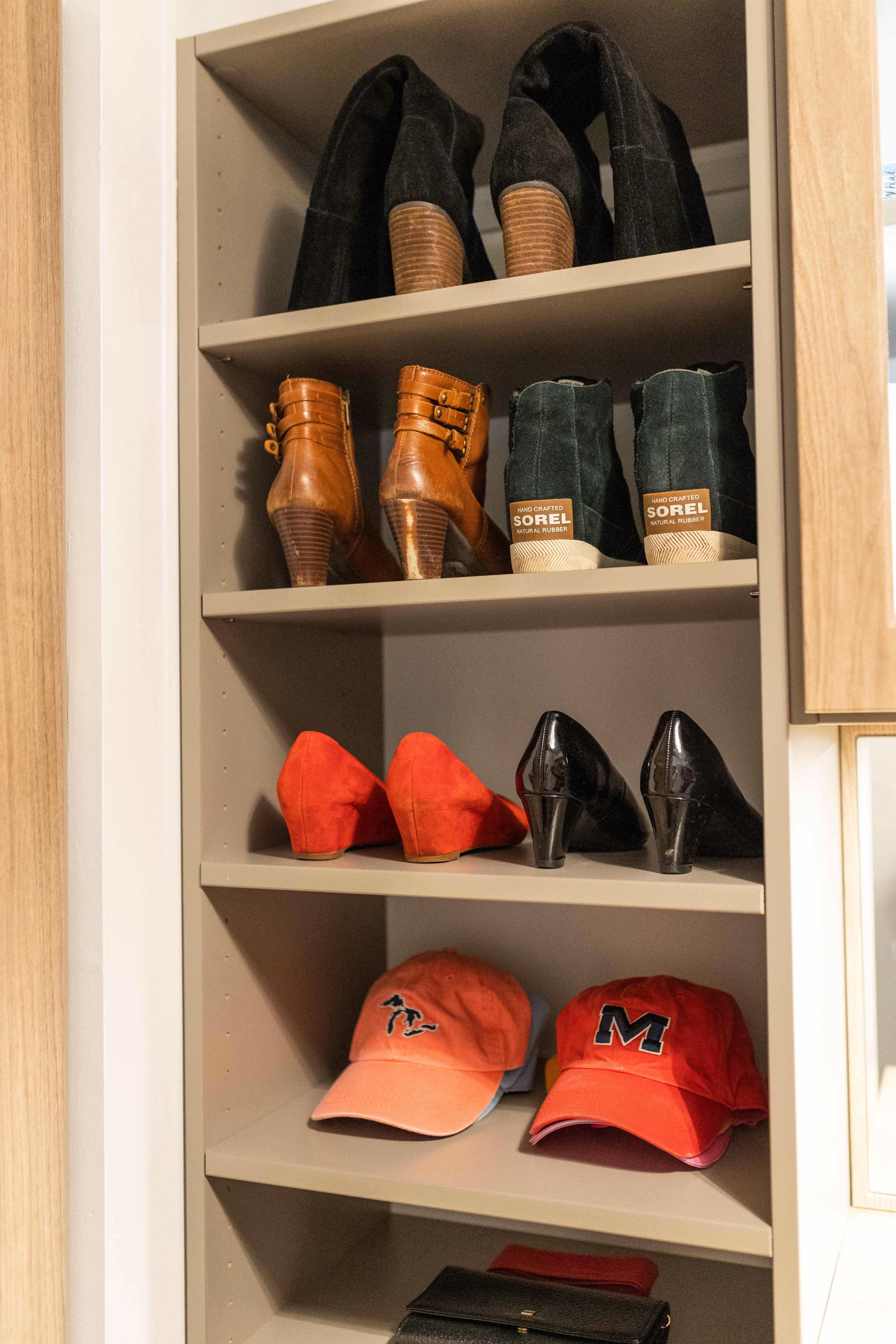 Long-Term Value of a Custom Closet in Chicago
I'm in LOVE with our updated primary closet! And I also know that it enhances the overall value of our home!
Previously our closet was an eyesore, but now it's a shining bright spot in our home!
Should you decide to sell your Chicago or suburban property in the future, a thoughtfully designed and well-organized closet becomes a highly desirable feature for potential buyers. Don't worry mom, we're not planning to move! However, I do love that a gorgeous custom closet helps a house stand out in today's competitive real estate market.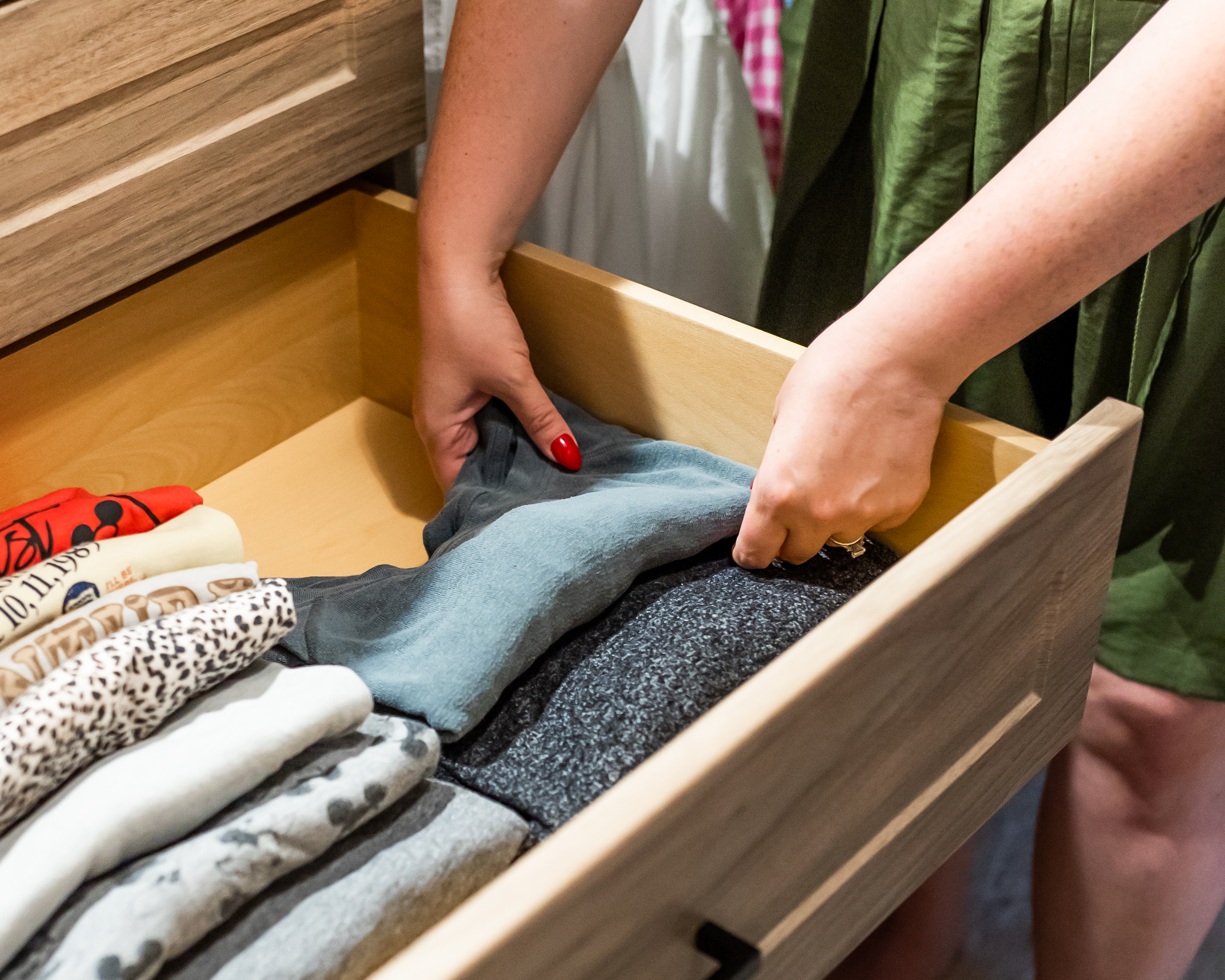 Conclusion
If you're ready to transform your closet into an organized haven, look no further than Inspired Closets Chicago for a custom closet.
Experience the personalized design, efficient use of space, enhanced organization, increased storage capacity, and elevated aesthetics that their expert team can bring to your home.
We are so grateful to say goodbye to the chaos and hello to a primary closet that truly works for us. Contact Inspired Closets Chicago today to schedule your free consultation and take the first step towards an amazing custom closet experience.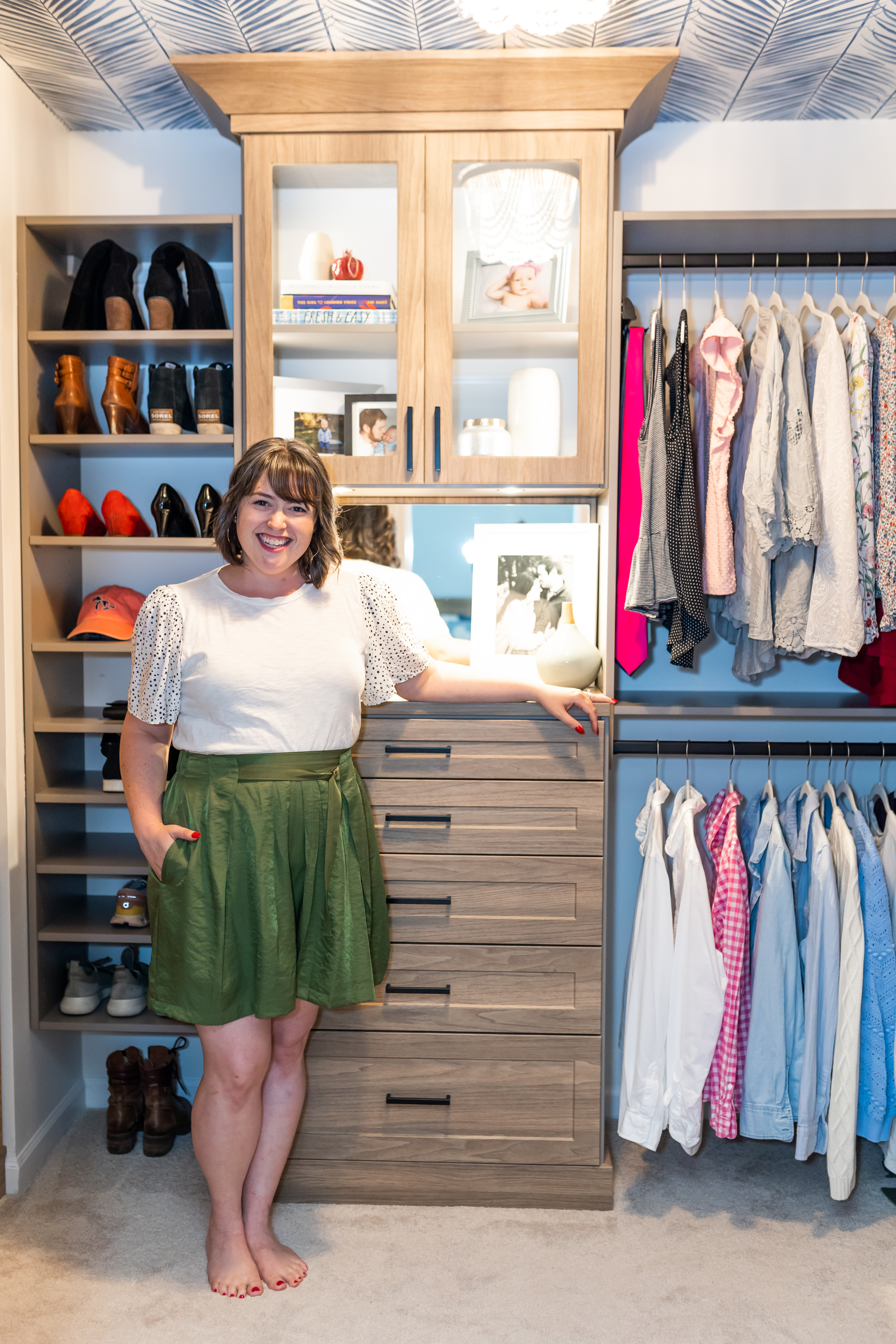 This post is sponsored by Inspired Closet Chicago; however, all thoughts and feelings are my own.
If you have kids, be sure to check out How to Organize Toys in 4 Steps.