Planning a trip Chicago? Are you local and wondering which museums are best?
These are the 5 BEST museums in Chicago for Kids. Make sure you get to the last one – it's a hidden gem in Chicago and is PERFECT for young kids. We've been to them all, and these are tried and true favorites we visit again and again.
Looking for more museum tips? Before planning you day, check out my Best Museum Tips with Kids post! It's packed with tips to save money and make the most of your day at the museum!
5 Best Museums in Chicago for Kids
Best Museums in Chicago for Kids: Chicago Children's Museum
This children's museum will blow you away. One of my favorite museums in the nation. Period.
It's located within Navy Pier downtown Chicago. There's an art studio, tinker lab for building, baby/toddler space, massive climbing structures for gross motor play, and loads of spaces for pretend play (dino excavation, camping, kids city, and more!) – this museum does NOT disappoint.
I took my kids as babies, and I think kids up through age 10+ would still have a blast. There are spaces for everyone!
Chicago Children's Museum Website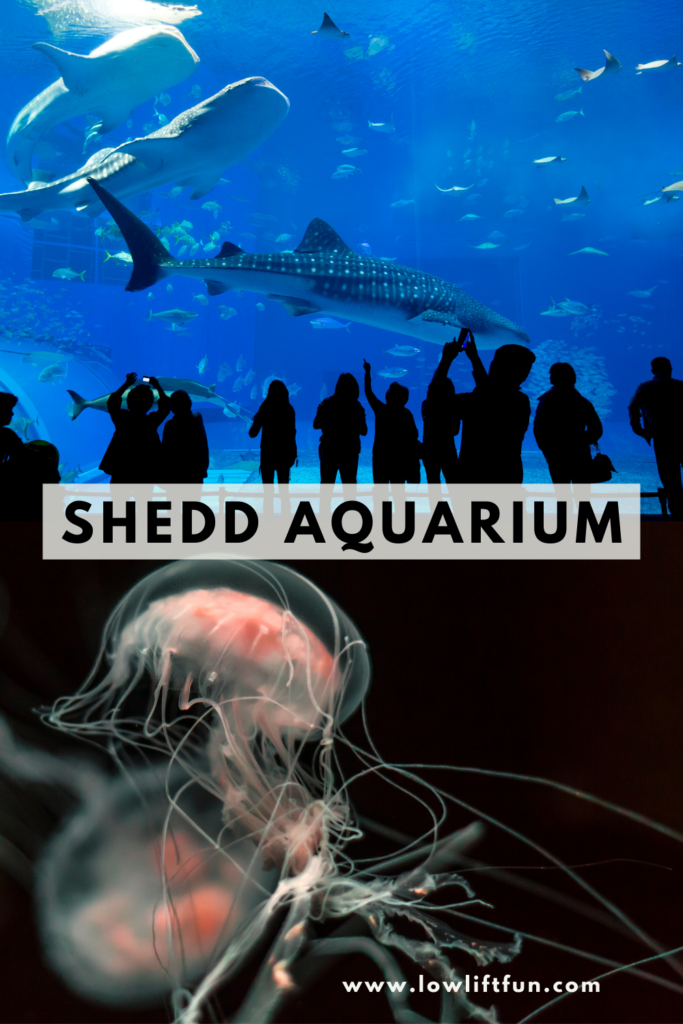 Best Museums in Chicago for Kids: Shedd Aquarium
The Shedd Aquarium has a focus on environmentalism. As a result, there are loads of rescued animals, and the habitats and spaces will blow you away. Massive tanks, sharks, whales, dolphins, penguins, play spaces for little ones. This is a must see when you're in Chicago!!
There are animal spotlight presentations every hour, including spotlights on the dolphins, Cruz the sea lion, penguins, and more. Best of all, the presentations are free. Following the presentations, feel free to approach the trainers/speakers to chat and learn more!
It's located along the lakefront on Museum Campus (an area in the city where several museums are clustered together – right next to the Field Museum and very close to the Planetarium).
We've been countless times and it never gets old.
Best Museums in Chicago for Kids: Field Museum
The Field Museum is a natural history museum.
By comparison to other museums, the dinosaur exhibits at the Field will blow your mind – there's a fabulous exhibit with Sue (the largest, most complete T-Rex ever found). Be sure to sit by Sue and stay for a presentation – it only runs every 15 minutes, so don't leave without staying for that!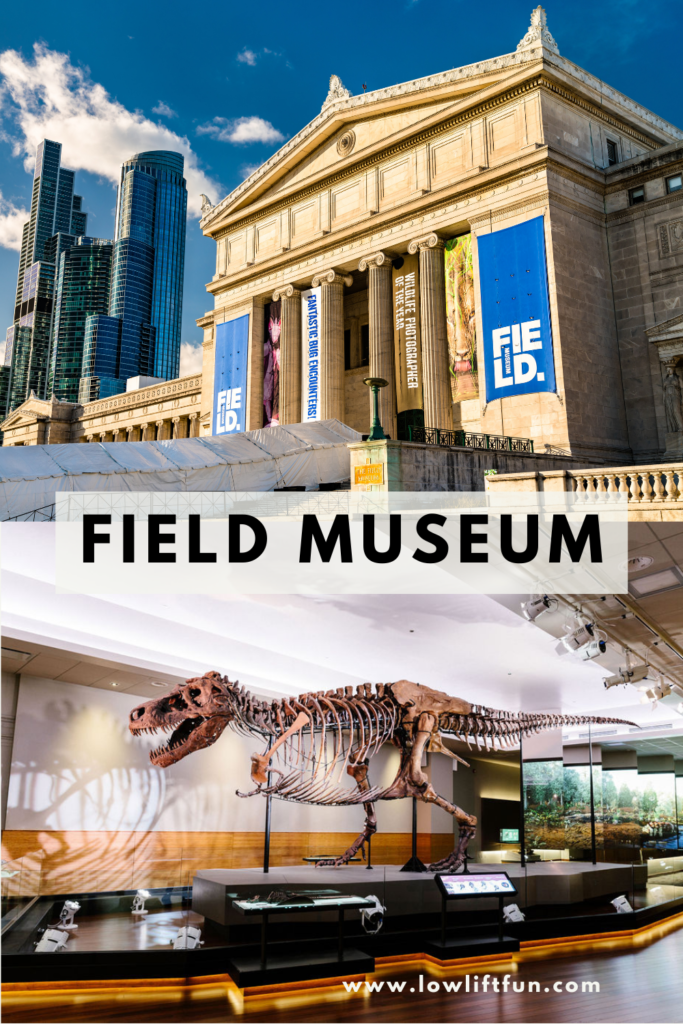 Best Museums in Chicago for Kids: Museum of Science and Industry
If you have a science love, the Museum of Science and Industry will be a favorite. It is MASSIVE.
The U505 Submarine (captured in WWII) is massive and makes an impression. We also love the space exhibit, massive model trains, melting glacier exhibit, live chicks in the genetics exhibit, and do not miss the kids' Idea Factory.
The Idea Factory is a hands-on space designed just for kids! It's free, but there are limited tickets and timed entry. Go reserve your tickets when you arrive, because they sell out. If all tickets have been claimed, you won't be able to get it.
We go once a month to MSI, and there's always something more to see! MSI is located near the lakefront south of downtown.
There are lots of special exhibits that cost extra. If you want more on money saving tips, check this post.
Best Museums in Chicago for Kids: Peggy Notebaert Nature Museum
Don't overlook this smaller museum. If you have kids 3 or under, I think this museum is much more fun and manageable than some of the biggies that are geared to older kids (like the Field Museum and Museum of Science and Industry).
I love it so much, I made a full blog post about this museum alone!!
A butterfly haven, large kids' play area, outdoor spaces, lots of water play, and animals. You can spend a couple of hours here and have a wonderful time. The price tag is also much lower than other city museum.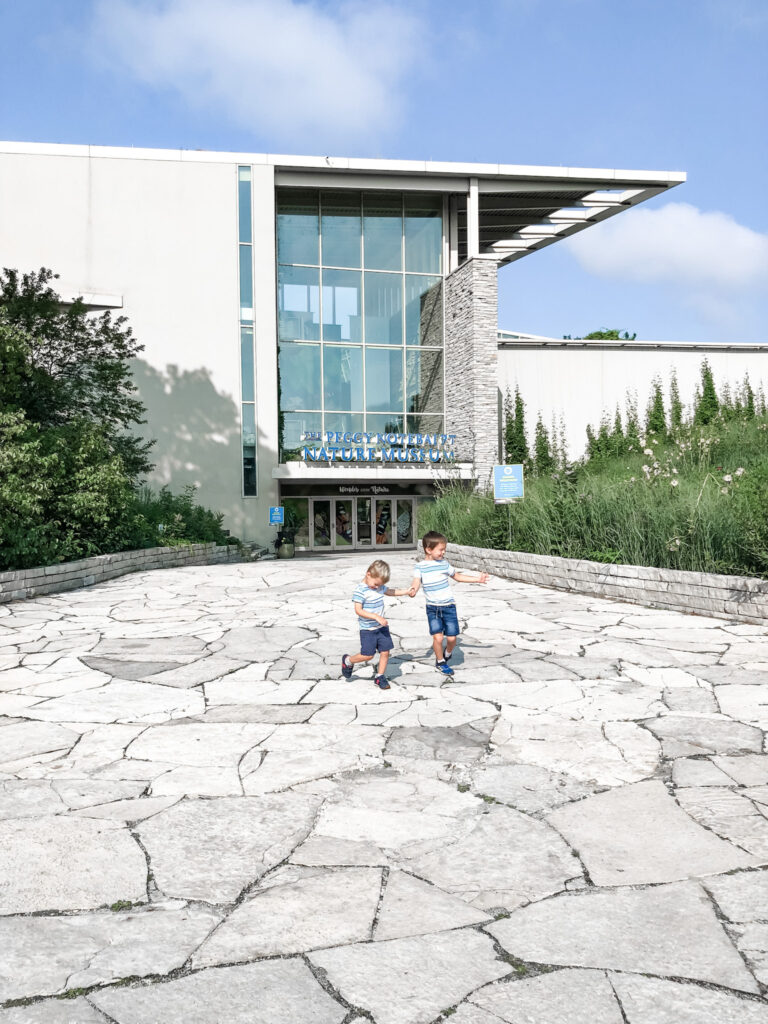 It's my goal to share low lift (EASY!) ideas for play, parenting, and family fun – these museums check all the boxes!
Don't forget to check out the Best Museum Tips with Kids here!
Thank you for reading about the best museums in Chicago for kids! Remember to join the Low Lift Fun email list for tips on play and parenting delivered right to your inbox!