Are you visiting the Mall of America with kids? In this post I cover the best tips for Mall of America with kids! These are the three best attractions at Mall of America for kids: Nickelodeon Universe, Crayola Experience, and Sea Life at Mall of America.
I share what we liked about each attraction, as well as tips for Mall of America with kids. Hop to the end of the post for general tips when planning a visit to Mall of America with Kids.
Tips for Mall of America with Kids: 3 Best Attractions
Nickelodeon Universe
Nick Universe featured many of my kids' favorite characters and shows , including Paw Patrol and Dora the Explorer! There are tons of kid friendly options and rides for younger kids.
The park is inside Mall of America – it's much more manageable than a Disney theme park and the lines were never very long on the Friday we were there.
Favorite attractions in Nick U included a giant Paw Patrol play space, Swiper's Sweeper, and a mini roller coaster called Barnyard.
Likely to be expected, there are height requirements for some rides – for example, my twins were too small for the bumper cars even if they had an adult companion. Not all rides are open. As of May 2022, some rides are not open at this time. We still felt there was plenty to do!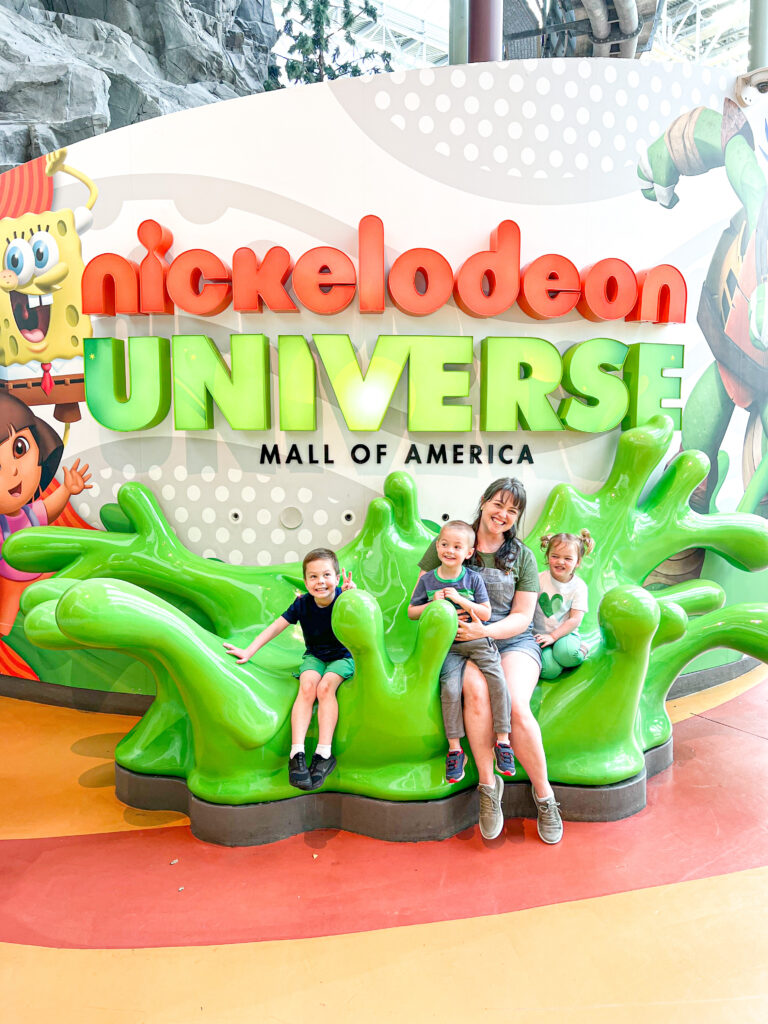 Crayola Experience
I didn't know what to expect, and this attraction really impressed us! Kids can make their own crayons in cool shapes, create coloring pages with pictures of themselves, design a crayon label, make puzzles, and create crafts.
There's a large play structure inside, along with a snack bar. Our favorite activity was creating spin art with melted wax – so cool!!
I liked that the admission includes most everything there is to do inside – making a crayon, getting air dry clay from a vending machine, and many more art activities (there are not lots of up charges once you go in).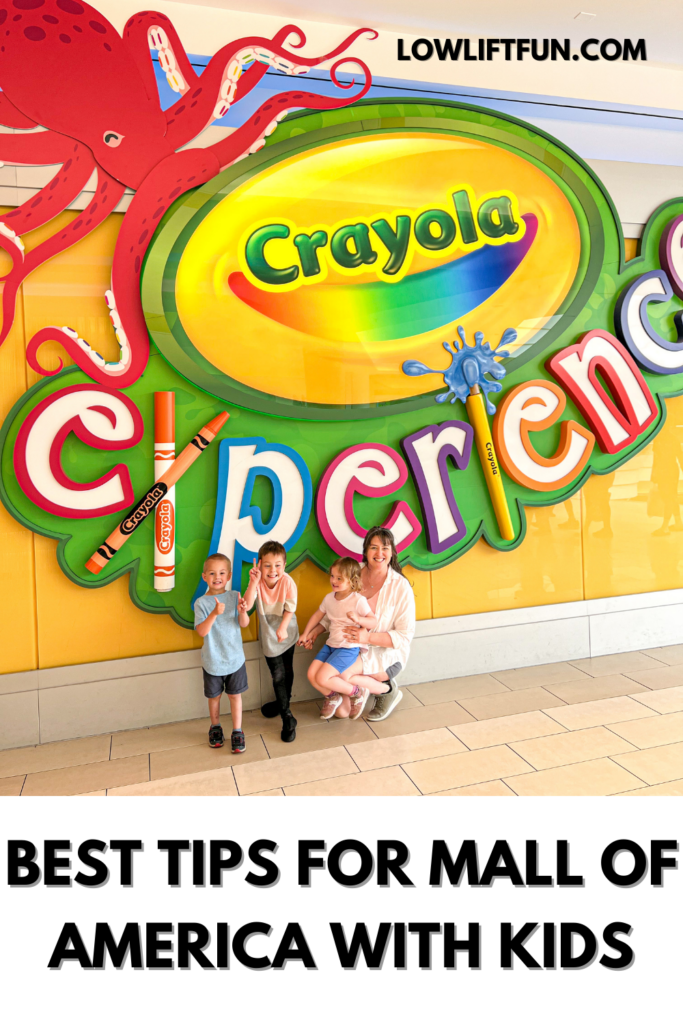 Sea Life at Mall of America
You walk a set path to explore this aquarium from start to finish. The kids were blown away by the tunnels here! The fish swim overhead and it creates a really immersive experience.
Feeding the stingrays was a highlight as well (it does cost $4 extra but was totally worth it), and we loved the touch tank where you can feel sea anemones!
Things to know:
We're used to visiting the Shedd Aquarium in Chicago, so this may be a smaller aquarium than what some families are used to visiting. However, the attractions are great quality!
You also have the option to go through again after you've been through the first time.
General Tips for Mall of America with Kids
Depending on the number of attractions you'd like to do, you can definitely spend more than one day at Mall of America. The mall sells passes for admission to multiple attractions.
Parking is free. There is a ton of parking around the mall – if you put the attraction you're visiting into Google Maps on your phone, it will direct you to the side of the mall that's best to park.
Food Court is on the 3rd floor. We had a tough time finding food the first day, and I wish I had known to go straight to floor 3!
There is a movie theater on the 4th floor – great option if you need to decompress and sit down for a few hours. We did this, and it was a much needed break for everyone! It's a fun place to visit, but it was also super tiring for everyone!
Love adventures with your kids?! Be sure to check out the Best Museum Tips with Kids here!
Thank you for reading these Tips for Mall of America with Kids! Remember to join the Low Lift Fun email list for tips on play and parenting delivered right to your inbox!