Looking to keep busy this summer? This post covers 5 EASY summer crafts, so that you can enjoy time creating with your kids this summer.
Materials for 5 EASY Crafts for Kids this Summer
All in all, I aim to use common materials that many folks have on-hand. If you need to pick up materials for these crafts, here are the staples you'll need for the crafts outlined here!
Basic Materials: white extra wide Kraft paper OR tan (you can also cut open a paper grocery bag for giant paper!), painters tape, and washable paint. That's it!
Need more fun and ideas in addition to the easy summer crafts for kids?! Check out this list of 65+ Outdoor Activities. They're all arranged by category, so you can quickly skim and find an activity perfect for your day!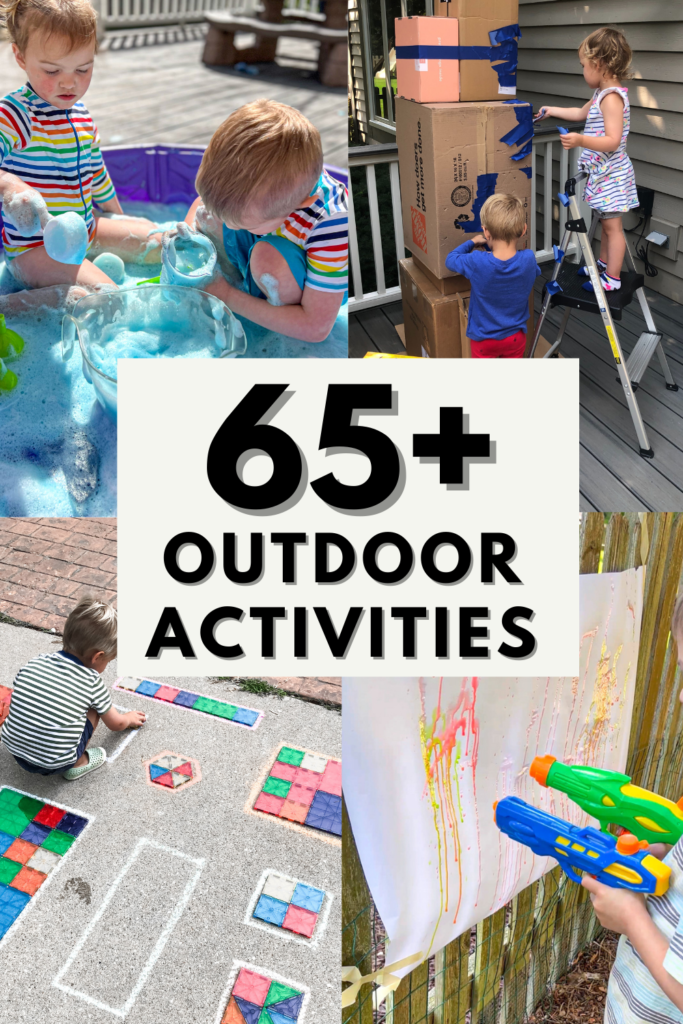 You'll love these 5 EASY Summer Crafts
Cotton ball Painting!

Materials: clothespins, cotton balls, paint
Instructions: use the cotton ball clothes to paint flowers, rainbows, or any other designs! Very simple and super fun. We used a paper plate cut in half to make rainbows.
During this activity, my kids loved using the cotton balls to paint! Because we were painting in a new way, it made the activity fun and novel in the best way!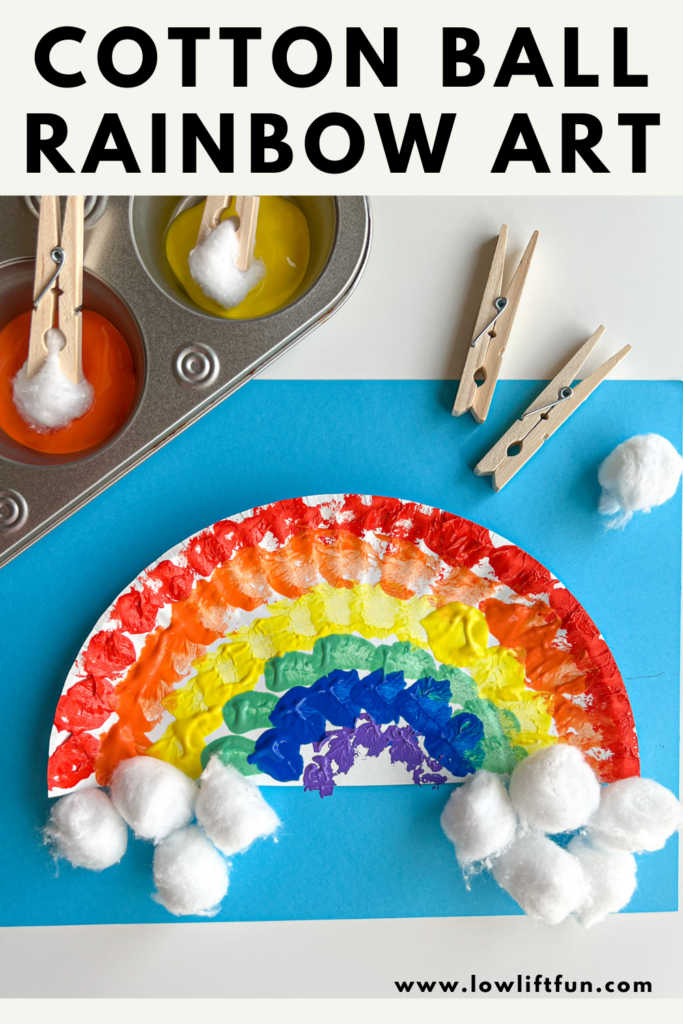 Process Art Activities for Summer
Q-Tip Painting!

Materials: q-tips, paint
Instructions: put paint in a muffin tin to stay organized, use the Q-Tips to paint rainbows or other designs – this makes the PERFECT EASY summer craft for kids!
While cotton ball painting can be gloppy and messy, Q-Tip painting is a less messy craft! As much as I welcome messy play, I also love a less messy craft!!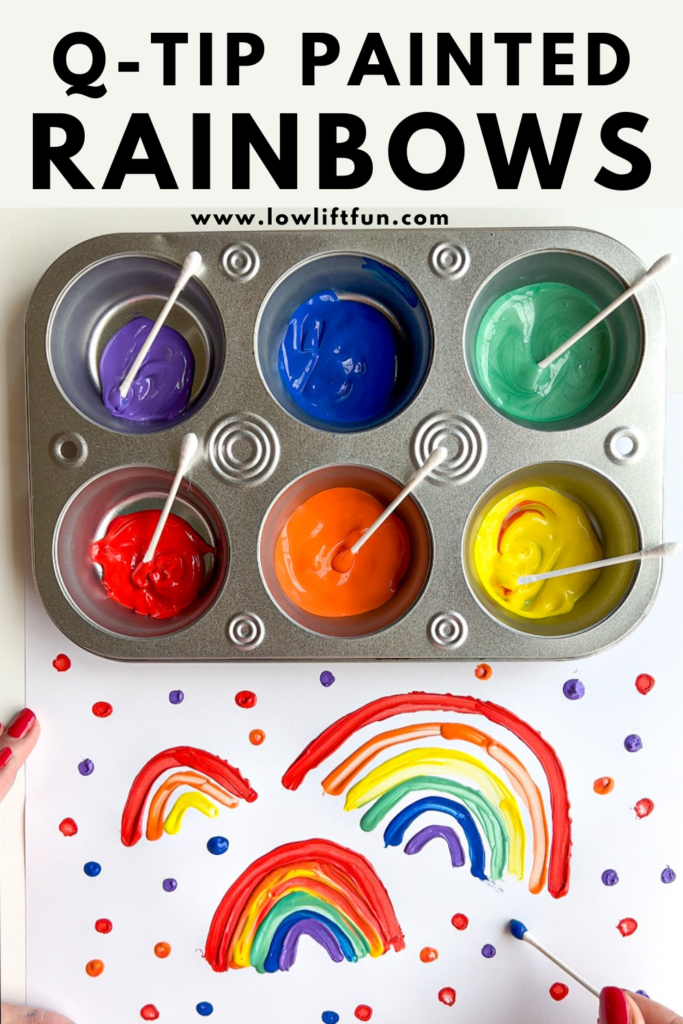 Squirt Gun Painting!

Materials: water, washable paint, squirt guns, large paper
Instructions: tape the paper to a vertical surface outdoors – we used a fence. Pour water and washable paint into the squirt gun (a squeeze top paint bottle is easiest for this!), and then shake to mix the paint and water.
As I have said, process art has SO many benefits for kids!! Above all, kids can freely express themselves and explore using the materials! In addition to that, they can develop fine and gross motor skills, learn coping strategies, and it supports their cognitive development!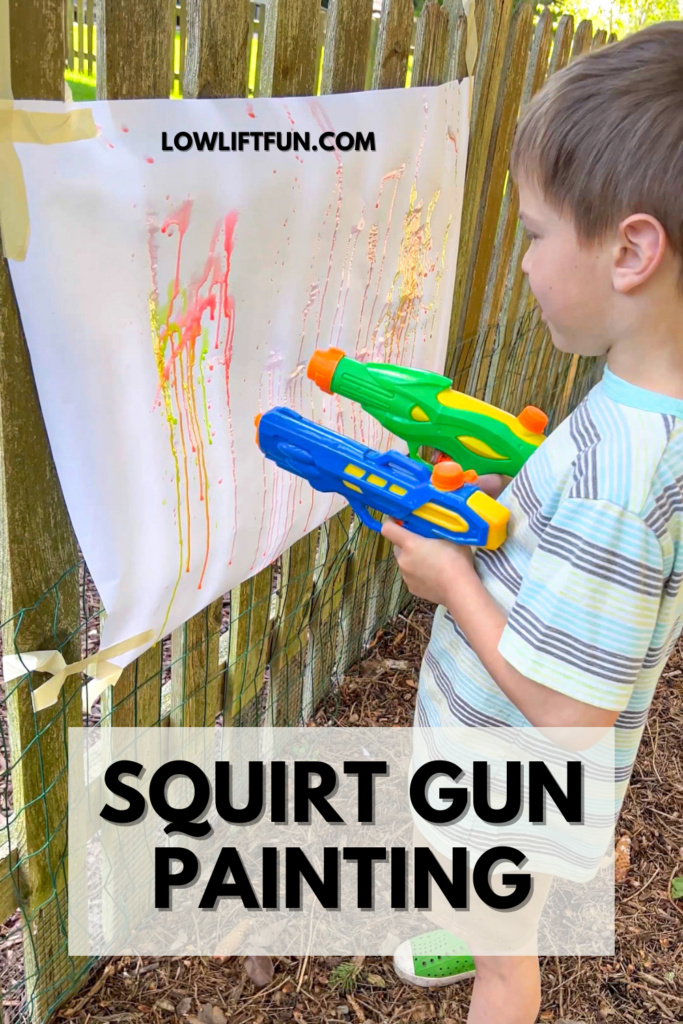 Large Murals Outdoors

Materials: large paper, water colors
Instructions: tape the paper to a vertical surface or tabletop! Offer watercolor paint or other materials to create a mural together.
Murals are incredible for gross motor development and creative expression!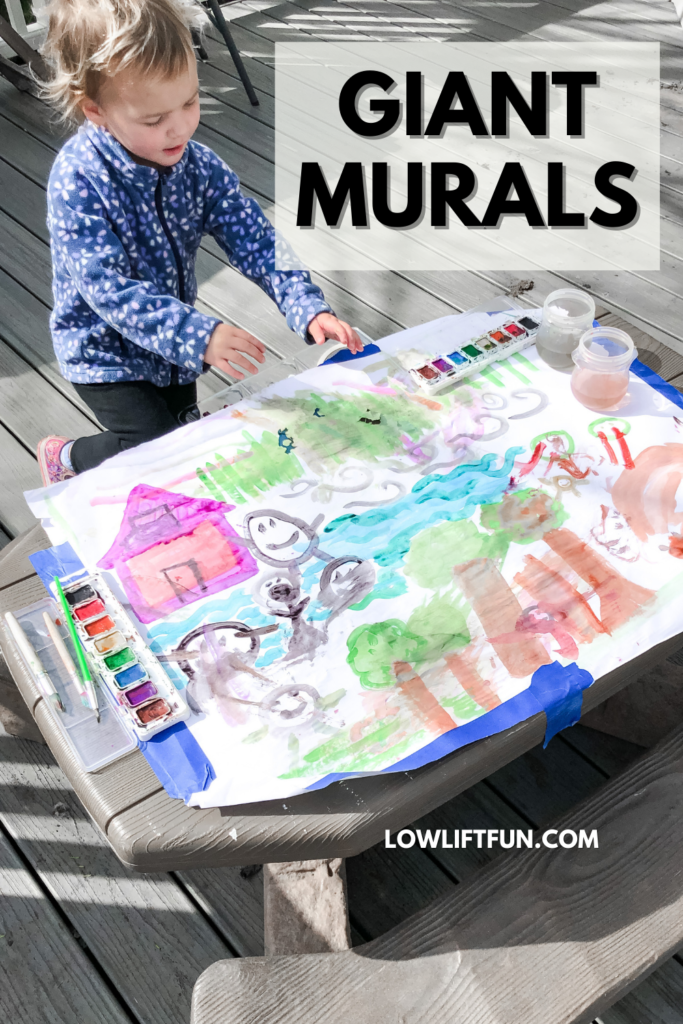 Gross Motor Art Activity for Summer
Build a Skyscraper Sculpture

Materials: shipping boxes, painters tape, paint and art supplies (optional)
Instructions: stack the boxes and tape them together to a build a skyscraper together. As you finish building together, this can be extended by having kids decorate their skyscraper.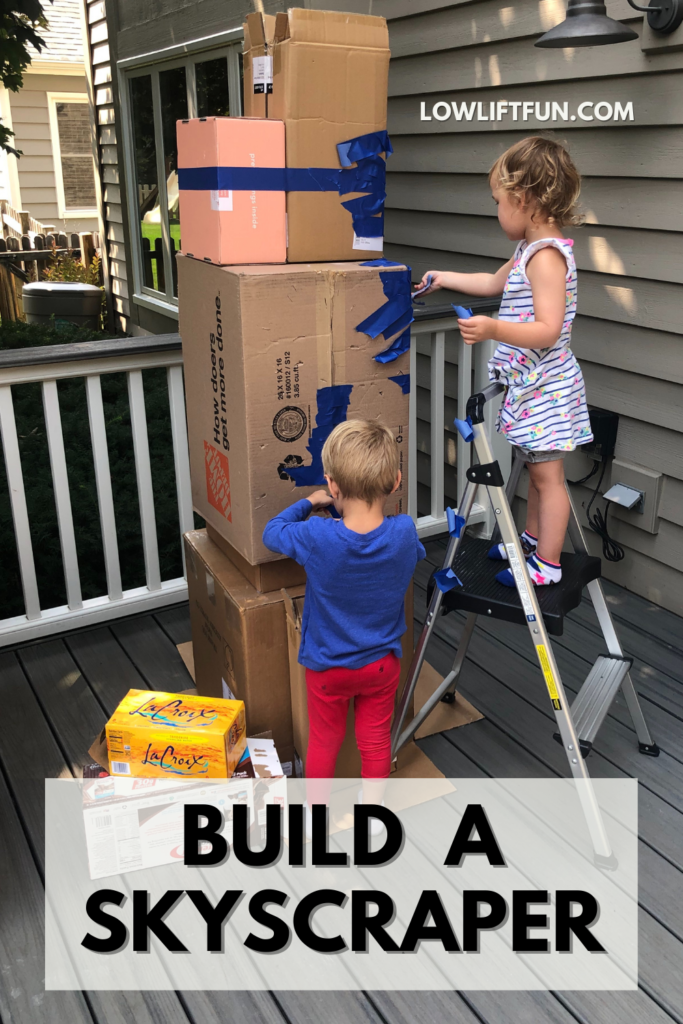 Thank you for reading!! Please join the Low Lift Fun weekly newsletter here for all of my updates and freebies!
Did you find this helpful? You'll love these Preschool Math Activities!