These are the low prep, EASY outdoor activities for kids we all need!!
These free (or cheap!) outdoor activities for kids are perfect for keeping busy at home this summer! These activities use household items you likely have on hand already.
There's something for everyone here!!
BEST Outdoor Activities for Kids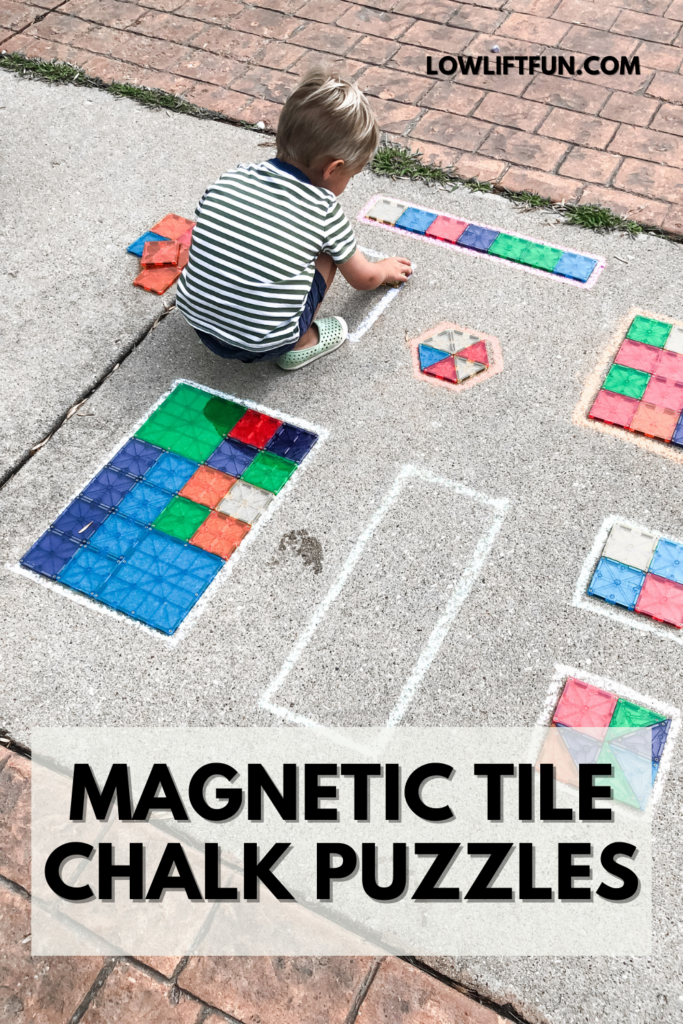 Best Chalk Activities for Kids
Chalk Activities:

magnetic tile puzzles (build shapes with tiles, trace with chalk, clear the tiles)
chalks roads! (draw roads in chalk for toy cars to drive on)
skip counting hopscotch (count by 2's, 5's, 10's!)
spray the letters (write letters all over and call out letters for kids to spray – also works for sight words, word families, etc.)
DIY chalk paint
giant DIY driveway board game
sidewalk mosaic art (lay painters tape and then color with chalk)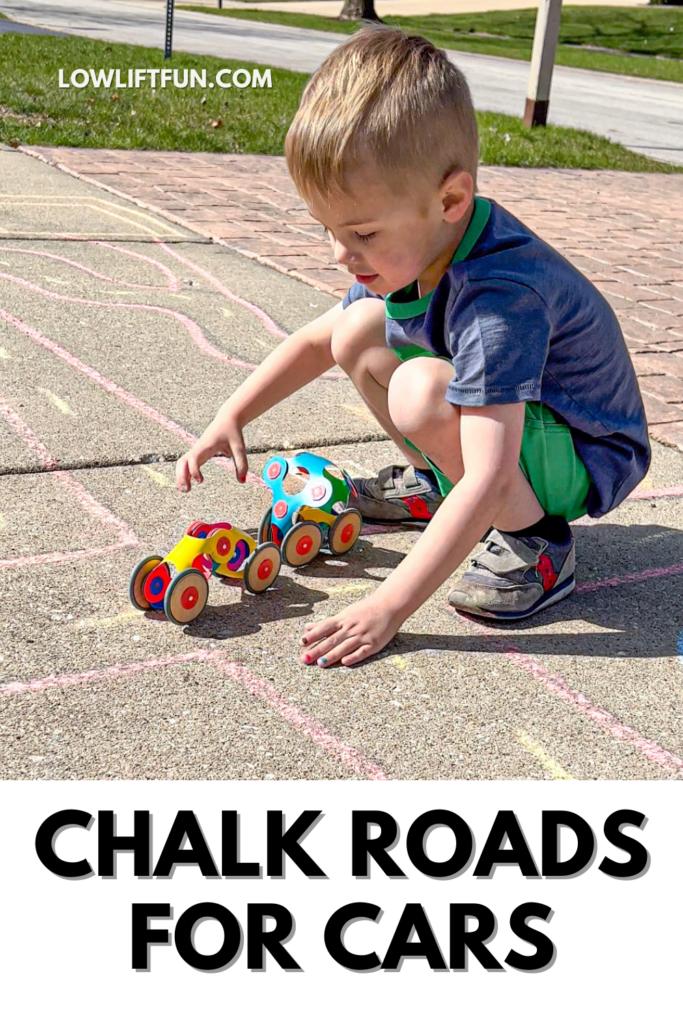 Water Activities We Love!
Want more water activities?! Check out this post with 25 EASY Water Activities!
Water Activities

bubble foam in a baby pool (2:1 ratio water and baby soap mixed with a hand mixer)
alphabet soup in a baby pool! (dump letters in the pool, give kiddos a bowl and spoon to find the letters)
Save the Paw Patrol pups (or any other toy!) – dump the toys in the baby pool for kids to rescue
squirt gun painting (mix water and paint in squirt gun, tape up paper, have fun painting!)
color mixing with water (fill large tubs with dyed water and explore color mixing!)
toy rescue! (freeze plastic toys in ice, put in a bin or water table, thaw with warm water!)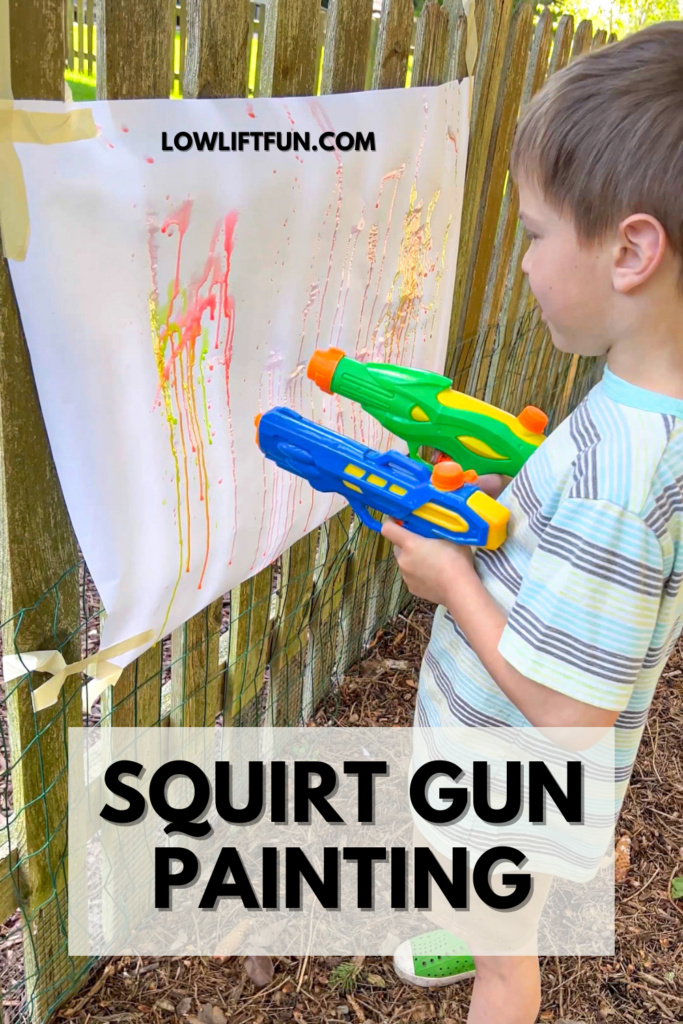 Outdoor Art Activities for Kids!
Outdoor Art Activities

paint

toys with dyed shaving cream – then rinse clean!

rolling art in a baby pool (tape down paper in the dry pool, put in balls, add paint, shake the pool to toss balls and create art!)

giant box painting
truck process art (lay cardboard flat, tape markers on the front of cars and trucks – drive them to draw)
flower stamping – use flowers to stamp and paint
stamping with flower cookie cutters + paint
kindness rocks – paint rocks with acrylic paint and leave for others to discover
stamping with Duplo legos and paint
family mural – spread out butcher paper and draw stems – invite the family to paint the flowers and make a mural together
paint the toys! Use washable paint to paint plastic playground equipment, trucks, animals toys, anything goes! When the kids are done, spray it off!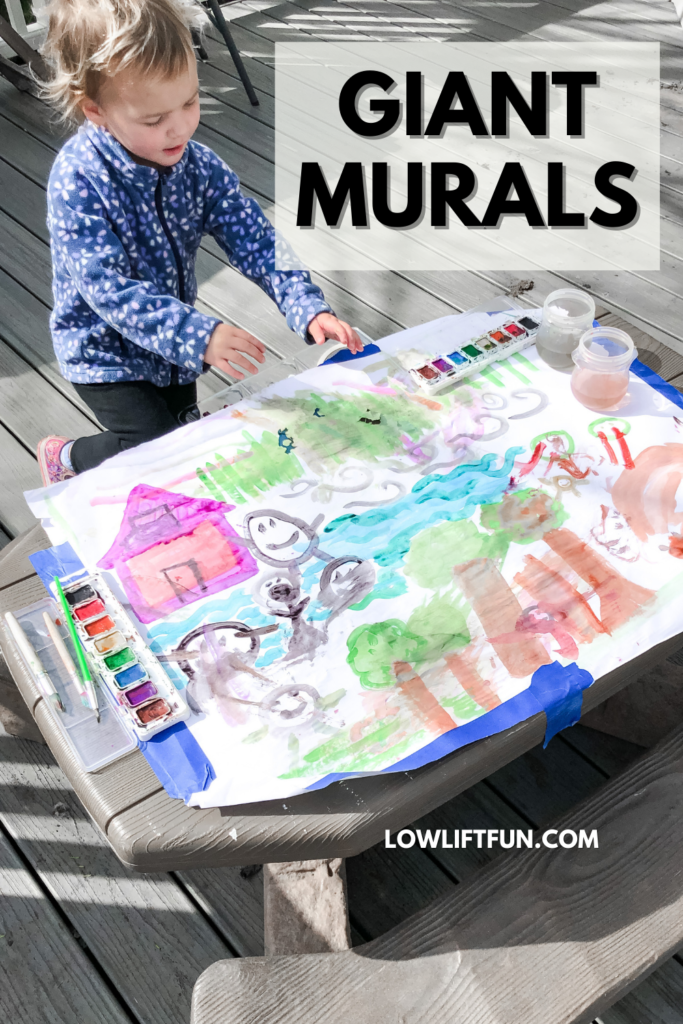 Gross Motor Activities for Kids!
Getting moving with these Gross Motor Activity options

obstacle course
child directed nature walk
color hunt around the neighborhood
tally walk around the neighborhood (keep a tally count of cars and trees, white houses and blue houses, or anything else you want to count!)
number hunt around the neighborhood – what numbers can we find?!
scavenger hunt
outdoor yoga
build a skyscraper with boxes (hot glue it together for kids to paint it when you're done!)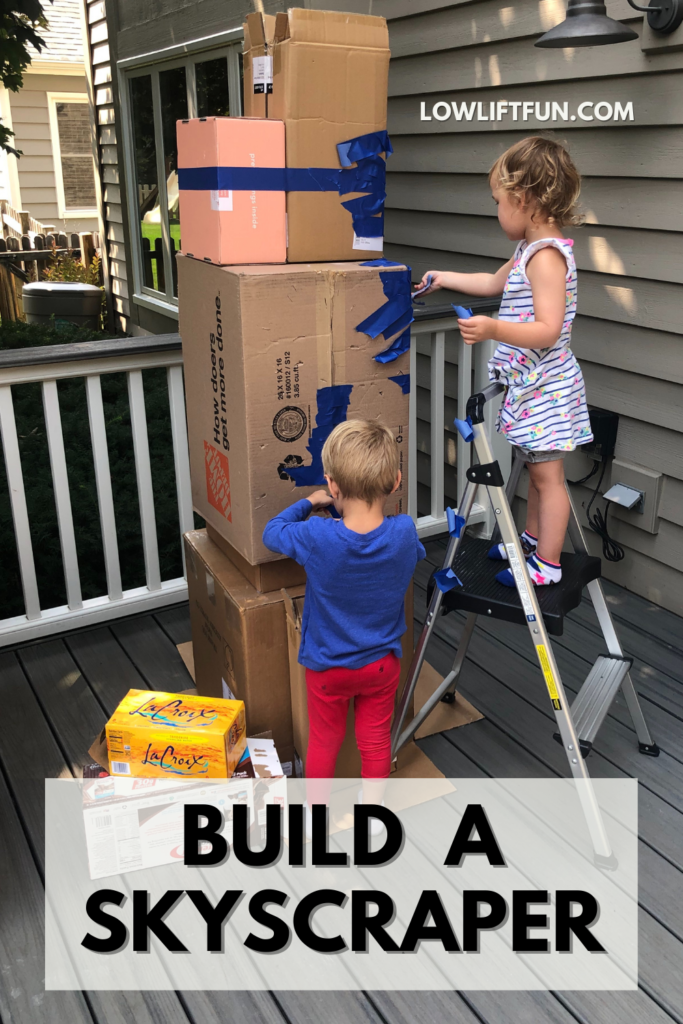 Outdoor Chores and Activities for Kids!
Outdoor Chores Kids Love:

husking corn
water plants with a squirt bottle
cut the grass with scissors
rake grass clippings after grown up mows
wash patio furniture with squirt bottle and rag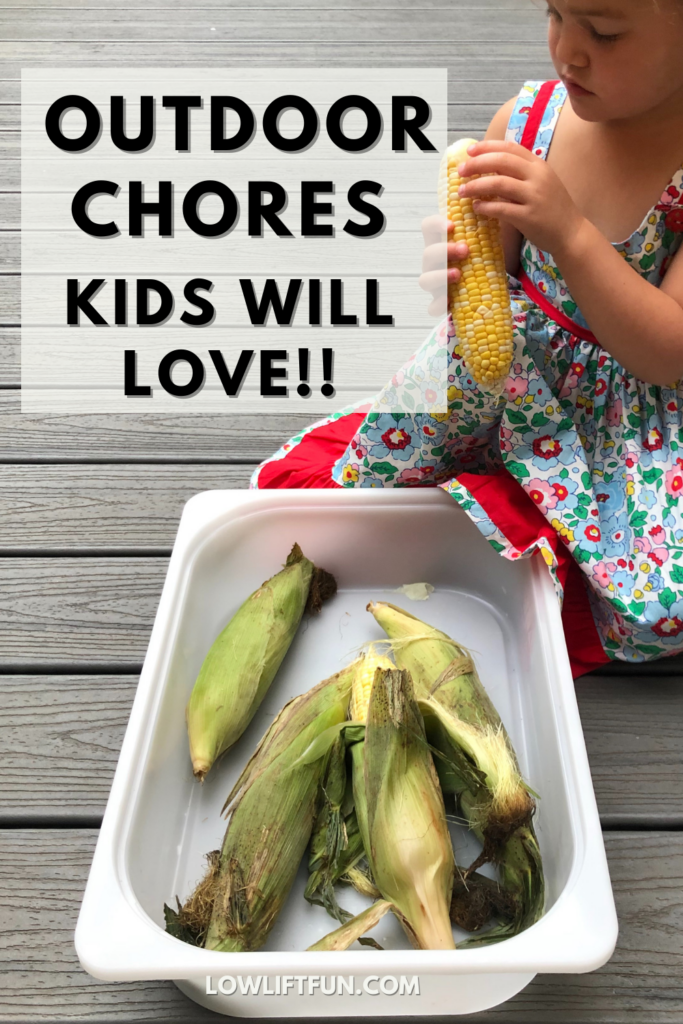 Sensory Bins for Kids!
Summer Sensory Bins for Outside:

vegetable farm: pinto beans with fake carrots and toy tractor
summer swamp water: water, green food coloring, and cornstarch (makes cloudy green water)

black beans, pink pompoms, and scoops
potted plant sensory bin: offer beans with fake flowers and pots to make potted plants
pink and green dyed beans – mix great northern white beans with pink acrylic paint in a gallon bag, and then pour in a thin layer on parchment paper to dry. Repeat for additional colors.
green rice + insects (shake long grain rice in a bag with food coloring, lay on parchment paper to dry)

yarn bin: fill a bin with green yarn and plastic bugs – let child explore cutting the yarn
fizzy summer potions: fill small bowls with baking soda, and explore reactions with vinegar (add food coloring for extra fun)
ookblek – 1 cup water, 2 cups cornstarch, food coloring
kern kernels and farm animals
dirt and plastic bugs or dinos
freeze pink pompoms in an ice cube tray – melt and thaw to release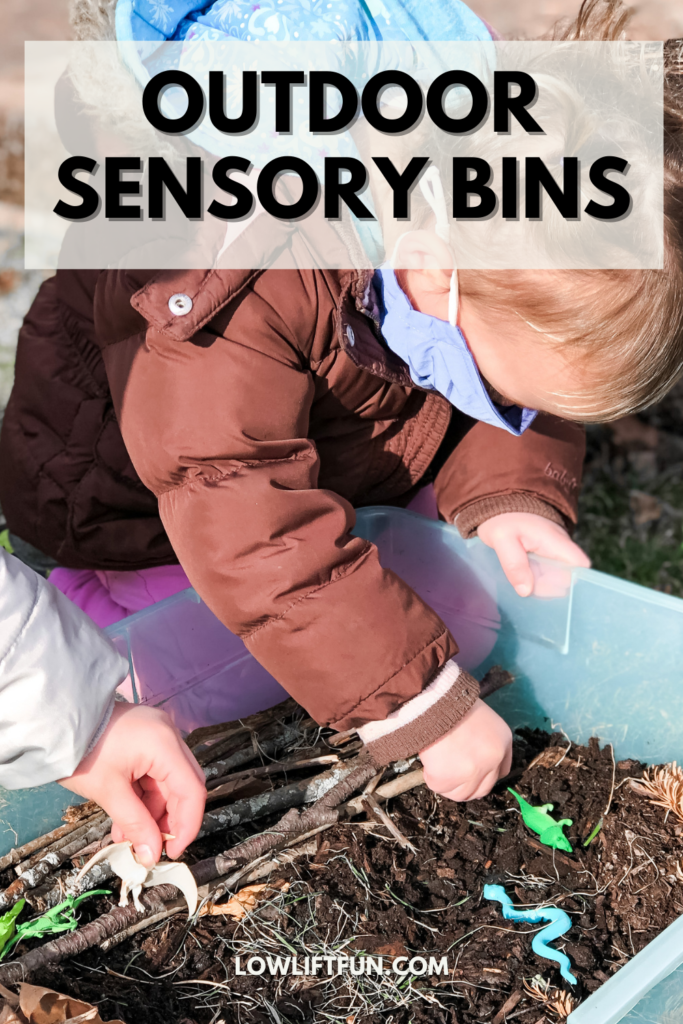 Taste Safe Sensory Bins for Kids!
Taste Safe Sensory Bins for Outside:

cooked spaghetti and plastic bugs (make it green by adding food coloring while cooking)
crushed cereal + farm animal figures
summer soup (water + food coloring + natural materials)

summer at the farm – pudding mix and water (add any farm creatures)
jello table – make green jello with plastic bugs inside for kids to find and discover
plastic bugs frozen in ice – thaw them out in the shower
carrot washing (get the big ones!)
cool whip and green food coloring (put your plastic bug in for messy fun!)
Flower Activities for Kids
Activities with Flowers and Nature:

stick sorting by size (sort into big and small – or arrange from shortest to longest!)
cut the grass (send them out with scissors and let them cut the grass – I'm serious, they'll love it and be occupied for a long time!!)
nature walk: go on a nature walk and collect treasures (sticks, pinecones, leaves, etc.)
nature bar graphs: draw a grid on the sidewalk and create a bar graph sorting the items from your nature walk by color.
nature cutting bin – put leaves and flowers in a bin for kiddos to cut and tear!
nature paint brushes – paint with leaves, sticks, and flowers. (You can also tape pine needles or leaves on the end of sticks.)
Driveway Activities for Kids
Driveway Activities:

magnetic tiles on the garage door
wash the grown up's car!
carwash with kids' bikes
carwash for kids' toy cars and trucks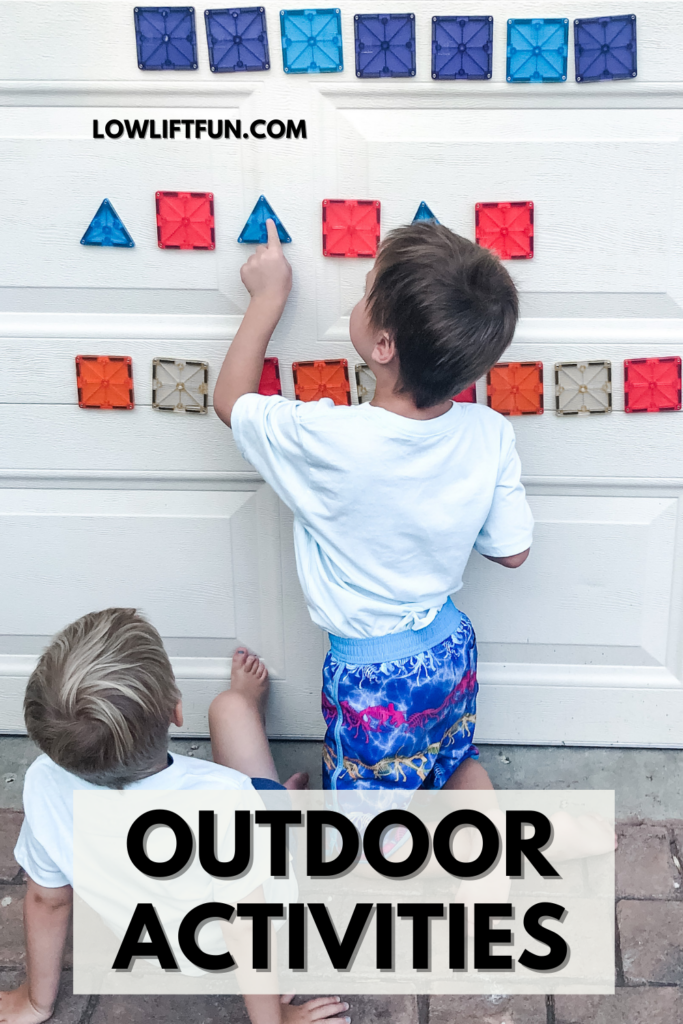 Driveway Activities for Kids
Summer Day Trips for Kids Outside:

go to a local airport and watch planes take off and land
visit a new park
visit a new place in your state you've never been
find a local farm to visit
go to a nature preserve – take a picnic!
Looking for more easy activities?! Sign up here, and I'll send my 70 EASY activities FREE download straight to you!!
Want more water play?! 25 BEST WATER ACTIVITIES ARE HERE!