As the crisp autumn air settles in, it's time for that PSL and pumpkin art projects for preschool kids!! Pumpkins are the perfect theme for exploring creativity with little ones.
And remember that art activities are excellent for many spirited kids! These art projects can be used to boost connection, express emotions, and reset on a hard day!
Engaging in pumpkin art projects not only sparks imagination, but also enhances fine motor skills and cognitive development in preschoolers. In this post, we'll explore a variety of pumpkin-themed art projects that are perfect for your preschooler!
Need Art Supplies?! Shop our favorites here!
Shaving Cream Painted Pumpkins for Preschoolers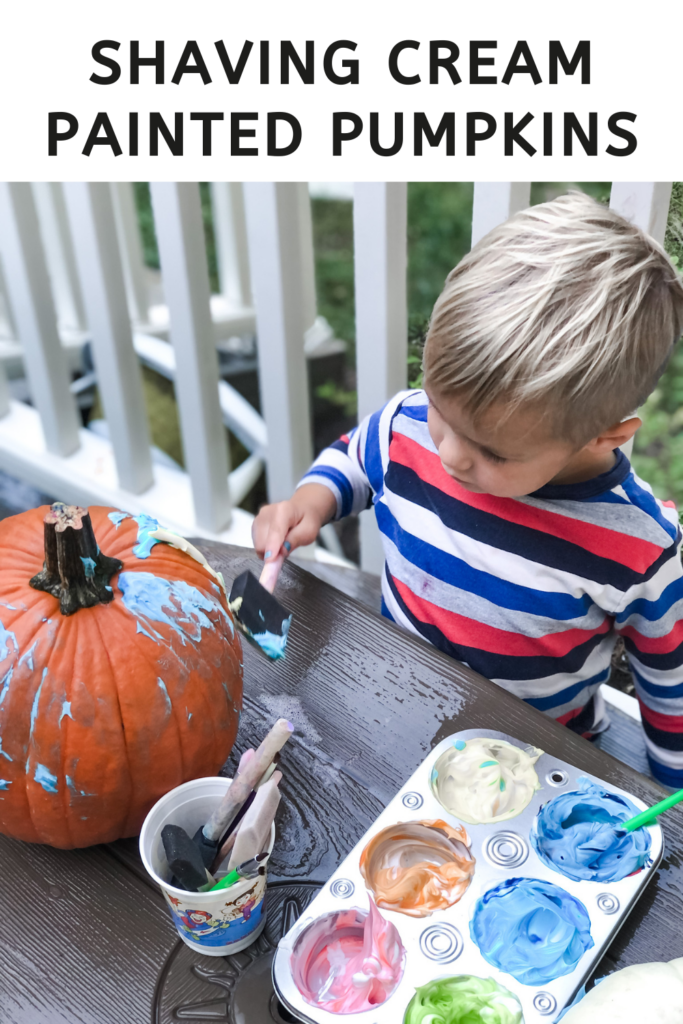 Looking for messy fun?! This is for you!
First, mix food coloring with shaving cream to create your "paint." Then invite children to paint their pumpkins using the shaving cream paint. The best part? They can wash the pumpkins off when they're done and repeat again!
PRO TIP – set up a baby pool nearby where kids can rinse their pumpkins and repeat!
Decorate Your Pumpkin: Creative Ideas for Preschool Art
Take the traditional pumpkin decorating to the next level by letting preschoolers unleash their artistic flair in this
Provide them with an array of safe and age-appropriate art supplies such as googly eyes, pipe cleaners, and felt shapes. Watch as their pumpkins transform into unique characters, each one a reflection of the child's imagination. This can be done on a real paper or a construction paper pumpkin!
Cookie Cutter Stamped Pumpkins
Have a pumpkin cookie cutter?! Use it to create simple and fun art!
Most important, this Cookie Cutter Stamped Painting activity is not just a creative adventure; it's a journey of self-expression for preschoolers!
Soon you'll have a gallery filled with tiny Picassos proudly displaying their cookie-cutter stamped creations!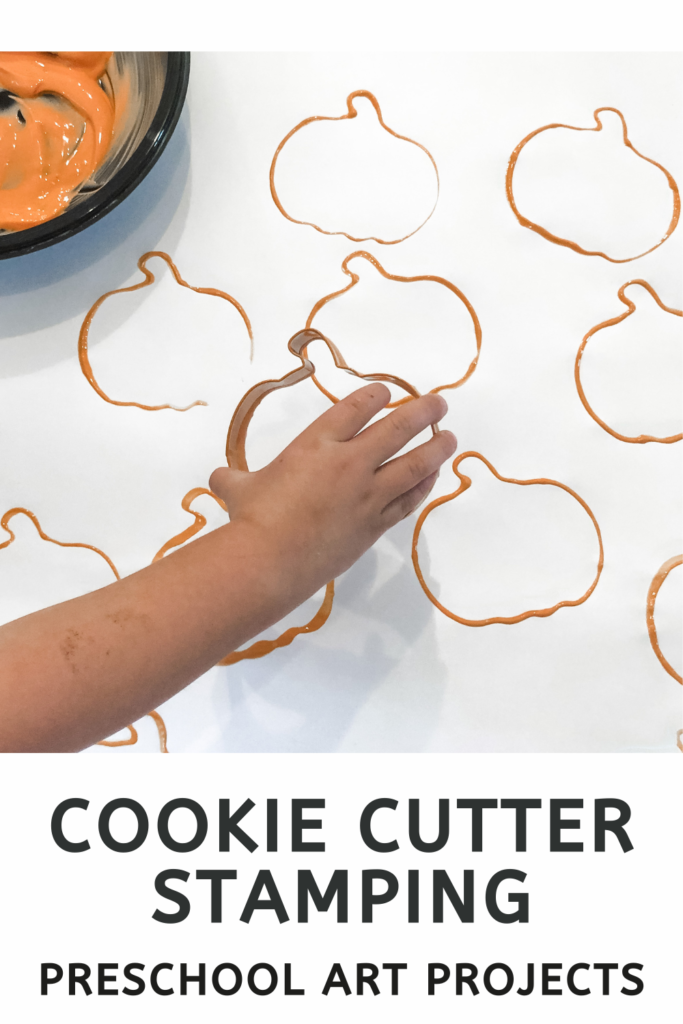 Pumpkin Collage: Tactile Fun for Preschoolers
Introduce a tactile experience with this DIY pumpkin decoupage collage activity. This project not only refines fine motor skills but also allows children to explore different sensations through touch and messy art!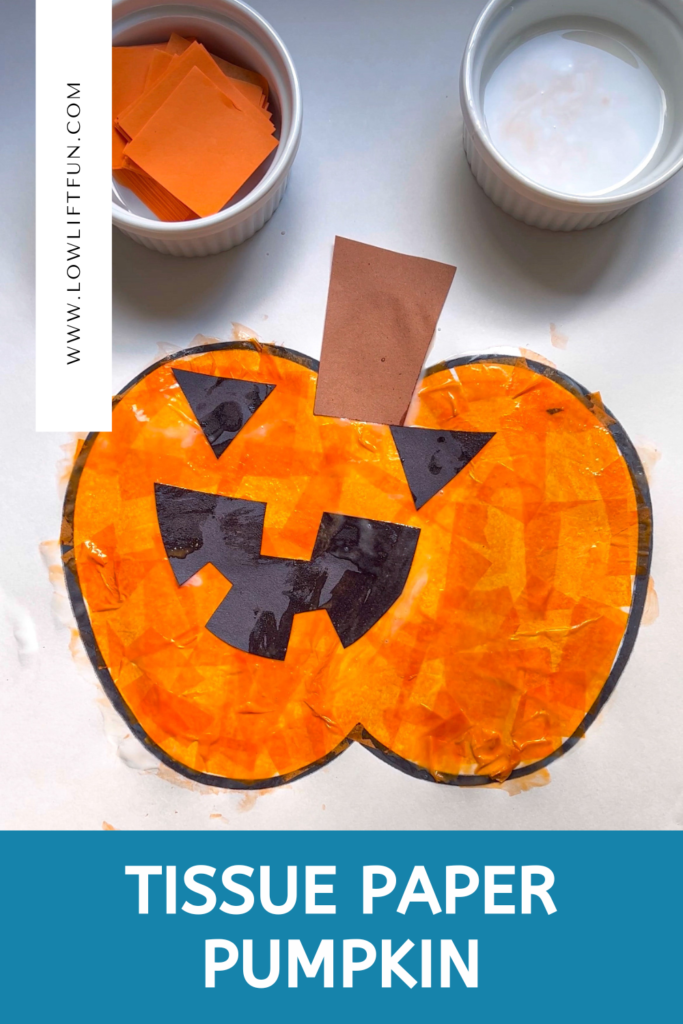 Materials + Ingredients:
White Craft Glue
Water
Paintbrush
Orange tissue paper and black construction paper
Directions:
Prepare Your Surface:

tape white paper to the table and draw a large pumpkin.

Cut Your Paper:

cut orange tissue paper into strips (or have kids do this part, too!)

Create Your Glue Mixture:

Mix equal parts of white craft glue and water in a bowl. Stir thoroughly until you achieve a smooth consistency. This will be your decoupage medium.

Apply the Glue Mixture:

Using a paintbrush, apply a thin, even layer of the glue mixture onto the surface where you want to decoupage.

Place Your Paper:

place your cut or torn tissue paper onto the glued surface.

Seal with More Glue Mixture:

Once the paper is in place, apply another layer of the glue mixture over the paper. Ensure that the entire surface is covered.

Repeat the Process:

Continue adding layers of paper and glue mixture until you achieve the desired look. Allow each layer to dry before adding the next.

Final Touches:

Add a face and stem to turn the pumpkin into a jack-o-lantern!
All in all, this DIY decoupage technique is a fantastic way to boost fine motor skills. Experiment with different papers and shapes, and enjoy the process!
Rolling Pumpkins Process Art: Gross Motor Development Through Pumpkin Preschool Art
Combine art and gross motor development by making rolling pumpkin process art.
Before starting, tape paper in a shallow bin or shipping box. This will keep it in place!
Then add squirts of a washable paint and mini pumpkins. Finally, invite kids to shake the bin!
Without a doubt, this hands-on activity is designed to engage the senses and foster creativity in the littlest artists. This activity is also a fantastic emotional and physical release! Get ready for laughter and learning!!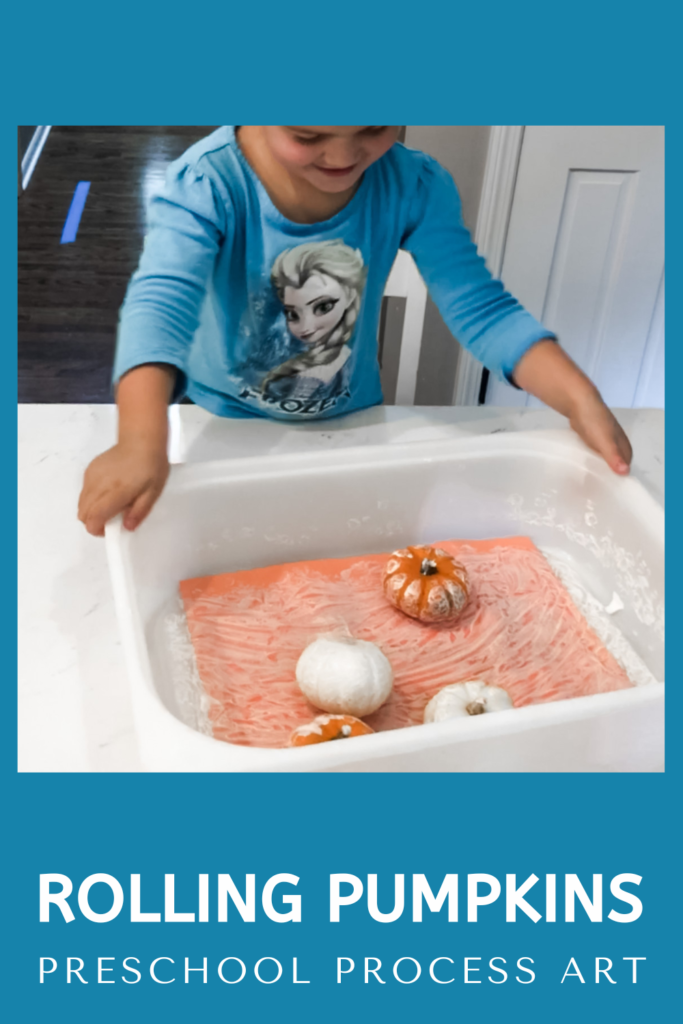 Bubble Wrap Stamping: a Fun Pumpkin Art Project for Preschool
Repurpose bubble wrap into a unique art project. Invites kids to paint an image on bubble wrap, and then stamp the bubble wrap down on paper to make a print.
This pumpkin art project for preschoolers not only encourages creativity but also introduces the concept of reusing and recycling materials for art!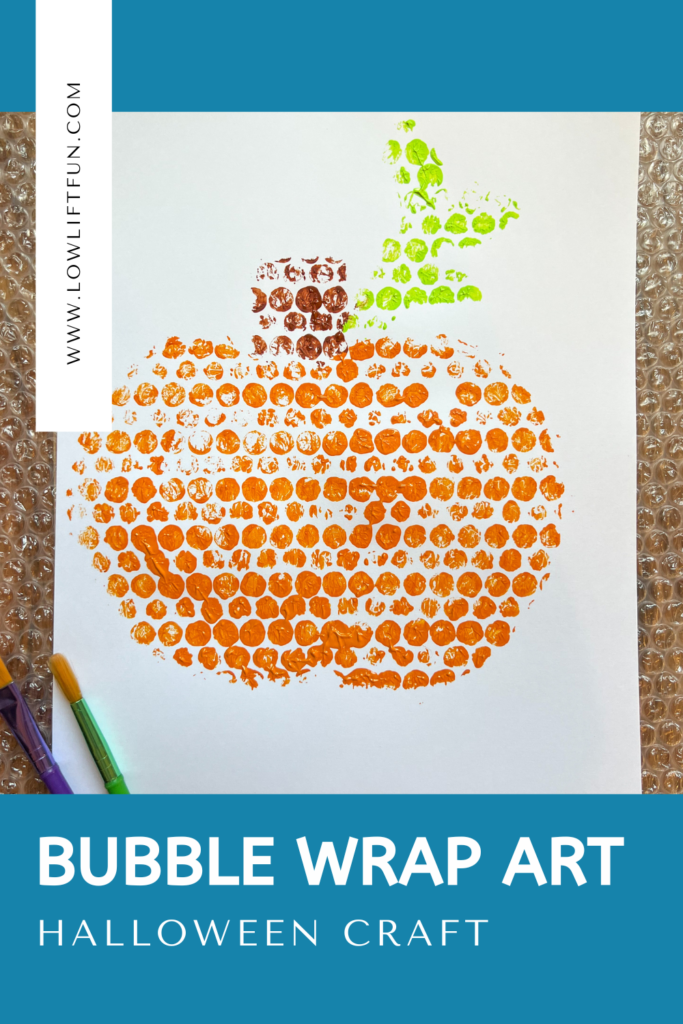 Wrapping things up, engaging preschoolers in pumpkin art projects during the fall season is a wonderful way to blend fun with hand-on learning!
Undoubtedly, these Pumpkin Art Projects for Preschool not only stimulate creativity but also support various aspects of their development, from fine motor skills to cognitive abilities. Art is also calming for many kids, and it can be a great form of self expression!
Want more activities?! You will LOVE these:
The BEST Halloween Sensory Bin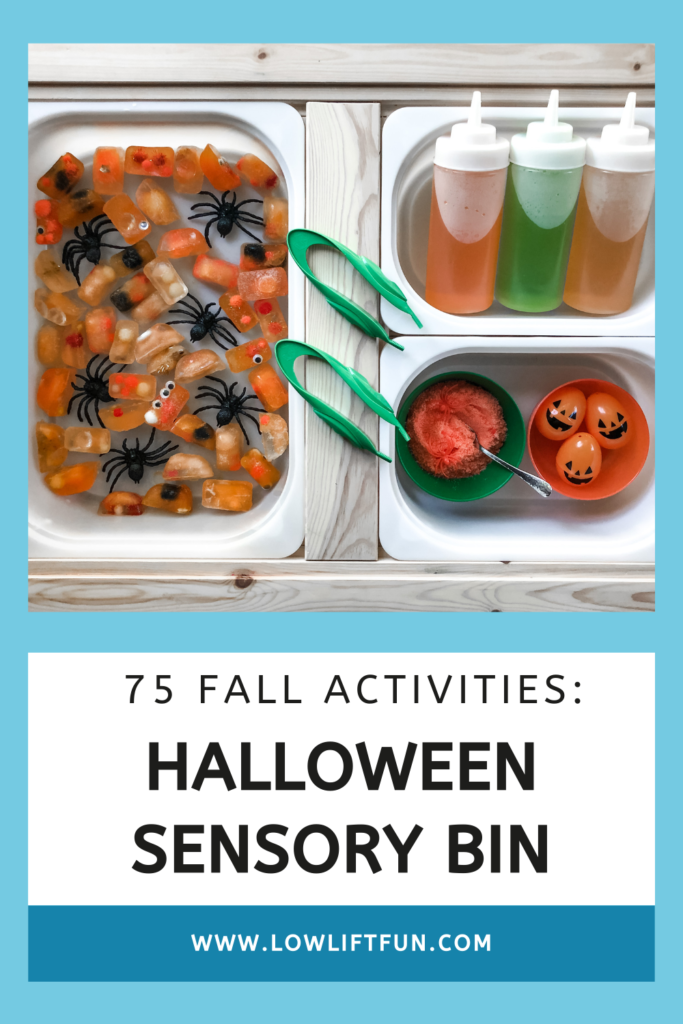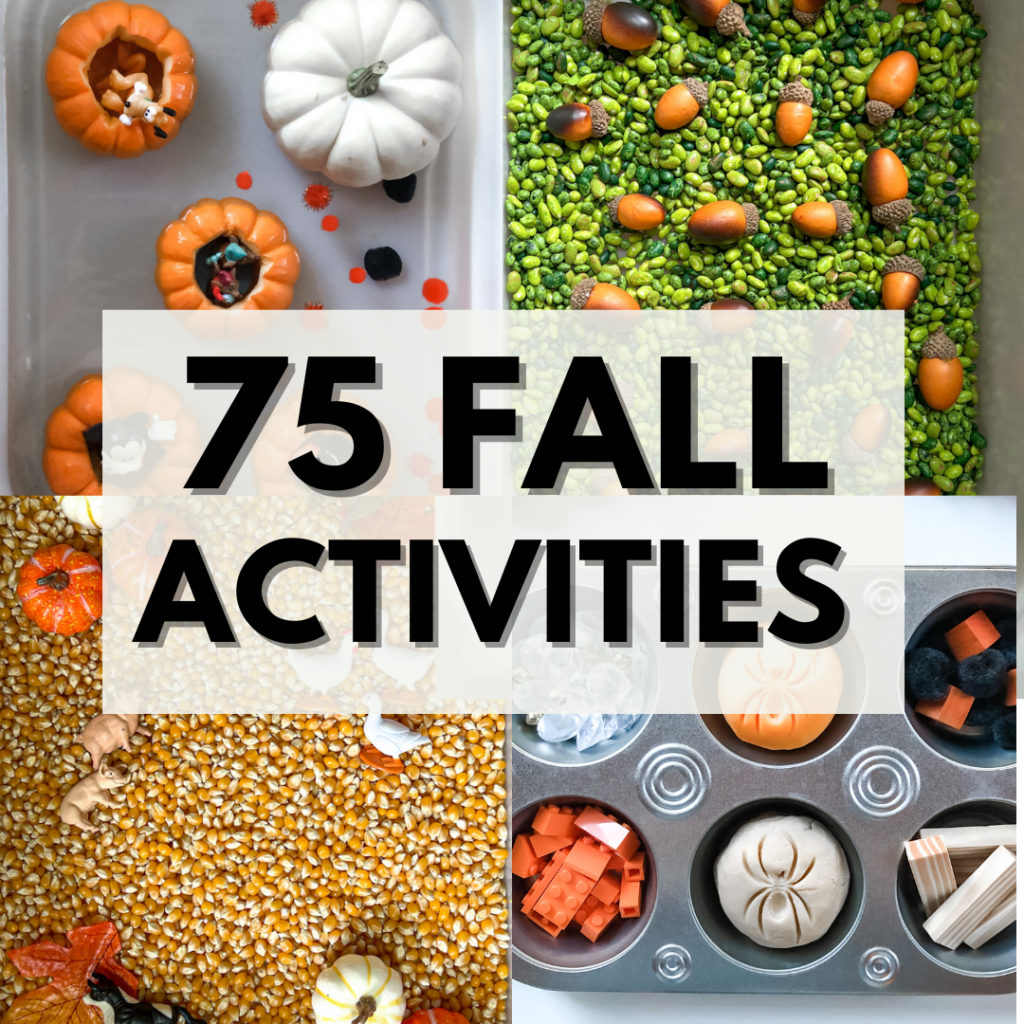 Thanks for reading! And don't forget to join the Low Lift Fun Newsletter for weekly updates!