This post is Sponsored by Wisconsin Dells Visitor & Convention Bureau. All thoughts and feelings are my own.
Wisconsin Dells (often called "the Dells") is a wonderful Midwest destination for families with plenty of attractions and activities to keep everyone entertained! The destination is packed with opportunities for learning, new experiences for kids, and family fun.
This post covers where to stay, where to eat, and things to do!
Great Wolf Lodge is a top pick for families looking for a place to stay! Buffalo Phils, B-LUX Grill & Bar, and Lake City Social Grill and Bar are three great places to grab a bite to eat with your kids.
Additionally, there are endless options for kid-friendly attractions in the Dells. These attractions are packed with hands-on learning and fun. My kids favorites included the Tommy Bartlett Exploratory, Riverside & Great Northern Railway, and a tour taken on the Original Wisconsin Ducks.
Where to Stay in Wisconsin Dells
Great Wolf Lodge is a fantastic family-friendly resort with plenty of activities and amenities for all ages. This amazing resort features over 80,000 square feet of indoor water park attractions!
My kids loved the lazy river, wave pool, and numerous water slides. The water park is divided into several areas, each with its own unique features and attractions. It's suitable for all ages, heights, and skill levels.
Regarding safety, I liked that there is a clear system by height which indicates who can ride which slides! They also supply life jackets, and there are many lifeguards and attendants throughout.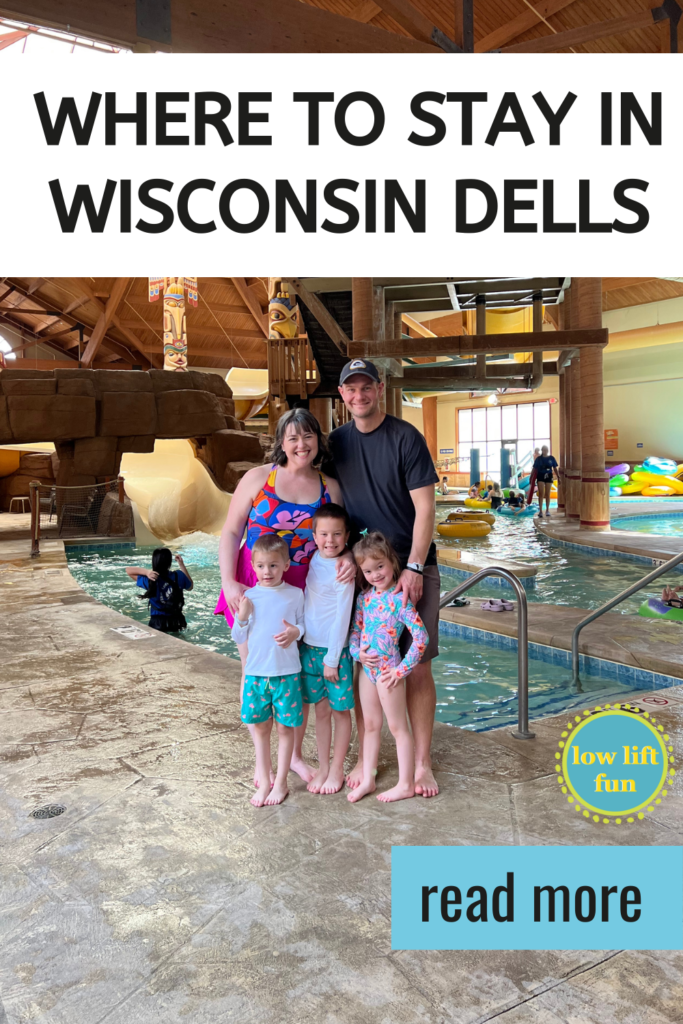 Great Wolf Lodge also has arcade games, an on-site restaurant, Build-A-Bear, and so much more!
As a family of 5, we appreciated the spacious suites, on-site dining, and the convenience of having everything we needed in one place! The accommodations feature modern amenities such as flat-screen TVs, refrigerators, and complimentary Wi-Fi.
Another stand out feature at Great Wolf Lodge was the amazing staff! Everyone from the front desk to the restaurant to the lifeguards are welcoming, friendly, and make the stay a wonderful visit!
Overall, Great Wolf Lodge in the Dells is a fantastic family vacation destination that offers endless entertainment, comfortable accommodations, and a welcoming atmosphere. It is no wonder why this resort has become a favorite among families looking for a fun and memorable vacation! We LOVED staying here.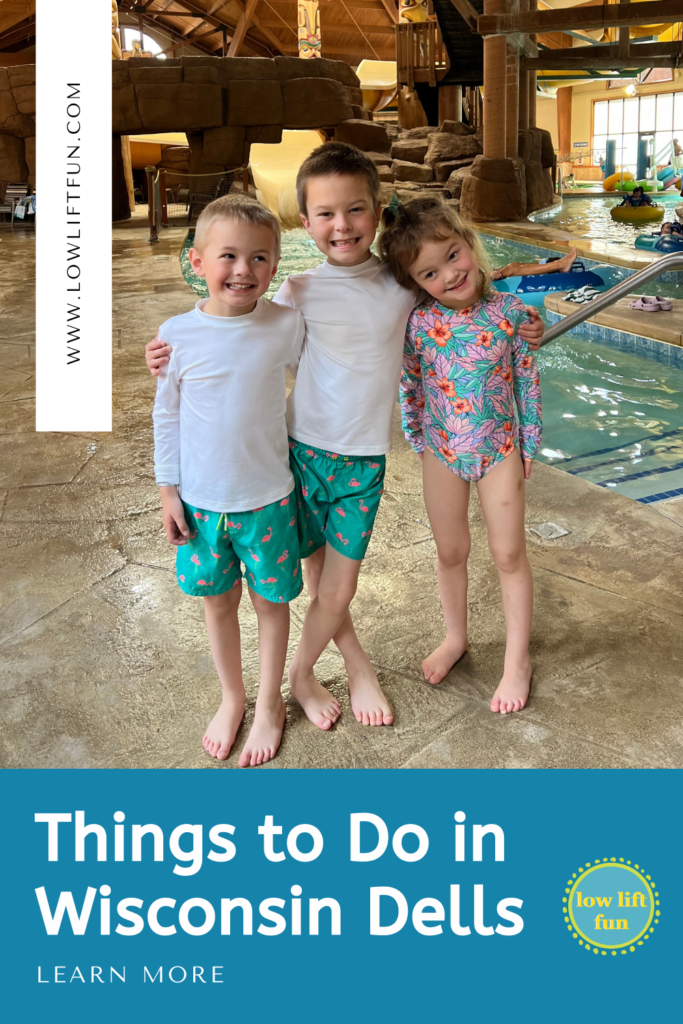 Where to Eat in Wisconsin Dells
Our three favorite restaurants in Wisconsin Dells are Buffalo Phils Pizza & Grille, B Lux Grille, and Lake City Social Grill & Bar.
Buffalo Phils Pizza & Grille serves food on trains (so cool!), and they have giant LEGO displays throughout. As for food, they offer wings, pizza, sandwiches, and salads. My kids had so much fun! It is a very family friendly atmosphere, and there are many arcade games as well. It's also attached to Knuckleheads arcade if you want to hop there next!
B-LUX Grill & Bar was our favorite food on the trip! They offer upscale burgers, mac and cheese, other comfort food favorites, and amazing over the top milkshakes! We love the family-friendly atmosphere, and this was a great place to grab a bite, relax, and make memories as a family after a long day of exploring!
Lake City Social Grill & Bar offers a variety of American-style cuisine such as burgers, sandwiches, salads, wraps, and pizzas. They also have an affordable kids' menu and affordable arcade games on-site. We gave our 7 year old $5 to spend on games while we waited for food, and he had an absolute blast!
Things to Do in the Dells for Hands-On Learning and Fun!
Riverside and Great Northern Railway
The Riverside and Great Northern Railway is a must-see for any families with train lovers!
My kids are massive train fans, and they grinned ear to ear when they saw the Riverside and Great Northern Railway!! It features a miniature train ride that takes visitors on a scenic ride!
This unique and fun attraction provides visitors with a glimpse into the rich history of rail transportation in Wisconsin. It's a great way to spend a day with family and friends and to experience the beauty of the Wisconsin countryside from a unique perspective.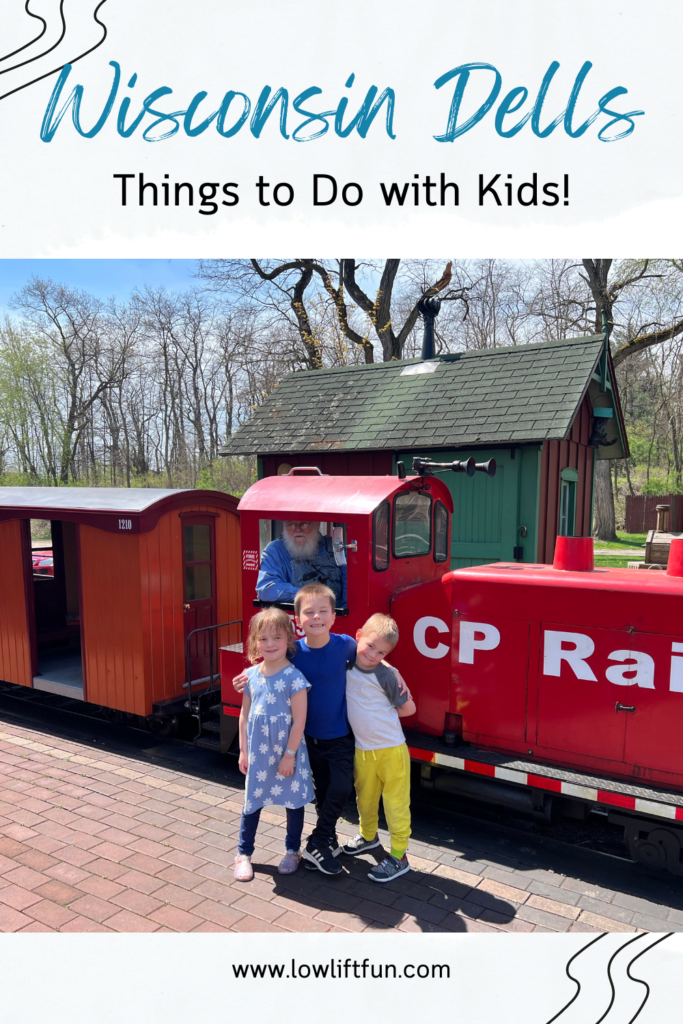 Tommy Bartlett Exploratory
The Tommy Bartlett Exploratory is a hands-on science museum that is engaging for kids of all ages.
It features over 175 interactive exhibits that allow visitors to explore science, technology, and the natural world. You can experiment with electricity, learn about the human body, and explore the wonders of outer space. My kids favorite space was the final section, which featured many large puzzles, electronic tic tac toe, and more!
Overall, the Tommy Bartlett Exploratory offers a fun and educational experience for visitors of all ages.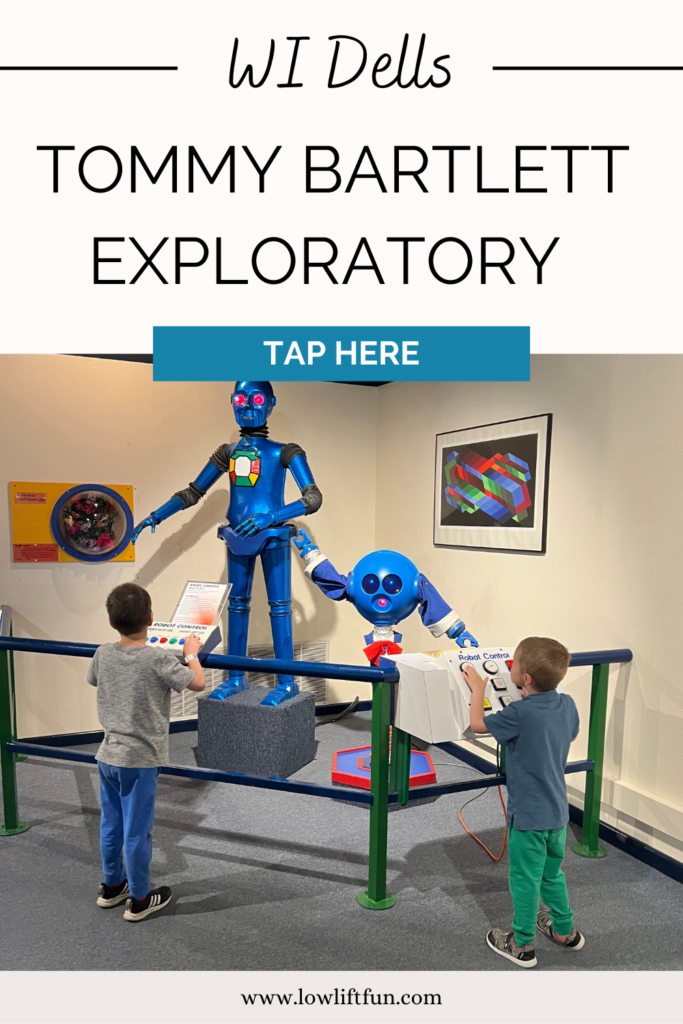 Duck Tour
The Duck Tour was my kids favorite attraction in the Dells! This popular tourist attraction takes visitors on a unique adventure through the beautiful natural scenery of the Dells. We loved that this tour takes place on amphibious vehicles known as "Ducks." The military used "Ducks" originally during World War II! They have now been converted into tourist vehicles.
The Duck Tour begins on land, where we boarded the Duck at a designated location. Once everyone is on board, the Duck drives through the forest while a guide shares facts and jokes about the history of the area. After a short tour on land, the Duck will head towards the water, where it will float down the Wisconsin River. We enjoyed stunning views of the cliffs, canyons, and rock formations of the Dells.
During the water portion of the tour, the tour guide also shares about the history and geology. The guides on the Duck Tours provide informative and humorous narration throughout the entire journey. The tours usually last around an hour.
The Duck Tour in Wisconsin Dells is a unique and fun experience that offers a different perspective on the natural beauty of the Dells. It's a great way to explore the area and learn about its history while enjoying a thrilling ride on an amphibious vehicle!!
Planning Your Trip to Wisconsin Dells with Kids!
In summary, we had a fabulous trip, and Wisconsin Dells is a great destination for families! Start planning your trip here!
There are plenty of things to do and see for families with kids of all ages.
Great Wolf Lodge is my top choice for lodging, while Buffalo Phils and B-LUX Grill & Bar are great dining options. Make sure to visit the Riverside & Great Northern Railway and take a tour on the Original Wisconsin Ducks to make the most of your visit to Wisconsin Dells with kids!
Looking for more Midwest fun?! Check out these helpful posts:
5 BEST Chicago Museums with Kids